You are here
Report on the Protest Rally and Demonstration against the Nigeria Embassy Deportation Collaboration in Germany, May 2012 Berlin
Thu, 05/31/2012 - 09:02 -

voice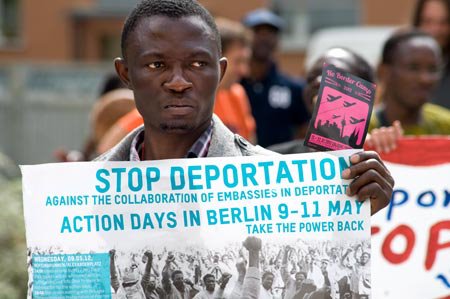 Report on the Protest Rally and Demonstration from the Action days which took place on the 9th to 11th of May against the Nigerian Embassy Collaboration in Berlin, Germany that was coordinated by The VOICE Refugee Forum in Stuttgart.
On the 10th of May 2012 in Berlin more than 120 Refugees and non Refugee Activists stormed the premises of the Nigerian Embassy in Berlin as they protest the corrupt collaboratory role which they identified as Colonial. The Transparent that took the order of the day stated "Deportation is Colonial Persecution" The Oppressed are bent on taking back Power.
Refugees delegates who participated ranged from Refugee Communities from Bayern, Baden Wrttemberg,Berlin Brandenburg, Sachsen Anhalt, Niedersachsen, Thringen, Bremen, Hamburg; Kiel and Nordrhein Westpfalia who are mostly from Nigeria, Benin Republic, Sudan, Uganda, Camerun, india, Tunisia, Ghana, Togo, Pakistan, Afganistan, Iran, Syria, and as well as different Antiracist Activists from Frankfurt, Bremen, Brasil, Berlin, South Africa, Vienna-Austria and Italy etc.
The action started with speeches from different activists alongside with protest music of Fela Anikulakpo Kuti labelled "Zombie" and dancing at the Front of the Nigerian Embassy with strong Police Blocade/ Presence and by the demonstration.
During the protest action, the call on the Nigerian Ambassador in Berlin, Abdu Usman Abubakar to come out with the courage from his office to address the Protesting Activists was turned down and just immidiately, the Ambassadors car was driven out with speed through a strong presence of Police to avoid harrassment.
The Nigerians and African protesters further insisted on getting into the embassy as they Chanted This is our House and the German Police have no rights to stop us from entering. The Police informed the protesters that the Embassy Officials had informed them of their unwillingness to make any public statement and more also instructed that one of the protesting persons should be allowed into the embassy premises but after a tense confrontation from the aggrieved protesters, the police were compelled to present an Official to officially receive their demands at the least.
To buttress the role of the embasssy in this deportation collaboration, a refugee victim in the mist was having a letter that instructs him to appear at the Embassy to identify himself for deportation. He further expressed his solidarity with the action which caused the Police refusal to allow him into the Embassy as well as the embassy refusal to confirm his presence at the Embassy on that day.
A traditional performance to commit the dubious officials to the Ancesstors by an African traditional Priest, crowned the events in front of the Embassy as we proceeded to protest on the street to the German Foreign Affairs Ministry being a major structure of the Colonial manipualation through dorminating racist and exploitation policies. The protesting activists identified the Building of the Foreign Affairs as a symbol of Colonisation.
The Activists demanded:
An immediate Stop to mobile deportation hearing !
Stop to all forms of deportation collaboration !!
Stop to Frontex - Nigeria deportation aggreement !!!
An end to neocolonial exploitation !!!!
The protesters reaffirmed that deportation is not only racist but also a form of colonial heritage that has to be resisted with a view to the motto of The Caravan: "We are here because you distroyed our countries"
At the end of the protest-rally and demonstration against the Nigerian Embassy collaboration for deportation from Germany, more than 300 hundred activists with the public audience attended the premier of the Residenzpflicht documentary film, produecd by Denise Garcia Bergt in Berlin on the early struggles of refugees in Germany against isolation and restiction of movement against the refugees as part of the continuity of colonial injustice in Europe. Inputs on the film were also contributed from the podium by the protagonists of the film and the audience to acknowledge the offensive position of approach of refugee activist of The VOICE Refugee Forum on Civil Disobedience against the german state repression by the residenzpflicht laws. The Resisidenzpfliht Film screening is now presented in other places and cities. see http://residenzpflichtdoc.com
As a continuation of the action, the activists met on the 11.05.12 to evaluate the action against the Coutry embassy collaboration and structured a continuity through active networking amongst Activists expecially the refugees in their different regions.
There were also information exchange on the struggles against Residenzpflicht, Karawane International Trbunal and the Break Isolation refugee summer camp in Thueringen were highlighted:
Self-organization and Autonomy - how do we organize ourselves to strenghten our networks in Germany.
- Past engagements and lessons learned
- Exchange of experience with old and new activists within refugees
- Refugees should join networking before their individual problems arise
but this also holds for all activists and not only for new refugees.
- Make .conscious the fear of persecution from new activists and how to counter this fear and encourage their engagement
- The importance of refugee/migrant solidarity in our fight for unity
- Empower your self determination and Know your laws - Foreigner/refugee laws
- Encourege refugees and those absent that the Berlin action should be used as a major tool to strengthen and give hope to their struggle to fight against injustice, police brutality and this can also be put in a great documentary in order to keep a great deal of a record.
- Documentation and Independent Refugee Media workshop
The Action days have encouraged and inspired African refugee communities from Sudanese in Nidersachsen and Uganda in Bayern to organize a Refugee convention on the 23rd of June in Ausburg, including (non refugee) Nigeria community in kassel with the support of The VOICE Refugee Forum Germany.
As follow up to the grieviances of Nigerians against the corrupt role of the Nigerian Government, Politicians and Elites as well as the dubious role of Nigerian diplomats in Diaspora, Different Nigerian community Networks and individuals under the coordination of Concerned Nigerians in Kassel would be protesting in front of the Nigerian Embassy on 14.06.12. The Protest Rally is planned to start at 10am until 6pm. We are calling on the Entire Migrant communities and Anti-racist movement to support this action.
Rex Osa
The Voice Refugee Forum, Boblingerstr.105, 70199 Stuttgart
Tel.: 017627873832 -Email: thevoice_bdw@yahoo.de
http://thevoiceforum.org
Besetzung der nigerianischen Botschaft - Polizisten wegen Körperverletzung angezeigt und Die Presse
Presseberichte untern!
Video über rassistische Misshandlung im Berliner Polizeigewahrsam - Besetzten Aktivist_Innen die nigerianische Botschaft
Video on racist police brutality after the occupation of nigerian embassy on October 15, 2012 with different refugee activists in english, farsi, and german.
Am 15. Oktober besetzten Aktivist_Innen die nigerianische Botschaft in Berlin. 25 Personen wurden festgenommen. Nach ihrer Freilassung berichten sie von teils schweren Misshandlungen, Bedrohungen, erniedrigender Behandlung und rassistischen Beleidigungen durch Polizeibeamte. In dem Video sprechen sie über ihre Erlebnisse.
Besetzung der nigerianischen Botschaft - Polizisten wegen Körperverletzung angezeigt und Die Presse
Activists protest the German Police Blockade of Nigerian Embassy and Against Deportation Collaboration in Berlin
Report on the Protest Rally and Demonstration from the Action days which took place on the 9th to 11th of May against the Nigerian Embassy Collaboration in Berlin, Germany that was coordinated by The VOICE Refugee Forum in Stuttgart.
On the 10th of May 2012 in Berlin more than 120 Refugees and non Refugee Activists stormed the premises of the Nigerian Embassy in Berlin as they protest the corrupt collaboratory role which they identified as Colonial. The Transparent that took the order of the day stated "Deportation is Colonial Persecution" The Oppressed are bent on taking back Power.
http://thevoiceforum.org/node/2559
Warning Letter to Nigerian President G.E.Jonathan to stop the Fortcoming Nigerian Deportation Hearing of 18-22 June, 2012 in Munich http://thevoiceforum.org/node/2570
Besetzung der nigerianischen Botschaft - Polizisten wegen Körperverletzung angezeigt und Die Presse
11:14 Uhr von Tanja Buntrock (tagesspiegel press)
Die Polizei ermittelt in ihren eigenen Reihen: Nach der Besetzung der nigerianischen Botschaft in Berlin wurden drei Polizisten wegen Körperverletzung angezeigt.
Die Botschaft Nigerias war am 15. Oktober von Flüchtlingen besetzt worden. Die Aktion stand laut Polizei im Zusammenhang mit dem zuvor errichteten Flüchtlingscamp in Kreuzberg und richtete sich gegen die Abschiebepraxis von Asylsuchenden. 14 Aktivisten hatten sich Zugang zu dem Botschaftsgebäude verschafft. Die Polizei schritt ein und holte die Protestierenden heraus. Insgesamt 25 Menschen wurden festgenommen.
Rund 120 weitere Demonstranten hatten sich vor dem Gebäude versammelt und zogen am Abend spontan zum Präsidium am Platz der Luftbrücke in Tempelhof.
Nun bestätigte die Polizei, dass insgesamt drei Anzeigen wegen Körperverletzung im Amt eingegangen sind. Beteiligte hatten einem Radiosender berichtet, sie seien geschlagen und getreten worden. "Die Ermittlungen hat das zuständige Dezernat beim Landeskriminalamt für Amtsdelikte übernommen", sagte ein Polizeisprecher. Eine Anzeige sei aufgrund eines Zeitungsartikels, in dem ein vermeintliches Opfer von der Polizeigewalt berichtet, von Amts wegen eingeleitet worden. Zwei weitere Anzeigen gingen über die Internetwache der Polizei ein, hieß es. Nun müssten die Beteiligten zunächst einmal befragt werden zu dem Geschehen und den Vorwürfen.
Unterdessen demonstrieren die Flüchtlinge weiter, seit drei Tagen sind mehrer von ihnen am Brandenburger Tor im Hungerstreik. Einer von jenen, die auch bei der Demonstration zur Nigerianischen Botschaft dabei gewesen ist, nennt sich Hamid: "Ich habe vor der Botschaft gesehen, wie Polizisten Demonstranten schlugen. Dann haben sie mir Chili-Spray in die Augen gesprüht und ich konnte nichts mehr sehen", sagt er in holprigem, nicht ganz leicht verständlichen englisch. Er selbst sei vor dem Botschaftsgebäude geblieben. "Auf dem Rückweg von der Botschaft zu unserem Camp am Oranienplatz griffen sie uns erneut an. Sie liefen als Gruppe auf uns zu, stießen uns vor sich her und nahmen uns mit Gewalt unsere Banner und Plakate weg. Sie machten den Konflikt mit uns – nicht wir mit ihnen." Er spricht immer wieder von "violence", Gewalt. Und "attack", Angriff.
Dann erzählt er, dass es am Donnerstagabend wieder zu Auseinandersetzungen zwischen ihnen und der Polizei gekommen sei, als sei versuchten, Isomatten, Schlafsäcke und Kartons auf dem Pariser Platz auszurollen, um dort zu übernachten. Die Polizisten hätten ihnen alles weggenommen, und zwar in rabiater Weise: "Einer von uns musste hinterher ins Krankenhaus."
Vonseiten der Polizei klingt die Geschichte ähnlich und doch ganz anders: Eine "Einsatzhundertschaft beschlagnahmten in der vergangenen Nacht mehrere Utensilien, die Teilnehmer einer Versammlung in Mitte bei sich hatten und damit gegen Auflagen nach dem Versammlungsgesetz verstoßen hatten." Rund 100 Demonstranten seien zu einer
Kundgebung auf dem Pariser Platz gekommen. Gegen 22 Uhr hätten die Polizisten bemerkt, dass einige der Demonstranten Schlafsäcke und Isomatten trugen, obwohl nur eine Kundgebung und kein Camp genehmigt worden war. "Die Teilnehmer kamen der Aufforderung des Versammlungsleiters, die Gegenstände zu entfernen, nicht nach. Daraufhin stellten die Beamten insgesamt 19 Schlafsäcke, 13 Decken, sieben Isomatten sowie diverse Sitzunterlagen aus Pappe und Kunststoff sicher, die überwiegend keiner Person zugeordnet werden konnten", heißt es bei der Polizei.
Ein 30-Jährigiger Demonstrant habe dabei Beamten beleidigt und Widerstand bei seiner vorläufigen Festnahme geleistet. Ein 20-Jähriger, dessen Personalien die Polizei überprüfte, habe "bei der Überprüfung über Schmerzen im Bein" gesprochen. "Er äußerte, dass andere Versammlungsteilnehmer auf ihm gelegen hätten. Die Besatzung eines Rettungswagens brachte ihn zur weiteren Untersuchung in ein Krankenhaus." Außerdem habe jemand eine Porzellantasse auf einen Beamten geworfen, die jedoch niemanden traf. Wer der Werfer war, konnte die Polizei nicht feststellen.
Es seien Ermittlungsverfahren wegen Verstoßes gegen das Versammlungsgesetz, Beleidigung und Widerstands eingeleitet worden, teilte die Polizei mit.
http://www.tagesspiegel.de/berlin/polizei-justiz/besetzung-der-nigeriani...
The VOICE Refugee Forum Reports:
Berlin Police Attack on Nigerian Embassy Occupation and Protesters // Polizeibrutalität gegen Botschaftsbesetzung in Berlin
http://thevoiceforum.org/node/2860
Proteste gegen Asylpolitik:
Anzeige gegen Polizisten nach Einsatz in nigerianischer Botschaft
Nach einem Polizeieinsatz gegen Besetzer der nigerianischen Botschaft am 15. Oktober in Berlin sind drei Anzeigen gegen Polizeibeamte eingegangen.
Einen entsprechenden Bericht des rbb bestätigte die Polizei am Freitagmorgen offiziell. Den Beamten werde Körperverletzung im Amt vorgeworfen.
Die Polizei hatte vor zehn Tagen eine Demonstration vor der Botschaft aufgelöst und die von 14 Menschen besetzte Botschaft geräumt. Nach Angaben beteiligter Flüchtlinge misshandelten die Polizisten dabei einige der Demonstranten in der Botschaft und beschimpften sie rassistisch.
Betroffene berichten von Schlägen, Tritten und Todesdrohungen
Die Betroffenen berichteten dem rbb von Schlägen, Tritten und Todesdrohungen. Die Polizei hat diese Angaben bisher nicht bestätigt.
Nach Angaben einer Ärztin wiesen die Flüchtlinge bei einer Untersuchung am folgenden Tag Blutergüsse ud Quetschungen auf. Außerdem hätten sie unter Schock gestanden, sagte die Medizinerin dem rbb.
Die Vorgänge werden möglicherweise auch ein politisches Nachspiel haben und vor den Menschenrechtsausschuss des Bundestages kommen. Die Linken-Abgeordnete Annette Groth hat den nigerianischen Botschafter dorthin eingeladen, damit er Auskunft erteilen könne, wie sie dem rbb sagte.
Drei Festnahmen bei Protesten am Brandenburger Tor
Flüchtlingscamp am Oranienplatz
rbb news:
Abendschau 25.10.2012 - Asylbewerber am Oranienplatz
http://youtube.com/watch?feature=player_embedded&v=5qxVZnbk_uc
Derweil hat die Polizei am Freitagmorgen drei der etwa 40 Demonstranten für bessere Asylbedingungen vor dem Brandenburger Tor festgenommen. Es sei zu Straftaten gekommen, sagte ein Polizeisprecher. Zuvor hatten die Beamten den dort übernachtenden Flüchtlingen, Isomatten und Schlafsäcke weggenommen. Bei der Mahnwache handele es sich zwar um eine angemeldete Demonstration, Campingutensilien seien aber verboten, sagte eine Sprecherin.
Nach der Festnahme beschlossen die Flüchtlinge einen Demonstrationszug zur Gefangenen-Sammelstelle in Berlin, wo die Festgenommenen vermutet werden.
Bereits seit Monaten macht die Gruppe von Asylbewerbern und Unterstützern mit Aktionen auf sich aufmerksam. Erst am Mittwoch hatte die Polizei ein Zelt der Aktivisten vor dem Brandenburger Tor geräumt. Die Asylbewerber und Sympathisanten sind aber weiter vor Ort am Pariser Platz, um dort ihren Hungerstreik fortzusetzen.
Die Gruppe fordert eine grundlegende Reform im Umgang mit Asylbewerbern und Flüchtlingen, darunter die Abschaffung der Residenzpflicht und der Unterbringung in Asylbewerberheimen sowie den Stopp von Abschiebungen. Bisheriger Höhepunkt war ein Demonstrationszug vor den Bundestag Mitte Oktober, an dem sich etwa 3000 Menschen beteiligten. Seither campiert ein Teil der Gruppe mit einer momentanen Billigung des Bezirks Friedrichshain-Kreuzberg in einem provisorischen Zeltlager auf dem Oranienplatz.
Stand vom 26.10.2012
Dieser Beitrag gibt den Sachstand vom 26.10.2012 wieder. Neuere Entwicklungen sind in diesem Beitrag nicht berücksichtigt.
http://www.rbb-online.de/nachrichten/politik/2012_10/Anzeige_gegen_Poliz...
Polizei
Gewaltvorwürfe: Berliner Polizei bestätigt Anzeigen
Zehn Tage nach der Besetzung der nigerianischen Botschaft in Berlin wehrt sich die Polizei gegen Vorwürfe der Beleidigung und Misshandlung Gefangener.
Am 15. Oktober hatten 14 Aktivisten versucht, das Botschaftsgebäude unter ihre Kontrolle zu bringen. Sie wollten damit gegen die Abschiebepraxis zwischen Deutschland und Nigeria protestieren.
Alle Aktivisten waren daraufhin festgenommen worden. Eigenen Angaben zufolge wurden sie in Haft von Beamten der Berliner Polizei rassistisch beleidigt und körperlich misshandelt.
Wie die Berliner Polizei am Donnerstag dem rbb-Inforadio bestätigt hat, gingen inzwischen drei Anzeigen wegen Körperverletzung im Amt ein.
Die Anschuldigungen der festgenommenen Aktivisten würden nun geprüft, hieß es von der Polizei weiter.
http://www.rbb-online.de/nachrichten/politik/2012_10/Gewaltvorwuerfe__Be...
Botschaftsprotest: Flüchtlinge erstatten Anzeige gegen Polizisten
26.10.2012, 11:48 Uhr | dapd
Die Polizei ermittelt nach dem Einsatz gegen die Besetzer der nigerianischen Botschaft vor eineinhalb Wochen in den eigenen Reihen. Polizisten werde Körperverletzung im Amt vorgeworfen, es seien drei Anzeigen gestellt worden, sagte ein Polizeisprecher am Freitag und bestätigte damit einen Bericht des RBB-Inforadios.
Mehr zu Berlin
Bei den Geschädigten handele es sich um drei Asylsuchende aus Nigeria. Sie werfen den Polizisten nach Angaben des Sprechers vor, während des Einsatzes vor der Botschaft, bei einem anschließenden Transport in Polizeigewahrsam und auf der Dienststelle "immer wieder traktiert worden zu sein". Die Dienststelle für Amtsdelikte leite die Ermittlungen. "Diese stehen jedoch noch ganz am Anfang", sagte der Sprecher.
Etwa 120 Aktivisten der Aktion "Refugee Protest March to Berlin" hatten am 15. Oktober vor der nigerianischen Botschaft gegen die Abschiebepraxis gegenüber Asylsuchenden demonstriert. 14 Aktivisten verschafften sich Zugang zur Botschaft, um sie nach eigenen Angaben "zu besetzen". Insgesamt 25 Menschen wurden vorläufig festgenommen.
Am Freitag setzten die Aktivisten unterdessen ihren Protest vor dem Brandenburger Tor fort. In der Nacht seien drei Personen vorläufig festgenommen worden, teilte der Polizeisprecher weiter mit. Die Asylsuchenden und Unterstützer waren dort in einen Hungerstreik getreten.
http://nachrichten.t-online.de/botschaftsprotest-fluechtlinge-erstatten-...
26.10.12
Nigeria-Botschaft
Flüchtlinge erstatten Anzeige gegen Polizisten
Nach einem Polizeieinsatz in der nigerianischen Botschaft in Berlin haben Flüchtlinge Anzeige erstattet. Der Vorwurf: Körperverletzung.
Foto: DAPD
Polizisten räumen in Berlin die nigerian
Nach einem Polizeieinsatz gegen Besetzer der nigerianischen Botschaft am 15. Oktober in Berlin hat es nun drei Anzeigen gegen Polizeibeamte gegeben. Ihnen werde Körperverletzung im Amt vorgeworfen, bestätigte ein Polizeisprecher am Freitag einen Bericht des Senders RBB.
Die Polizei hatte eine Demonstration vor der Botschaft aufgelöst und die von 14 Menschen besetzte Botschaft nach einer Strafanzeige des Botschafters wegen Hausfriedensbruchs geräumt.
Den Beamten werden Körperverletzungen bei ihrem Einsatz vorgeworfen. Einige Demonstranten sollen Blutergüsse erlitten haben. Der RBB berichtete am Freitag, dass sich wohl auch der Menschenrechtsausschuss des Deutschen Bundestages mit dem Vorfall befassen soll.
Gegen Abschiebung
Die Aktivisten waren in die nigerianische Botschaft an der Neuen Jakobstraße eingedrungen und hatten gegen die Abschiebung von Flüchtlingen demonstriert.
"Wir sind hier, weil die Botschaft am effektivsten mit dem deutschen Staat zusammenarbeitet und die meisten Abschiebungen nach Afrika hier abgewickelt werden", sagte der Sprecher des Aktionsbündnisses "Refugee Protest March", Thomas Ndindah. Rund 40 weitere Demonstranten versammelten sich vor dem Gebäude.
Zunächst hatte es geheißen, die Botschaft dulde die Protestaktion, und die Aktivisten müssten nicht mit einem Verfahren rechnen. Bei den Besetzern im Gebäude handelte es sich laut Ndindah um Flüchtlinge, die in einem Protestcamp in Kreuzberg ausharrten. Einige von ihnen hatten Transparente bei sich, auf einem stand "Kein Mensch ist illegal".
Fußmarsch von Würzburg nach Berlin
Die Gruppe von fast 70 Asylbewerbern aus Bayern war kürzlich von Würzburg aus rund 600 Kilometer zu Fuß nach Berlin gelaufen, um auf die prekären Umstände aufmerksam zu machen, mit denen sie in Deutschland zu kämpfen haben. Am Oranienplatz errichteten sie in der vergangenen Woche das Zeltlager. Zusammen mit mehr als 3000 Unterstützern hatten sie vor knapp zwei Wochen bei einer Demonstration in Kreuzberg und Mitte mehr Rechte gefordert.
Quelle: dpa/mim/mb/plet/pol
http://www.morgenpost.de/berlin-aktuell/article110263521/Fluechtlinge-er...
The VOICE Refugee Forum Reports:
Berlin Police Attack on Nigerian Embassy Occupation and Protesters // Polizeibrutalität gegen Botschaftsbesetzung in Berlin
http://thevoiceforum.org/node/2860