You are here
African Child kidnapped by German authorities in Peine and mother is left without information of whereabouts of her daughter
Tue, 02/05/2019 - 19:57 -

Goettingen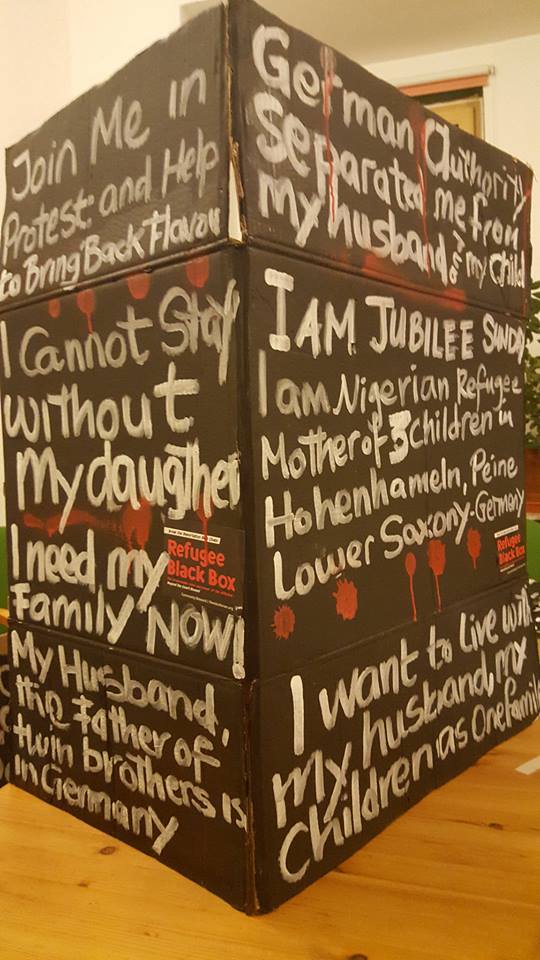 The kidnapping of an African child by the German authorities in Peine (Niedersachsen). Appeal of The VOICE Refugee Forum for the right of Jubilee Sunday to raise her own daughter.
Statement of The VOICE Refugee Forum on the Kidnapping of a member of an African Family and the ongoing, active and persistent destruction of the family of Jubilee Sunday. Go to the information below, if you want to protest the kidnap:
Landkreis Peine (Der Landrat)
z.Hd. Frau Young
Jubilee Sunday has been banned from seeing her daughter, least to talk about knowing where they took Favour to.
We are aware of the kidnapping of Favour, an 8 year old girl from Nigeria, who has been living with her mother from birth and is now in the hands of a racist system of family politics aiming at destroying her connection to her family.
You can listen to Sister Jubilee's last recorded statement here: https://www.mixcloud.com/TheVOICES/african-child-kidnapped-by-german-aut...
Jubilee Sunday is a Nigerian asylum applicant. She came to Germany in March 31st 2018 with a pregnancy together with her daughter Favour who is 8yrs and 6months. They both asked for asylum in Hannover.
Sister Jubilee has also been separated from her husband, the father of her newly born twins, by the German authorities. He was sent more than 450km away from his sons and has been fighting for family reunion ever since.
After kidnapping her daughter who went to school in the morning and never came back and as if that is not enough, Jubilee was subjected to a court hearing on 23rd January 2019 in Peine (Niedersachsen) for being a mother to her first child. The court procedures sole aim was to legalise the kidnapping and further estrange Favour from her family. Jubilee herself was not heard during the hearing and didn't have the possibility of speaking and expressing her point of view. The decision was taken over her head.
It's been almost three weeks that Favour disappeared from the family radar and the same reason is going to b used to destroy the family bond that has existed for more than 8 years.
The VOICE Refugee Forum was further informed that the reasons for the kidnaping was a complaint by the daughter that the mother treated her badly and didn't give her food. The mother Jubilee strongly denies these allegations.
As the girl also complained of being neclected in favor of the new born twins and due to the fact the her complaints started with the birth of the twins it is very likely that the eight year old Favour is showing symptoms of jealosy against her newly born brothers. This is a very normal reaction of children who suddenly have to share the love of the parents with new siblings, a situation which certainly cannot be solved by taking the children from the parents.
At this point we strongly insist in the right of the mother to raise her child – and the right of the child to live with the mother. We also call for the reunion of all family members of this African family. Especially for an African child the connection to their African roots, background and identity is of high importance.
But unfortunately we often experience that German authorities are very fast in taking African children away from the parents under the pretext of the so-called "well-being" of the child – be it because the parents' capability is doubted, or in an attempt of "Germanization" of children, i.e. of pushing back African influence and culture in the children and subjecting them to so called German cultural values - which is also a tactic to facilitate deportation of the parents one day.
Let's remind ourselves here of the campaign of Claudia Omoroghomwan against the authorities for the right to live with her children (http://thevoiceforum.org/node/1727 ) that we supported.
We are very sensitive and critical about any racist subtext in the actions of German authorities.
We also see it as crucially important that Jubilee's husband and father of her twins has the right to stay with his family – so that his sons can grow up with the father and that the load and responsibility of raising three children can be shared by both parents..
We insist that the §6 of the German constitution (Grundgesetz) must be valid for everybody:
"(1) Marriage and the family shall enjoy the special protection of the state.
(2) The care and upbringing of children is the natural right of parents and a duty primarily incumbent upon them. The state shall watch over them in the performance of this duty."
Let Jubilee Sunday live united with her husband!
Let Favour live together with her family!
We are in strong solidarity with the case of Jubilee Sunday and we are cautiously and critically watching. We are urging all responsible authorities and institutions to take our worries very seriously!
Background:
This report was sent to us by a family friend (Joseph from URRM, Karlsruhe).
"Solidarity support urgently needed for a Lady by the name Jubilee Sunday from Hohenhamel, Hannover.
Jubilee Sunday is a Nigerian refugee. She came to Germany in March 31st 2018 with a pregnancy together with her daughter Favour who is 8yrs and 6months. They both asked for asylum in Hannover.
In April 17th 2018 she delivered twin boys while still in the camp and later in the month of July 2018 she was transferred to an asylum home together with her children in Hohenhamel. They are the only blacks and only Nigerians living there, other refugees there are Arabs .
Little Favour was admitted to a school. A school bus comes to pick them up every morning with the Arab children and return them back after school closes.
On Monday January 14th 2019 little Favour went to school while her mother took care of the twin babies at home. Later that day as she is waiting for Favour, she received a phone call from the school administration that Favour will stay with them for three days and that if she wants to see her daughter Favour, she should come to the school on Tuesday morning. This situation surprised her because she doesn't know what to do.
On Tuesday 15th she went to the school. She was told that her daughter Favour will be staying with them. She demanded for her daughter Favour. Later on Tuesday Jubilee was asked to go back home and expect Favour.
As Jubilee went home, a few hours later two persons together with her social worker came to her with a sheet of paper for her to sign, which she refused. She was told that she will never be allowed to see her daughter Favour again since she did not sign and that they will go to the court to have right over the child. On the Wednesday 16th January, she received a call that the court day is 23th January 2019.
Please l ask for solidarity support urgently so that Jubilee have her daughter Favour back home.
The father of the children was transferred to Karlsruhe Camp, all his efforts to be united with her family have not been approved or granted because they did not arrive the same time in Germany.
Please, please and please let's help and support this urgent need!
For more information please contact Jubilee on 01521337938. Thanks."
Below is also the contact of the Court for subsequent protest
(The court hearing took place on 23th January 2019)
Court: Amtsgericht Peine (Family Court)
Akt. Zei.: NZS 20F7/19SO
z.Hd Frau Bührig
Tel.: 05171/705220