You are here
Campagne d'Oury Jalloh: «Quand on expose un crime et qu'on se fait traiter comme commettant un crime, c'est être gouverné par des criminels ».
Tue, 01/03/2017 - 14:21 -

voice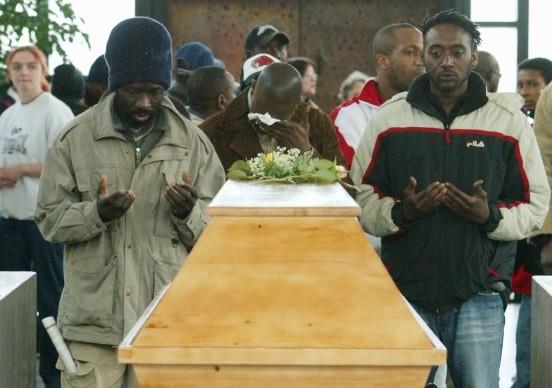 Français
Le 7 janvier 2005, deux frères africains furent respectivement assassinés par la police allemande : Oury Jalloh à Dessau et Layé Alama Kondé à Brême (Allemagne).
Le meurtre d'Oury Jalloh n'est pas un cas unique et n'est pas non plus un crime individuel. Il s'agissait d'un crime collectif, systémique et méthodiquement organisé par l'État et qui se poursuit.
La VIE des « Noirs » Africains et d'autres minorités n'a pas d'importance en Allemagne / Europe
Venez à Dessau et luttez pour des vies qui ne semblent pas avoir d'importance.
Le 7 janvier 2017, à 14h00, à la gare principale de Dessau.
12 ans se sont écoulés depuis qu'Oury Jalloh et Layé Alama Konde furent assassinés respectivement dans les cellules de police à Dessau (avec les deux mains et les deux pieds attachés au mur et sol carrelés) et à Brême (par l'empoisonnement). C'est grâce à la lutte acharnée de quelques militants et de réseaux que nous avons réussi à avoir un aperçu de cette criminalité collective et organisée par l'Etat allemand, et par l'éclaircissement de preuves dans les deux cas, qu'il est définitivement prouvé que nos frères furent assassinés.
Pour Oury Jalloh, la thèse officielle de suicide du procureur fut réfutée par des faits et indices divers et parce que certains militants se sont accrochés derrière l'affaire. Ces militants ont été injustement poursuivis et continuent à être persécutés et à subir les violences policières lors des manifestations en conséquence.
Le même jour, à Brême, un autre Africain succomba fatalement à des émétiques que la police allemande lui avait administrés avec force. Pendant toutes ces années, aucun des procès contre les policiers n'ont été ouverts, seulement après une immense pression, ce qui a permis d'éclairer les circonstances des deux décès, d'Oury Jalloh et de Laye Alama Konde.
Cette réalité coloniale continue, qui se traduit par les tueries organisées de migrants en Méditerranée, les pratiques d'expulsions, les enquêtes contre les proches des victimes de la NSU ou la montée en puissance de l'AfD et d'autres organisations de la droite en Allemagne et en Europe , ce qui fait qu'il est plus important que jamais de nous réunir pour défier et combattre ces maux du 21ème siècle.
Se souvenir et lutter pour la justice pour Oury Jalloh, Layé Kondé, Mariame Sarre, Christy Schwundeck, Dominique Kuomadio (la liste se poursuit) et tous les autres est une question de légitime défense.
Plus nous sommes unis pour défier et défendre nos valeurs et nous-mêmes contre ces monstres du 21ème siècle, plus nous pouvons démontrer les fissures de l'ordre mondial et les systèmes qui ont fait échoué l'Humanité et ce qui la détruira si nous ne les arrêtons pas.
OURY JALLOH N'EST PAS UN CAS INDIVIDUEL – NUL NE SERA OUBLIÉ !
RESPECTEZ NOTRE EXISTENCE - OU - ATTENDEZ-VOUS Á NOTRE RÉSISTANCE !
Call and Press statement of The VOICE Refugee Forum Network
Berlin, 22.04.2014
"When exposing a crime is treated as committing a crime, you are ruled by criminals." This is why we desperately need System change in Germany.
http://plataforma-berlin.de/5.home/20.solidarity-with-mbolo-yufanyi-and-...