You are here
Kampagne Oury Jalloh: "Wenn das Aufdecken eines Verbrechens selbst als ein Verbrechen behandelt wird, bist du von Verbrechern beherrscht."
Wed, 01/04/2017 - 00:29 -

voice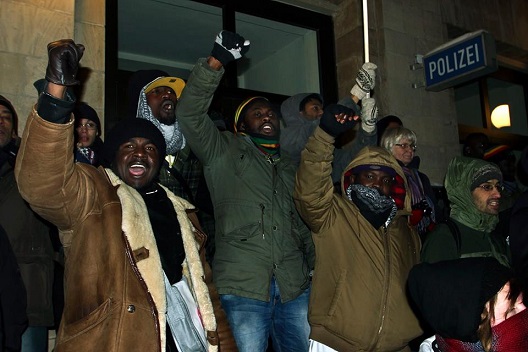 Demonstration: 7.Januar 2017 um 14Uhr am Hauptbahnhof in Dessau
Kampagne Oury Jalloh: "Wenn das Aufdecken eines Verbrechens selbst als ein Verbrechen behandelt wird, bist du von Verbrechern beherrscht."
Am 7. Januar 2005 wurden zwei afrikanische Brüder von der deutschen Polizei ermordert - Oury Jalloh in Dessau und Layé Alama Kondé in Bremen.
Der Mord an Oury Jalloh ist kein Einzelfall und der Täter des Verbrechens kein individueller. Es handelte sicj vielmehr um ein kollektives, systematisch staatliche organisiertes Vebrechen, das unvermindert weitergeht.
Die LEBEN von AfrikanerInnen/Schwarzen Menschn und auch anderen Minderheiten haben in Deutschland/Europa keine Bedeutung.
Kommt nach Dessau und kämpft für das Leben, dass nicht zu zählen scheint.
7.Januar 2017 um 14Uhr am Hauptbahnhof in Dessau
Zwölf Jahre sind vergangen seit Oury Jalloh und Layé Alama Konde in den Polizeizellen in Dessau (mit beiden Händen und Füßen an Wand und Fließenboden gebunden) beziehungsweise Bremen (durch Vergiftung) ermordet wurden. Nur durch die unermüdlichen Bemühungen einiger weniger AktivistInnen und Netzwerke, haben wir es geschafft einen (flüchtigen) Eindruck davon zu bekommen, was organisierte Kriminalität von Seiten des deutschen Staates bedeutet. Das Aufklären über Hinweise in beiden Fällen hat unbestreitbar bewiesen, dass die Brüder ermordert wurden.
Im Fall von Oury Jalloh wurde die Selbstmord-These des offiziellen Staatsanwaltes durch verschiedene Fakten und Hinweise widerlegt, während einige der dabei involvierten AktivistInnen als Konsequenz ungerechtfertigt strafrechtlich belangt wurden und bis heute durch wiederholte Polizeigewalt bei Demonstartionen verfolgt werden.
Am selben Tag erlag ein anderer Afrikaner tödlich den unter Zwang von der deutschen Polizei angeordneten und verabreichten Brechmitteln. In all den Jahren hat keiner der Gerichtverfahren gegen Polizisten, welche überhaupt erst durch massiven öffentlichen Druck zustande gekommen waren, zur Aufklärung über die wirklichen Todesumstände von Oury Jalloh and Laye Alama Konde geführt.
Diese sich fortführende koloniale Realität, die sich zum Einen im organisierten Töten von MigrantInnen im Mittelmeerraum, den Abschiebepraktiken, den Ermittlungen gegen die Familienangehörigen der Opfer des NSU, aber zum Anderen auch im Aufstieg von AfD und anderen rechten Gruppierungen in Deutschland und Europa zeigt, macht es für uns so wichtig wie nie zuvor zusammenzukommen, um diese Übel des 21. Jahrhunderts infragezustellen und zu bekämpfen.
Das Erinnern und das Kämpfen für Gerechtigkeit für Oury Jalloh, Layé Kondé, Mariame Saar, Christy Schwundeck, Dominique Kuomadio (die Liste ließe sich fortführen) und all die Anderen ist eine Sache der Selbstverteidigung.
Je mehr wir es schaffen die Monster des 21. Jahrhunderts geeint herausfordern und uns und unsere Werte gemeinsam gegen sie zu verteidigen, desto mehr können wir die Risse in der Weltordnung entblößen und jene Systeme bloßstellen, die daran gescheitert sind Menschlichkeit zu verwirklichen und die die Menschlichkeit zerstören werden, wenn wir sie nicht aufhalten.
OURY JALLOH IST KEIN EINZELFALL – NIEMAND WIRD VERGESSEN!
RESPEKTIERT UNSERE EXISTENZ – ODER – ERWARTET UNSEREN WIDERSTAND!
English: Aufruf und Pressemitteilung von The VOICE Refugee Forum Network
Berlin 22. 04. 2014
"Wenn das Aufdecken eines Verbrechens selbst als ein Verbrechen behandelt wird, bist du von Verbrechern beherrscht. Das ist, warum wir dringend einen Systemwechsel in Deutschland brauchen."
Call and Press statement of The VOICE Refugee Forum Network
Berlin, 22.04.2014
"When exposing a crime is treated as committing a crime, you are ruled by criminals." This is why we desperately need System change in Germany.
http://plataforma-berlin.de/5.home/20.solidarity-with-mbolo-yufanyi-and-...