You are here
Susan und Arslan: Kein Abschiebung nach Pakistan und Kenia!
Fri, 03/10/2017 - 14:21 -

voice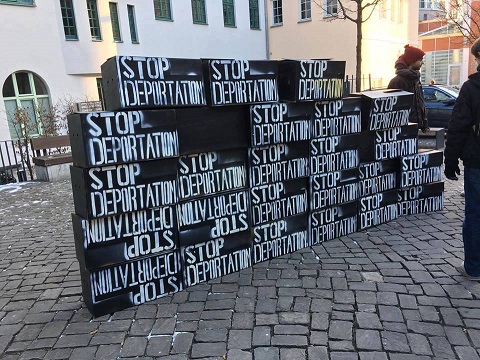 Support to Stop Deportation of Community activists to Pakistan and Kenya
Kein Abschiebung nach Kenya!
Die deutsche Regierung will mich nach Kenia abschieben. Das will ich nicht und Mein Sohn muss getrennt von mir leben
Hallo,
ich bin Susan. Ich bin 46 Jahre alt. Die deutsche Regierung will mich nach Kenia abschieben. Das will ich nicht. Ich habe einen Sohn, der vor kurzem nach einem langen Kampf den ihm rechtlich zustendenden deutschen Pass erhalten hat. Ich werde nicht zulassen, dass wir getrennt werden.
Wir kamen 2014 nach Deutschland, als mein Sohn 18 war. Bereits bevor wir nach Deutschland kamen, hatten wir in der deutschen Botschaft in Nairobi ein rechtliches Verfahren eingeleitet. Nachdem sie dort unsere Akte verloren haben, kamen wir mit einem Visum nach München. In Deutschland wurde mein Sohn nicht als Deutscher akzeptiert, obwohl er das Recht hatte, deutsche Papiere zu erhalten, denn sein Vater ist Deutscher. Auch die Schule durfte er nicht besuchen. Sogar für seinen Deutschkurs musste ich selbst bezahlen. Sie schickten mich von Behörde zu Behörde, immer mit der Aussage, sie seien nicht zuständig: Die Ausländerbehörde sagte, dass das Jobcenter für uns zuständig ist, weil mein Sohn Deutscher ist, während das Jobcenter sich weigerte uns zu unterstützen, weil er keine deutschen Papiere hatte. Ich habe mein ganzes Geld ausgegeben, weil es mir nicht erlaubt war, in Deutschland zu arbeiten, und ich erhielt keinerlei Sozialhilfe.
Ich war drei Mal in deutschen Gefängnissen. Es gab eine Zeit, in der die Ausländerbehörde Lübeck meinen Pass verloren hatte. Jetzt hat ihn die Ausländerbehörde Eisenhüttenstadt, was es noch einfacher macht, mich wann immer sie wollen abzuschieben.
Ich wurde mehrere Male von Stadt zu Stadt geschickt und auch wenn alle so tun, als ob alles zufällig passiert, scheint es mir, als gäbe es einen Plan dahinter. Sie schauen nur auf mich und nie auf ihre eigenen Fehler. Keine*r in diesem rassistischen System scheint eigene Fehler zu erkennen. Es fühlt sich so an, als wären alle gegen mich.
Ich habe alles aufgegeben. Ich habe Jahre lang gekämpft, aber alles was ich tue zeigt kaum Wirkung.
Mein Sohn muss getrennt von mir leben. Weil es ihm nicht erlaubt ist zu studieren oder arbeiten, ist er sozial isoliert. Diese Situation machte ihn krank, er leidet unter Depressionen. Jede*r, der*die gesehen hätte, durch was er gehen musste, würde verstehen warum er jetzt krank ist.
Auch in der schrecklichsten Situation ist es sehr schwer, einen Anwältin zu finden. Die einzige Möglichkeit, meinen Sohn und mich zusammenzubringen, sind zwei ärztliche Gutachten, die unsere vergangene und aktuelle Situation wiedergeben. Diese kosten etwa 2000 Euro.
-- SPENDENAUFRUF -- SPENDENAUFRUF -- SPENDENAUFRUF --
Wenn du Susan und ihren Sohn dabei unterstützen willst, dass sie wieder zusammen sein können, bitte spende an:
Kontoinhaber: Förderverein The VOICE e.V.
Kreditinstitut: Sparkasse Göttingen
IBAN: DE97 2605 0001 0000 1278 29
BIC: NOLADE21GOE
Betreff: Susan (bitte unbedingt angeben!)
Die Stop Deportation Gruppe unterstützt Geflüchtete und ihren Kampf für Rechte. Der Hauptfokus liegt auf Abschiebungen. In Zeiten politischer Gegenbewegungen, in denen die deutsche Regierung nicht davor zurückschreckt, Menschen sogar in Kriegsregionen abzuschieben und die EU Abschiebungen nach Griechenland wieder einführt, ist es notwendig Solidarität zu leben.
No border, no nation. Stop deportation!
Kontakt: stop-dep-group@lists.riseup.net
https://www.facebook.com/stopdeportationgroup/
######
Kein Abschiebung nach Pakistan!
UNTERSTÜTZT DEN POLITISCHEN KAMPF GEGEN ABSCHIEBUNGEN UND DIE AKTIVIST*INNEN, DIE FÜR IHN STREITEN
Die Stop Deportation Group Berlin braucht Geld, um einen unserer Aktivist*innen, Arslan, zu unterstützen
Hallo,
unten in der Mail ein Aufruf zur Unterstützung eines von Abschiebung bedrohten Aktivisten der Stop Deportation Group. Es wäre super, wenn dieser über möglichst viele Kanäle verbreitet werden könnte.
Vielen Dank und Solidarische Grüße!
--- UNTERSTÜTZT DEN POLITISCHEN KAMPF GEGEN ABSCHIEBUNGEN UND DIE AKTIVIST*INNEN, DIE FÜR IHN STREITEN ---
Die Stop Deportation Group Berlin braucht Geld, um einen unserer
Aktivist*innen, Arslan, zu unterstützen. Arslan ist seit er im April
2015 nach Berlin kam aktiv in der Unterstützung Geflüchteter. Arslan ist 25 Jahre alt und kommt aus Pakistan. Unaufhörlich trug er in außerordentlichem Maß zur Arbeit unserer Gruppe bei. Jetzt, nach fast zwei Jahren, befindet sich sein Asylverfahren in einer sehr kritischen Phase. Die Berliner Behörden versuchen, ihn nach Pakistan abzuschieben.
Das darf nicht passieren und aus diesem Grund bitten wir euch um Hilfe, denn gute rechtliche Unterstützung kostet viel Geld.
Arslan verlies 2011 Pakistan, wo er politisch und religiös verfolgt
wurde. Durch den Iran und die Türkei erreichte er 2012 Griechenland, wo er von der Polizei festgenommen und inhaftiert wurde, weil er das Land illegalisiert ohne Dokumente betreten hatte. Die folgenden zwei Jahre verbrachte er im Knast. Nach den gewöhnlichen 18 Monaten wurde seine Gefangenschaft um weitere 6 Monate verlängert. Nach diesen zwei Jahren kam er frei unter der Auflage, Griechenland innerhalb eines Monats zu verlassen. Er konnte nicht nach Pakistan zurückkehren, weil dort sein Leben in Gefahr ist. Über Mazedonien, Serbien, Ungarn und Österreich erreichte er schließlich 2015 Deutschland, wo er Asyl beantragte.
Vor kurzem erhielt er nun die Ablehnung seines Asylantrages. Um gegen die negative Entscheidung vorzugehen und den Anwalt bezahlen zu können brauchen wir Geld. Wenn Arslan nach Pakistan abgeschoben wird, muss er damit rechnen, verfolgt und eingesperrt zu werden. Darüber hinaus würde die Stop Deportation Group einen sehr wichtigen Teil verlieren. Während seiner Zeit in Berlin war Arslan stark darin eingebunden, Awareness zu erhöhen und Geflüchtete in Berlin und anderswo zu unterstützen. Wenn er gezwungen ist, die Stadt zu verlassen, wird auch sein Wissen und seine Erfahrung uns verlassen. Der Kampf für Bewegungsfreiheit, für die freie Wahl des Ortes, an dem mensch leben will, muss weitergehen! Wir, die Stop Deportation Group, können nicht zulassen, dass uns ein wichtiger Teil unserer Gruppe von deutschen Behörden weggenommen wird. Wir bleiben zusammen!
Abgesehen von einer finanziellen Spende wäre ein weiterer Weg, Arslan zu unterstützen, das Finden einer kleinen Wohnung oder eines WG-Zimmers.
Nachdem er die letzten 6 Jahre auf der Straße, im Gefängnis oder im Lager verbracht hat, wo er auch jetzt lebt, wünscht sich Arslan ein richtiges Zuhause. Seit eineinhalb Jahren sucht er vergeblich eine Wohnung in Berlin; bis jetzt hat keine Hausverwaltung zugestimmt, obwohl das Lageso die Miete bezahlen würde. Bitte schreib uns eine E-Mail, wenn du einen freien Raum in Berlin kennst.
--- UNTERSTÜTZT UNSEREN POLITISCHEN KAMPF ---
Wenn irgendwie möglich, bitte unterstützt diesen Kampf finanziell:
Kontoinhaber: Förderverein The VOICE e.V.
Kreditinstitut: Sparkasse Göttingen
IBAN: DE97 2605 0001 0000 1278 29
BIC: NOLADE21GOE
Betreff: Arslan (bitte unbedingt angeben!)
Kontakt: stop-dep-group@lists.riseup.net
Facebook: https://www.facebook.com/stopdeportationgroup/