You are here
May 31th in Erfurt Kundgebung: Keine Abschiebung - Nirgendwohin
Mon, 05/29/2017 - 02:26 -

voice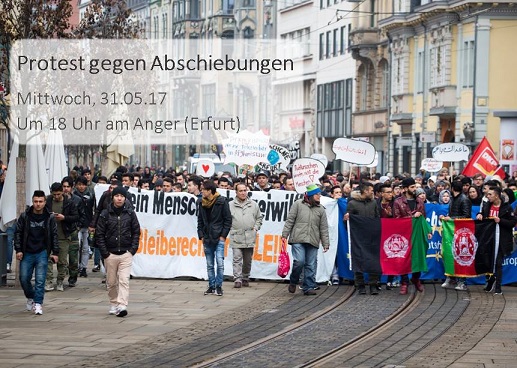 On Wednesday, the 31th of May at 6pm we come together for a peaceful demonstration against deportations. We well meet in Erfurt at Anger. On the same day, the next mass deportation to Afghanistan is expected to be carried out. Several federal states in Germany do NOT support deportations to Afghanistan, such as Thuringia.
But deportations to other countries are daily routines in the whole country of Germany. Deportation, especially against someones will, no matter to which country is always dangerous for the mental and physical health of the affected people.
We demand that the state of Thuringia is no longer participating in the inhuman deportation politics and in addition to that a nationwide deportation stop to Afghanistan.
Fight the causes that people flee from, not the people!
Sprachcafé· Erfurt, Germany
Face book:
https://www.facebook.com/events/1754757744815829/
end
Lets organize to stop the deportations!
Refugee Solidarity Rallies and Parade:
NO MORE WAR! NO FURTHER EXPLOITATION - STOP DEPORTATION
We demand an unconditional right to residence and safety!!!
We want to invite you to our planning meetings and events taking place in June and July with the Refugee Community in Jena to mobilize against the German deportation regime.
Official Invitation
Even as we continue to pay eternal respect to the victims of the barbaric European migration regimes symbolized by the deadly, murderous and militarized control apparatus that is FRONTEX…Update; http://thevoiceforum.org/node/4357