You are here
Press-information: Refugee Demonstration - 24.06 in Jena
Sat, 06/24/2017 - 02:24 -

voice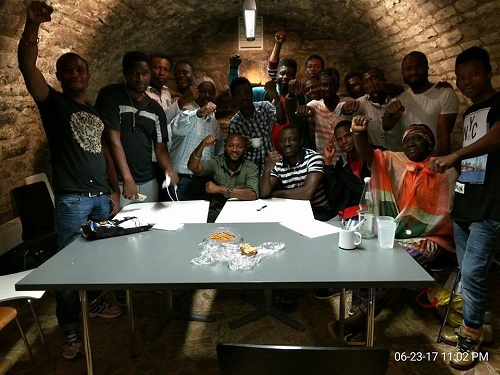 Stop Deportation Parade! In Protest against the G20 Summit and the wars against Refugees!!
We would like to inform that on 24th June there will be several manifestations and demonstrations of refugees from Thuringia and other German states in protest against the G20 summit and the wars against Refugees!!
It is all about a the stop of all deportations. There can be no compromise with deportations. Refugee organise in a order of solidarity and demand an unconditional right to residence, safety and freedom of movement and the respect of our dignity. As the oppressed of the world we lead our fight und demand that you listen to our community. By taking back our freedom now we fight for justice!
At 5pm at JenaOptik Carl-Zeiss Strasse, there will be a symbolic memorial in protest against the multinational military arms production and Weapon Export by JenaOptik on the war on refugees: With a solidarity parade to pay eternal respect to the victims of wars and the barbaric
European migration regimes symbolized by the deadly, murderous and
militarized control apparatus that is FRONTEX…
Agenda:
13:00h: Refugee Solidarity protest rally (meeting point: Haus auf der Mauer Johannisplatz)
16:00 Uhr: demonstration through the centre of Jena: Stop-Deportation-Parade: Stoppt all deportations!
(Tour: Faulloch – Johannisstraße – Kirchplatz – Rathausgasse –Markt - Unterm Markt - Löbdergraben (Bürgerservice) – Löbdergraben – Holzmarkt – Teichgraben - Schillerstraße – Ernst-Haeckel-Straße – Carl-Zeiss-Platz - Carl-Zeiss-Straße - Ernst-Abbe-Platz - Leutragraben - Johannisstraße – Faulloch)
17:00: Memorial at Jenoptik
NO MORE WAR! NO FURTHER EXPLOITATION - STOP DEPORTATION
Kind regards,
Refugee Community Jena: Davoud Hosseini
The VOICE Refugee Forum Jena: Info Kontakt: Telefon: 0049 176 24568988
Email: thevoicerefugeeforum@riseup.net, The VOICE Refugee Forum, Schillergäßchen5, 07743 Jena (http://thevoiceforum.org/node/4357)