You are here
Press release: Background decision on BAMF official Ho Ngoc T. and Cambodian Refugee Protest in Berlin
Thu, 10/12/2017 - 09:27 -

voice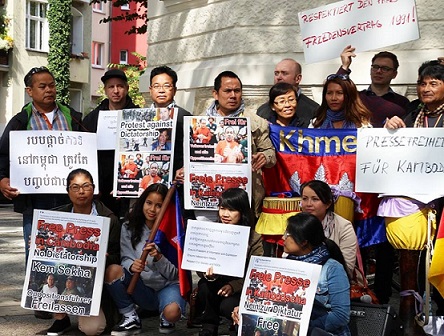 VIDEO: Protest in Front of Cambodian Embassy
Press release: background information on BAMF official Ho Ngoc T.
Photography: Rally in front of the Berlin Further Education College (VHS) on the "Mekong Day" on 10.09.2017.
The dismissed official of the Federal Office for Migration and Refugees (BAMF) Ho Ngoc T. is supsected to have decided negatively on asylum requests due to his closeness to the Vietnamese government. Mr. Ho Ngoc T. decided on refugees politically persecuted from Cambodia.
The former official of the Federal Office for Migration and Refugees (BAMF) from Jena and Hermsdorf, Mr. Ho Ngoc T., is, according to media reports, under suspicion to cooperate with the Vietnamese secret services. (1) The secret services have reportedly kidnapped a person from German territory to Vietnam – which led, among other things, to the expulsion of a Vietnamese diplomat by the Federal Government of Germany. (2) As a matter of fact, Ho Ngoc T. commented on the kidnapping on facebook. The Federal Office has in the meantime dismissed him. (3) During his time at BAMF he took negative decisions on asylum requests of those politically persecuted from Cambodia. In order to grasp the scope of this affair we must take into consideration the political situation and the friendly relations between Vietnam and Cambodia.
President Hun Sen was a commander of the Red Khmer. In the 1970s he went to Vietnam because of political infighting. Shortly thereafter, Vietnam together with Hun Sen invaded Cambodia and soon brought him into important political positions. For 32 years he's been Cambodia's president. The opposition speak of a dictatorship. Hun Sen is known for persecuting members of opposition and human rights activists. Opposition have been shot, beaten and killed during demonstrations, in part people have disappeared and many have been jailed. In 2017 Hun Sen arrested an opposition leader without a warrant, shut down a daily paper and many radio stations. (4)
Resistance against that has been forming among the Cambodian community in Germany. On a rally in front of the Berlin Cambodian embassy on 9. October 2017 activist Kanhan Chhun raised clear demands: freedom for all political prisoners, freedom of speech and the freedom to fight for your life. (5)
Kanha Chhuns has been an activist of the CNRP opposition party before fleeing to Germany. She participated in several demonstrations and organised protests. Thus, she also fought against the president's expropriating of her sister's land. After her being attacked during a protest and after persecution at the hands of the government's civil forces, in 2014, she fled to Germany. Ever since, she fears for her relatives who have remained in Cambodia and have to hide up until today.
Kanha Chhun is threatened with prison or worse for being an activist of the opposition and against land grabbing. Whether this is a legitimate reason for flight was decided, of all people, by Mr. Ho Ngoc T. He was the BAMF Jena/Hermsdorf official responsible for Kanha Chhuns asylum request and rejected it just like other asylum requests from Cambodia. How is it possible that Mr Ho Ngoc T. was the BAMF official responsible for people fleeing from Cambodia? Not only with Mrs. Chhun and her children, but also with other people the question arises which political objectives he pursued as an official. The fact that the Federal Agency employed Mr. Ho Ngoc T. as an official for Cambodians shows that the Agency doesn't have any political understandment for their reasons for flight.
He's supposed to work for the Vietnamese government and to be in touch with the secret services.
His alleged participation in the kidnapping of an asylum seeker in Germany remains to be cleared up.
The Vietnamese government and Hun Sen work together.
We demand that the political persecution of Cambodian activists be recognised as a legitimate reason for flight. That also means that all requests decided negatively upon by Mr. Ho Ngoc T. must be processed and decided upon again!
Press contact to activists Kanha Chhun via B. Schwab: 0178/1721018
Artikel Neues Deutschland:
https://www.neues-deutschland.de/artikel/1065679.zustaendig-fuer-ausland...
More information on the human rights situation in Cambodia:
https://www.hrw.org/world-report/2017/country-chapters/cambodia
https://www.licadho-cambodia.org
https://www.cambodiadaily.com
Footnotes:
1. http://www.taz.de/Nach-der-Entfuehrung-nach-Vietnam/!5443717/
2. https://www.tagesschau.de/inland/vietnam-entfuehrung-101.html
3. http://www.taz.de/Nach-der-Entfuehrung-nach-Vietnam/!5443717/
4. http://www.phnompenhpost.com/national/government-closes-15-radio-stations
5. Infos zu Protesten in Berlin unter: http://breakdeportation.blogsport.de
6. http://thevoiceforum.org