You are here
Oury Jalloh was Murdered, Nazis are Murderers: Apolda Nazis Mobilizing against Refugee Unity - Community Demonstration in (Thueringen)
Sat, 12/02/2017 - 01:08 -

voice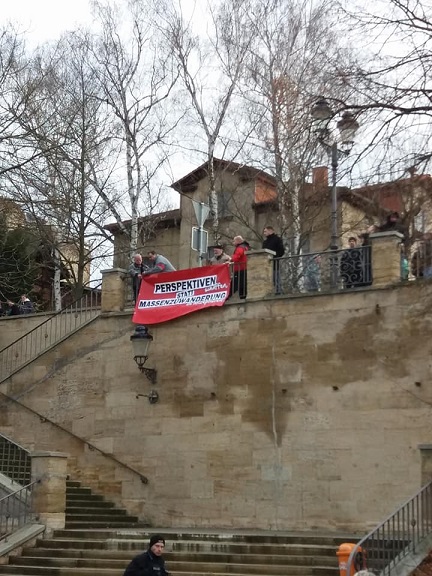 Foto: Nazi Protest against refugee demo
Refugee Demonstration in Apolda 2.12.2017
Erste Demonstration für die Einheit der Flüchtlings-Community in Apolda
English: http://thevoiceforum.org/node/4421
1st Refugee Unity - Community Demonstration in Apolda (Thueringen)
German: http://thevoiceforum.org/node/4422
Press Release:
Apolda Nazis Mobilizing against against Refugee Unity - Community Demonstration in (Thueringen)
We are informed that the Nazis are mobilizing against the Refugee Demonstration in Apolda tomorrow - They should be bottled, their hands are full of blood.
We are not supprised by the Nazis and We are also not detered by the Nazi culture in here because they are the main courses of the deaths and subjugation of refugees in Germany. Every Nazi is a suspect of Terror. Oury Jalloh was Murdered, Nazis are Murderers.
These posts appeared yesterday evening on the Facebook page "We love Apolda":
"Anyone interested in seeing this" refugee demo "? on Saturday, 1:40 pm on the outside staircase above the train station
Please share and appear numerous "
"We love Apolda shared Refugee Council Thuringia e.V.'s post - feeling annoyed.For freedom of movement? If this Refugee Council is so warmhearted then they should also vouch for their protégés and relieve the state, take them up at your home, let them live at your expense. But those who do not have the costs can speak cockily of charity. Please share and demonstrate your contribution "
They will be heard responsible.
WE ARE ON THE MOVE!
For more information on the Nazis mobilization please contact us:
Tel. 0176 24568988
The VOICE Refugee Forum Jena
Date: 2nd December 2017, Time: 2pm, Place: Apolda Train station
Stop the Deportations and Stop Dublin Deportation for Freedom of Movement!!!
Bring back the refugees!!
We the refugees in Apolda and Thuringen in general demand the unconditional respect for our constitutionally guaranteed rights to human dignity. These rights include our right to secured residence, security and safety, the right to work, the right to private and humane housing here in Apolda or in anywhere we may chose or wish to live.
We are refugees living Auf dem Angespanne 3, 99510 Apolda, for more than 250 refugees. Many refugees are isolated in this Heim -lager already for more than (3years to 16years) without perspectives, many are under deportation threats, some are deported without notice of deportation.
We demand the recognition of our asylum cases as genuine attempt to seek internal protection from persecution in our home countries. Persecution that is aided and abetted by the dubious collaboration between Western governments and the tyrants and puppets that they installed as leaders in our countries.....continue http://thevoiceforum.org/node/4421
Photo: Some activists of Refugee Community Apolda in the office of The Voice Refugee Forum in Jena
http://thevoiceforum.org/node/4421
Flüchtlinge wollen in Apolda bessere Lebensbedingungen demonstrieren
http://apolda.thueringer-allgemeine.de/web/apolda/startseite/detail/-/sp...
Donate and campaign in solidarity with the refugee community movement. The VOICE - Bank Account code: "Unity-Protest", Kontonummer: 127829, BLZ: 260 500 01, IBAN: DE97 2605 0001 0000 1278 29, BIC: NOLADE21GOE
Contacts in Apolda: Dr. Aghayev Magsud, Tel.: 017622394162 |Mohammed Ahsan, Tel.: 0173 1436248 | Jena: Miloud L.Cherif, Tel.: 0176 32360839
Organized by the Apolda and Jena Refugee Community in Thueringen
The VOICE Refugee Forum Jena Email: thevoicerefugeeforum@riseup.net | http://thevoiceforum.org Break Deportation Network |
http://breakdeportation.blogsport.de