You are here
Bayern: Solidarität mit dem 'Streik der geschlossenen Türen' von 209 Menschen aus Sierra Leone im Abschiebelager Deggendorf
Sat, 12/16/2017 - 23:54 -

voice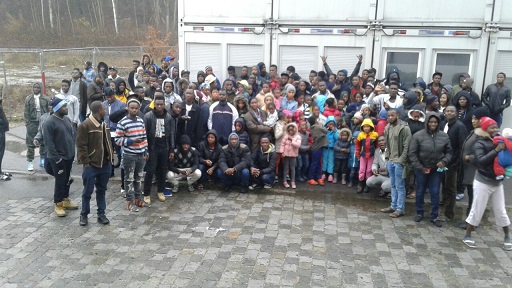 Deggendorf Protest:
Refugee Community Meeting, 26.12.17 at 13 hours in Dingolfing:
Solidarity and Resistance Against Deportation Culture in Bavaria Germany.
#BreakIsolationandDeportation Community
#RefugeeBlackBox @ #thevoiceforum.org
Refugee Protest DEMO | 20.12.17 | Deggendorf | BAVARIA
http://thevoiceforum.org/node/4440
####
Video documentation of the Deggendorf transit camp protest on 20th
December 2017 (Bavaria, Germany), against deportations, inhuman living
conditions in the camp and the new 24 months policy:
https://vimeo.com/248613638
http://cultureofdeportation.org/2017/12/24/en-no-24-months/
Solidarität mit dem 'Streik der geschlossenen Türen' von 209 Menschen aus Sierra Leone im Abschiebelager Deggendorf
Wednesday: Refugee Protest DEMO | 20.12.17 | Deggendorf | BAVARIA
Streik von 209 Menschen aus Sierra Leone im Abschiebelager
10 - 16Hrs at Bundesamt für Migration und Flüchtlinge
Stadtfeldstraße 11, 94469 Deggendorf| BAVARIA
http://thevoiceforum.org/node/4440
Am Freitag, 15. Dezember 2017 sind 209 Menschen aus Sierra Leone in dem Abschiebelager in Deggendorf in einen 'Streik der geschlossenen Türen' getreten. Aus Protest verweigerten die Kinder und Jugendlichen den Schulbesuch, d.h. den Besuch des Deutschkurses, da ihnen der Zugang zu öffentlichen Bildungseinrichtungen verwehrt ist. Die erwachsenen Bewohner*innen verließen die Unterkunft nicht und bestreikten die 80 Cent Jobs. Am Samstag, 16. Dezember 2017 begannen sie zudem zusätzlich mit einem Hungerstreik. An dem Protest sind derzeit 44 Kinder und Jugendliche beteiligt, sowie 40 Frauen (davon 12 Schwangere) und 125 Männer. Auslöser des Protestes war die gewaltsame Abschiebung eines Menschen aus Sierra Leone am Freitagmorgen, die in letzter Minute am Flughafen gestoppt wurde.
****
Statement der Streikenden aus Deggendorf
Wir sind Menschen aus Sierra Leone, die hier in Deutschland Schutz suchen, wurden aber enttäuscht statt beschützt. Und wir haben beschlossen, aus folgenden Gründen zu handeln:
Jede*r Asylbewerber*in aus Sierra Leone in Deggendorf hat negative Ergebnisse erhalten in Form von:
1. Dublin-Abschiebung
2. Ablehnung des Asylantrages
3. Ablehnung mit "offensichtlich unbegründet"
- Der nächste Punkt ist, dass wir jetzt in dem Camp für 2 Jahre statt 6 Monate bleiben müssen, ohne Schulbildung und ohne Arbeitserlaubnis.
- Sehr schlechte Unterkunftsmöglichkeiten mit 8 Personen in einem Zimmer mit schlechter Hygiene und Toiletten.
- Sehr schlechte Qualität der Nahrung.
- Abschiebung nach Italien mit schwerer Folter und ohne angemessene Vorkehrungen für die Unterbringung der Einwanderer in Italien, wodurch die Einwanderer auf der Straße leiden.
- Erzwungene Abschiebung von Schwangeren, Kindern, kranken Menschen und stillenden Müttern.
- Keine Medikamente für Einwanderer mit speziellen Krankheiten.
- Und jetzt wurde uns mitgeteilt, dass dies ein privates Lager ist und keine Journalisten zugelassen sind.
Aus diesen Gründen haben wir am 15. Dezember 2017 einen Streik der geschlossenen Türen ('closed door strike') begonnen: Wir sind nicht in die Schule gegangen und morgen, am Samstag 16. Dezember und am Sonntag, 17. Dezember treten wir in den Hungerstreik. Am Montag werden wir zum Stadtrat gehen, um die Möglichkeit zu bekommen, einen friedlichen Protest in Deggendorf zu organisieren, mit Fortführung des Schul- und Hungerstreiks. So soll die ganze Welt erfahren, wie Deutschland die Einwanderer behandelt.
https://refugeestruggle.org/de/article/solidaritaet-mit-dem-streik-der-g...