You are here
Pressemitteilung von PEACE (Peer Exchange of African Communities for Empowerment) Netzwerk und The VOICE Refugee Forum Netzwerk in Deutschland
Fri, 01/05/2018 - 13:04 -

Goettingen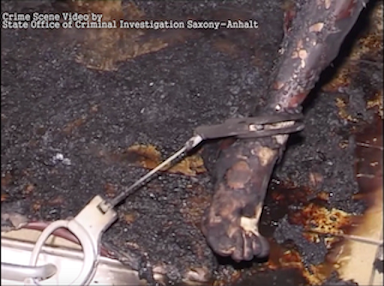 "The VOICE Presse: Der Kampf für Oury Jalloh lebt weiter – 07.01.2018 in Dessau"
Pressemitteilung von PEACE (Peer Exchange of African Communities for Empowerment) Netzwerk und The VOICE Refugee Forum Netzwerk in Deutschland zu dem dramatischen Stopp der Ermittlungen und dem 13. Jahrestag im Gedenken an dem Mord an unserem Bruder Oury Jalloh.
Berlin, 05. 01.2018
"Von Beginn haben wir in unseren Aufrufen und Kampagnen seit 2005 behauptet, dass Oury Jalloh ermordet wurde, doch wenige glaubten uns. Nun spricht der Mainstream von Mord, während wir immer noch unter den Narben leiden, die uns vom Staat und der Gesellschaft im Lauf von 13 Jahren zugefügt wurden." (Mbolo Yufanyi von The VOICE Refugee Forum und PEACE International)
Am 7. Januar 2018 sind es 13 Jahre, seit Oury Jalloh, ein Bruder aus Sierra Leone durch die Hände der Polizei in der Stadt Dessau in Deutschland brutal ermordet wurde. Dreizehn Jahre lang haben das The VOICE Refugee Forum Netzwerk und die Afrikanische/Schwarze Community an der Seite der Initiative in Gedenken an Oury Jalloh und insbesondere an der Seite der Familie unseres Bruders gestanden und ihren Aufruf für "Wahrheit, Gerechtigkeit und Reparationen" unterstützt. Fast 13 Jahre sind vergangen und der deutsche Staat und die Polizei haben mit Lügen, Ungerechtigkeit und andauernder Brutalität geantwortet.


Die leitende Staatsanwältin Heike Geyer aus Halle hat in ihrer Pressemitteilung vom 12. Oktober 2017 angekündigt, dass sie nach eingehender Untersuchung der verfügbaren Beweise […] die Ermittlungen zum Tod Oury Jallohs eingestellt habe, da es offensichtlich keine ausreichenden Beweise gebe und neue Erkenntnisse zu seinem Tod nicht zu erwarten seien, da eine Vielzahl von Möglichkeiten denkbar sei, weshalb folglich ein Selbstmord nicht ausgeschlossen werden könne.
Wir sollten uns daran erinnern, dass schon am Tage des Mordes an Oury Jalloh am 7. Januar 2005 eine Hypothese entwickelt und dokumentiert worden war, bevor die Ermittlungen zu dem Verbrechen überhaupt erst begonnen hatten: "Ich begebe mich jetzt in den Keller, in dem sich ein schwarzafrikanischer Bürger in einer Arrestzelle angezündet hat." Dies waren die Worte des ersten Ermittlers Stendal, der später Videobeweismaterial von der Dauer von über einer Stunde zerstörte, das man aus der Zelle, in der unser Bruder ermordet wurde, geholt hatte.
Nach den verschiedenen Brandgutachten und Berichten, die von der Initiative in Gedenken an Oury Jalloh unabhängig organisiert und gesponsert worden waren und auch nach neuesten Berichten nationaler Medien war es ausgeschlossen, dass unser Bruder Selbstmord begangen hätte.
Die Mehrheit der Experten auf den Gebieten des Brandschutzes, der Medizin und der Chemie kam zu dem Schluss, dass der Zustand der Zelle und der Leiche nach dem Feuer nicht erklärt werden kann, ohne dass – nach Monitor – geringe Mengen von Brandbeschleunigern wie Leichtbenzin benutzt worden wären. Mehr noch: Die Theorie der Selbstverbrennung ist so gut wie auszuschließen: "Oury Jalloh sei bei Brandbeginn wahrscheinlich komplett handlungsunfähig oder sogar bereits tot gewesen." (Süddeutsche Zeitung vom 16.11.2017)
Betrachtet man den Verlauf der deutschen Geschichte, insbesondere in Bezug auf Afrika, aber auch Europa, sind wir nicht überrascht von dem abscheulichen Verbrechen, das durch die deutsche Polizei begangen und von dem deutschen Justizsystem gedeckt wurde. Ein afrikanisches Sprichwort sagt: "Wenn du der Spur deines Vaters folgst, wirst du gehen wie er."
Diese kontinuierliche koloniale Realität, die reflektiert wird durch die organisierte Tötung von Migrant*innen im Mittelmeer, durch die Abschiebepraktiken, die Ermittlungen gegen die Angehörigen der NSU-Opfer, den Aufstieg der AfD und anderer rechter Gruppierungen in Deutschland und Europa, die Kriminalisierung von Flüchtlingen und insbesondere von Afrikaner*innen, macht es umso dringlicher für Afrikanische/Schwarze Leute, zusammenzukommen und diese Übel des 21. Jahrhunderts herauszufordern und zu bekämpfen.
Sich an Oury Jalloh, Layé Kondé, Mariama Sarr, Christy Schwundeck, Dominique Koumadio und all die anderen – die Liste ist noch länger – zu erinnern und für sie zu kämpfen ist eine Sache der Selbstverteidigung.
Je vereinter wir sind in dieser Herausforderung und in der Verteidigung unserer selbst und unserer Werte gegen diese Monster des 21.Jahrhundert, desto mehr entlarven wir die Risse in einer Weltordnung und in den Systemen, die uns und die Menschheit im Allgemeinen im Stich gelassen haben und die uns und die Menschheit zerstören werden, wenn wir sie nicht stoppen.
OURY JALLOH IST KEIN EINZELFALL – KEINER WIRD VERGESSEN WERDEN!
RESPEKTIERT UNSERE EXISTENZ – UND RECHNET MIT UNSEREM WIDERSTAND!
Black Nation Germany: Auf zur Oury Jalloh Demo am 07.01.2018 in Dessau
http://thevoiceforum.org/node/4450
Pressemitteilung des Zentralrates der afrikanischen Gemeinde in Deutschland
Solidarität mit der "Initiative zum Gedenken an Oury Jalloh" gegen rassistische Bewegungen"
http://thevoiceforum.org/node/4446
Aufruf zur Demo am 07.01.2018 in Dessau
Update: https://initiativeouryjalloh.wordpress.com/
Unsere Community ist unser Medium!
Kontakt für weitere Fragen:
Dr. Mbolo Yufanyi
+49 (0) 1708788124.
Quellen:
http://www.sueddeutsche.de/politik/tod-von-oury-jalloh-ard-bericht-oury-...
https://www.facebook.com/monitor.wdr/videos/1609164162455851/?fref=mentions
https://www.zhaw.ch/storage/shared/sozialearbeit/News/gutachten-entwickl...
https://vimeo.com/79113508