You are here
Dessau: La presse de The VOICE et de PEACE International - Oury Jalloh 2018
Wed, 01/10/2018 - 19:54 -

voice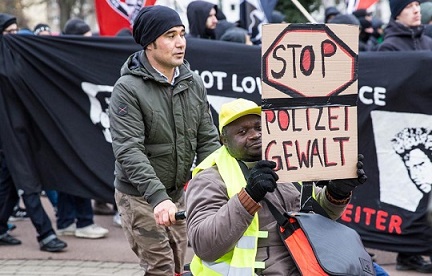 UmbruchPhoto: Ali et Ali activistes de la communauté des réfugiés de Hambourg et Iéna à Dessau.
Fotos unter: http://www.umbruch-bildarchiv.de/bildarchiv/foto3/070118oury_jalloh/inde...
Dessau: La presse de The VOICE et de PEACE International - Oury Jalloh 2018
"Nous avons déclaré depuis le début de nos appels et campagnes depuis 2005 que Oury Jalloh a été assassiné mais très peu nous ont crus. Maintenant, le courant dominant parle de meurtre alors que nous souffrons des cicatrices infligées par l'Etat et la société, en l'espace de 13 ans "(Mbolo Yufanyi du The VOICE Refugee Forum et de PEACE International) …
http://thevoiceforum.org/node/4452
Le 7 Janvier 2018, il y a 13 ans depuis que Oury Jalloh, un de nos frères de la Sierra Leone fût brutalement assassiné par les propres mains de la police allemande dans la ville de Dessau, en Allemagne. Depuis 13 ans, The VOICE Network et the African/Black Community est aux cotés de l'initiative à la mémoire de Oury Jalloh et soutient son appel pour « VERITE, JUSTICE et REPARATIONS » en particulier avec la famille de notre frère. Près de 13 années se sont écoulées et le gouvernement allemand comme la police répondent par: « MENSONGES, INJUSTICES et BRUTALITÉS continues »
.Heike Geyer, la procureur en chef de la ville de Halle annonçait dans son communiqué de presse du 12 Octobre 2017, qu'elle avait, après un examen attentif des données disponibles [...] « ​​fermé l'enquête au sujet du décès de Oury Jalloh » parce que soi-disant, il n'y a pas suffisamment de preuves, depuis « une multitude de possibilités sont concevables » et que par conséquence un suicide ne peut pas être exclu.
Nous devons nous rappeler que le jour de l'assassinat de Oury Jalloh le 7 Janvier 2005, une hypothèse avait déjà été mise en place et documentée avant le début de l'enquête sur le crime:
« Maintenant, je vais au sous-sol, où un habitant noir africain une cellule s'est immolé dans une cellule de détention.» Ce sont les mots des premiers enquêteurs de la ville de Stendal qui ont plus tard détruit plus d'une heure de preuves de la vidéo de la cellule où notre frère fût assassiné.
D'après les différentes enquêtes et rapports sur l'incendie, indépendamment organisés et sponsorisés par l'Initiative en Mémoire de Oury Jalloh et suite aux récents rapports des médias nationaux, notre frère ne pouvait pas s'être suicidé.
La majorité des experts dans les domaines de la protection incendie, de la médecine et de la chimie ont conclu que l'état de la cellule et du corps après l'incendie ne peut être expliqué sans l'utilisation de petites quantités d'accélérateurs tels que l'essence légère, selon Monitor. En outre, la théorie du suicide par immolation peut être aussi bien rejeté: "Oury Jalloh était au début du feu probablement complètement dans l'incapacité ou même déjà mort", que cite le « Süddeutsche », journal du 16.11.2017
En suivant la chronologie de l'histoire allemande notamment en ce qui concerne l'Afrique en particulier mais aussi l'Europe, nous ne sommes pas surpris du crime odieux perpétré par la police allemande et dissimulé par son système judiciaire. Il y a un proverbe africain qui dit: «Quand vous suivez le chemin de votre père, vous apprenez à marcher comme lui.
Cette réalité coloniale continue, reflétée par le meurtre organisé de (être) migrants en Méditerranée, les pratiques de déportations, les enquêtes contre les proches des victimes de la NSU ou la montée de l'AfD et d'autres entités de droite en Allemagne et en Europe, la criminalisation des réfugiés, en particulier des Africains, rendant plus important que jamais que les Africains/Black people se rassemblent pour défier et combattre ces maux du 21ème siècle.
Garder la mémoire et se battre pour la justice pour Oury Jalloh, Layé Kondé, Mariama Sarr, Christy Schwundeck, Dominique Kuomadio (la liste continue) et tous les autres est une question d'autodéfense..
Plus nous sommes unis pour défier et nous défendre et nos valeurs contre ces monstres du 21ème siècle, mieux nous pouvons exposer les failles d'un ordre mondial et des systèmes qui nous a fait du tord comme à l'Humanité en général et qui veut nous détruire ainsi que l'Humanité si nous ne les arrêtons pas.
OURY JALLOH N'EST PAS UN CAS INDIVIDUEL – PERSONNE NE SERA OUBLIÉ!
RESPECTEZ NOTRE EXISTENCE - OU – ATTENDEZ-VOUS Á NOTRE RÉSISTANCE!
A la Black Nation en Allemagne: Tous à la manif Oury Jalloh le 7.01.2018 à Dessau
The VOICE Press - Our community is the media
"Oury Jalloh Struggle Lives On ! – Demonstration on 07.01.2018 in Dessau"
La presse de The Voice- Notre communauté c'est notre média