You are here
Allemagne- Cameroun: Rencontre avec Senfo Tonkam, un des anciens leaders estudiantins Camerounais des années 90, exilé, intellectuel et activiste politique :: GERMANY
Tue, 01/16/2018 - 14:11 -

voice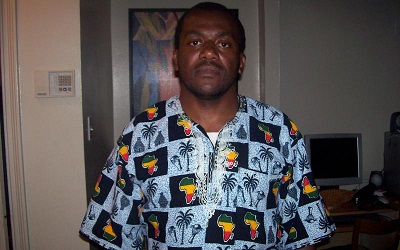 Senfo Tonkam
Allemagne- Cameroun: Rencontre avec Senfo Tonkam, un des anciens leaders estudiantins Camerounais des années 90, exilé, intellectuel et activiste politique :: GERMANY
Mehr lesen auf http://www.camer.be/65411/11:1/allemagne-cameroun-rencontre-avec-senfo-t...
English:
Interview with exiled Cameroonian former student leader and political activist
Sarraounia Mangou Tete (pambazuka.org press)
Dec 07, 2017
Senfo Tonkam still retains his anti-imperialist militancy and radical outlook after two decades in exile. The liberation of Africa, he insists, is not yet complete. The struggle continues. And no African will ever be free until all Black people everywhere in the world are free
https://www.pambazuka.org/pan-africanism/qa-senfo-tonkam-african-revolut...