You are here
Zusammenlegen: Verfolgt & geflohen – Support Kanha! Cambodian Campaign in Thueringen
Tue, 02/20/2018 - 09:40 -

voice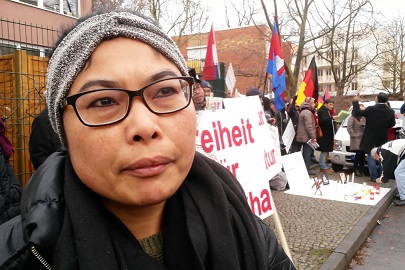 You can still donate to support the campain or for The Voice Refugee Forum – Support the Fighters!
Please feel free.
Zusammenlegen: Verfolgt & geflohen – Support Kanha!
Cambodian Campaign - "Wee need freedom"
http://breakdeportation.blogsport.de/cambodian-campaign/
Zusammenlegen: Verfolgt & geflohen – Donation Support Kanha!
https://www.gofundme.com/helft-kanha
Kanha Chhun ist vor Gewalt und Verfolgung mit ihren Kindern nach Deutschland geflohen, wo ihr Asylantrag abgelehnt wurde. Sie möchte gegen diese Entscheidung klagen, kann sich aber die Anwaltskosten nicht leisten.
Sie ist in Kambodscha in der inzwischen verbotenen Oppositionspartei CNRP aktiv gewesen. Immer wieder werden Aktivist*innen der Partei verhaftet oder ermordet. Kanha und ihre Tochter mussten selbst vor Bewaffneten fliehen, die ihr bis zu ihrer Haustür gefolgt sind. Auch ihre Familie wird immer wieder terrorisiert, weil ihr Land von der Schwester des Ministerpräsidenten beansprucht wird.
Trotzdem wurde ihr Asylantrag und der ihrer beiden Kinder in Deutschland abgelehnt. Sie braucht nun Geld für einen Anwalt/eine Anwältin, um gegen diese skandalöse Entscheidung zu klagen.
Als ihre Freundin bitte ich deswegen um eure Spenden!
Besonders brisant an Kanhas Fall: Der Asylentscheider des Bundesamtes für Migration und Flüchtlinge (BAMF) Herr Ho, der diese Entscheidung traf, wurde letzten Sommer suspendiert. Er war verdächtigt worden, vietnamesische Behörden Informationen über einen geflüchteten Vietnamesen übermittelt zu haben, der letzten Sommer mutmaßlich vom Geheimdienst Vietnams entführt und in seinem Heimatland vor Gericht gestellt wurde. Nachgewiesen werden konnte ihm bis jetzt allerdings nur, dass er für die Regierung Vietnams Reden schrieb und von ihr einen Preis für Auslandspropaganda bekam. Er kann also nicht neutral über Asylanträge aus dieser Region entscheiden. Dazu ist zu wissen, dass Vietnam und Kambodscha enge politische Beziehungen pflegen: Der heutige kambodschanische Ministerpräsident Hun Sen ist als Kommandant der Roten Khmer mit vietnamesischer Hilfe Außenminister geworden. Nachdem er in freien Wahlen verlor, putschte er sich 1997 an die Macht. Er ist bis heute Freund und Verbündeter Vietnams.
Inzwischen arbeitet Herr Ho nicht mehr für das BAMF. Die Entscheidungen, die er als Asylentscheider traf, werden allerdings im Lichte dieses Skandals nicht automatisch überprüft. So muss Kanha selbst gegen Herr Hos Entscheidung vorgehen – um einen Anwalt/eine Anwältin für eine Klage zu bezahlen fehlt ihr allerdings das Geld. Dafür brauchen wir eure Hilfe!
Kanha ist auch in Deutschland weiter politisch aktiv. Sie gab Interviews ( https://www.neues-deutschland.de/artikel/1074155.kambodscha-das-regime-g... ) und protestierte mehrmals vor der kambodschanischen Botschaft gegen die Verhaftung des Oppositionsführers und das Verbot der CRNP. Bei diesen Aktionen wurden die Demonstrierenden aus der Botschaft heraus abfotografiert und so eingeschüchtert. Die Ermordung des Oppositionellen Kem Ley im Jahr 2016 zeigt, dass es nicht nur bei Drohungen bleibt. Außerdem drohte Ministerpräsident Hun Sen erst im Januar der Tochter des Oppositionsführers, dass sie bei ihrer Einreise nach Kambodscha verhaftet werden würde, weil sie im Ausland protestiert hatte. Das lässt Schlimmes befürchten, falls Kanha nicht in Deutschland bleiben darf.
Als Freundin Kanhas und Bewundrerin ihrer politischen Arbeit und Stärke bitte ich euch aus ganzem Herzen um eure Hilfe. Es ist ein Skandal, dass eine Aktivistin, die sich für Menschenrechte und freie Wahlen einsetzt und deswegen verfolgt wird, hier keine Sicherheit findet. Stattdessen muss sie gegen die Entscheidung einer Behörde kämpfen, die nicht bereit ist, die Fehler ihres Mitarbeiters zu korrigieren. Bitte helft Kanha und ihren Kindern hier ein Leben in Frieden und Sicherheit führen zu können!
Sollte die Klage erfolgreich sein und Kanha die Anwaltskosten erstattet bekommen, fließen eure Spenden an die Flüchtlingsorganisation The Voice Refugee Forum.
Die ganze Geschichte des Herrn Ho findet ihr auch noch einmal hier: https://www.neues-deutschland.de/artikel/1065679.zustaendig-fuer-ausland...
https://www.gofundme.com/helft-kanha
http://breakdeportation.blogsport.de/cambodian-campaign/