You are here
Mise à jour sur "Alarme de solidarité pour des dons": à toutes les personnes qui ont reçu notre appel
Tue, 04/03/2018 - 21:40 -

voice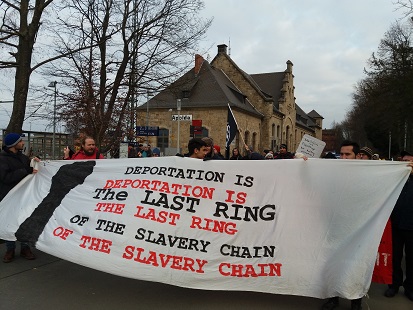 English: Update on "Solidarity Alarm for donation": To all the people who received our call http://thevoiceforum.org/node/4494
Greek: «Έκκληση για δωρεά» thevoiceforum.org/node/4497
"Alarme de solidarité pour des dons": à toutes les personnes qui ont reçu notre appel
Nous ne pouvons prétendre avoir un Mouvement progressiste sans l'autonomie politique des Mouvements de base des Réfugiés / Migrants pour définir et contrôler leurs espaces.
Faisons que notre continuité soit le premier choix pour la justice dans la défense de nos valeurs fondamentales.
Est-ce que vous vous levez avec nous?
SVP, commencez dès maintenant à donner régulièrement à The VOICE Refugee Forum !
Nous nous battons pour une autonomie politique. Nous devons arriver à une indépendance économique pour la communauté des réfugiés, sans l'implication et l'influence des institutions publiques. Leurs politiques systémiques de migration, de déportation et d'isolement mènent à des morts et aux abus envers des millions de réfugiés. Si nous coopérons avec eux, nous fermons les yeux et acceptons leurs crimes. Il est temps de rompre cette coopération de silence !
Förderverein The VOICE e.V.
Sparkasse Göttingen
Kontonummer: 127829
BLZ: 260 500 01
IBAN: DE97 2605 0001 0000 1278 29
BIC: NOLADE21GOE
Nous sommes toujours très fiables dans notre travail et pour dire que beaucoup d'entre vous de nos listes de diffusion connaissent déjà l'engagement de VOICE depuis des décennies maintenant.
Nous appelons tous les militants, sympathisants et amis ici présents de se regarder dans une glace et de nous dire que nous pouvons changer le statu quo du régime de déportation soutenu par l'apartheid mondial contre les réfugiés et les migrants.
Il est alarmant de constater que, peu avant les élections en Allemagne en 2017, les dons publics pour The VOICE Refugee Forum ont été diminués au minimum. Nous le voyons comme un signe que l'écart entre la gauche et la droite politique se rapproche rapidement, conduisant à plus de violence raciale, de déportation et de discrimination des réfugiés en Allemagne et dans tous les autres pays occidentaux.
Le boom économique allemand signifie, encore une fois, plus de frontières au lieu d'une civilisation promise qui devrait lier tous les peuples du monde. Dans les pays africains ont dit que lorsque les éléphants se battent, le sol, l'herbe des forêts et les arbres qui les entourent en souffrent! Nous savons également que nous ne faisons pas partie des éléphants et que si les belligérants du monde occidental se battent ou non, les réfugiés et les opprimés dans leurs communautés continueront à souffrir
Le changement que nous souhaitons est en nous et nous savons que beaucoup ne sont pas censés d'exiger un changement même si le droit du réfugié d'échapper à leur existence blessée est menacé d'abolition. Nos activités en tant que militants de The VOICE REFUGEE FORUM dans la communauté des réfugiés sont menacées et risquent de subir des dommages.
C'est important que par vos dons, vous souteniez nos luttes pour l'Autonomie!
C'est aussi important de noter que nous sommes des activistes bénévoles, à plein temps.
Aucun activiste dans nos cercles n'est employé ou payé pour ses engagements quotidiens à The VOICE Refugee Forum puisque nous sommes un réseau indépendant, sans alliances à toute institution gérée par l'état. Nous ne travaillons pas pour gagner un prix mais nous travaillons pour gagner l'existence et la présence de la communauté des réfugiés. Par conséquent, nous travaillons pour nous tous!
Ce que le réseau VOICE reçoit comme dons, est strictement pour l'intérêt public et pour la transparence de nos luttes pour la justice et pour le programme politique des réfugiés et du réseau communautaire en matière de sécurité et d'indépendance dans l'aide sociale en Allemagne.
... Aujourd'hui plus que jamais, nous devons faire plus qu'avant
Pour la plupart d'entre nous, peu de choses ont changé, sauf que la situation est pire. Nous avons diminué en nombres. Cet outrage provient que nous sommes restreints en ressources et dans nos outils politiques de résistance.
Même nos manifestations et conférences continuent d'ignorer le programme de la communauté des réfugiés pour l'autonomie et la libération. Nous sommes résolus à ce que le programme communautaire pour l'autonomie et la libération soit le Challenge de notre temps! Ref. info English: Reflection on the crisis of racism in Germany and Europe: Refugee-Migrants struggle is the solution: http://thevoiceforum.org/node/4496
Nous tenons remercier tous ceux qui ont fait des dons et soutenu The VOICE Refugee Forum Network jusqu'à maintenant et nous espérons que vous continuerez à le faire.
Nous avons besoin de vos dons pour faire changer quelque chose!
Notre autonomie et notre libération seront la victoire contre notre oblitération!
The VOICE Refugee Forum
Email: thevoicerefugeeforum@riseup.com
Depuis Octobre 1994: Nous nous battons continuellement pour la résistance et la justice des réfugiés thevoiceforum.org/node/4503
French: "Alarme de solidarité pour des dons": à toutes les personnes qui ont reçu notre appel http://thevoiceforum.org/node/4495
Réflexion sur la crise du racisme en Allemagne et en Europe thevoiceforum.org/node/4506