You are here
Nous SALUONS la Résistance des Réfugiés à Ellwangen - The VOICE Refugee Forum
Sun, 05/06/2018 - 16:28 -

voice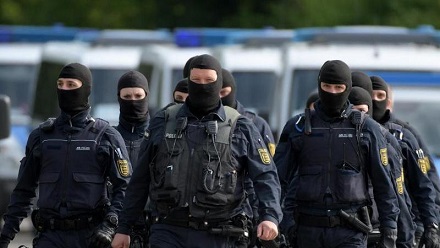 Foto: RTL
The VOICE Refugee Forum
Nous SALUONS la Résistance des Réfugiés à Ellwangen
Avec un poing fort et puissant levé vers le ciel, le Forum des réfugiés « The VOICE Refugee Forum » salue la bravoure et le courage de nos frères et sœurs réfugiés, pour la vaillance de la déportation inhumaine d'un réfugié togolais et pour la défense de son droit à la dignité humaine.
Depuis l'incident de lundi dernier et l'allégation de la police, sans fondement concret, d' « 'attaques et violences » de la part des réfugiés, les médias allemands et les journaux à sensations se sont littéralement empressés de faire ces publications. Pourtant, ils ne rapportent pas ce que les réfugiés disent et les expériences qu'ils vivent. Serait-ce une surprise? Pas du tout, car il s'agit manifestement d'une tentative de faire accroître et progresser la politique sous-jacente anti-réfugiés et les politiques du gouvernement allemand aigres-douces et si dangereuses par des motifs et des récits racistes. . La presse refuse de raconter les conditions insalubres, horribles et insupportables des réfugiés dans lesquelles ils sont forcés de vivre, où ils sont entassés comme des esclaves sur des « bateaux négriers ». Ils ne racontent pas que les autorités allemandes ont expulsé violemment des réfugiés vers des pays (y compris l'Italie et d'autres pays d'Europe et d'ailleurs) où la sécurité de leurs vies et leur dignité humaine ne peuvent être garanties. Est-il étonnant que le nombre de tentatives de suicides de réfugiés augmente en raison du désespoir et du manque de perspectives dans ce «Rechtsstaat»? Où est la presse sur ces questions? Ce silence est assourdissant!
... allégation, sans fondement concret, de la police sur « attaques et violences » ( « Plusieurs blessés après l'énorme opération de la police « au foyer d'asile de rebelles' » " https://www.thelocal.de/20180503/hundreds-of-police-officers-deployed-at…)
Oui, rechtsstaat! Ces politiciens incapables raffolent de vouloir voir, en se marchant les uns sur les autres, qui pourrait porter l'insigne du «plus méchant» des réfugiés. Ils s'enfoncent dans ce qu'il y a de plus pourri en condamnant une résistance légitime à l'oppression, à la violence et à l'inhumanité au nom du « rechtsstaat » et de l'hospitalité qui «ne doit pas être piétiné». Comme c'est cynique, hypocrite et peu sincère de votre part de mentionner même le « rechtsstaat » et l'hospitalité avec votre mentalité de «lager» et comment vous traitez les réfugiés dans ces sales camps. Nous ne sommes pas disposés à faire parti dans votre collaboration éhontée, douteuse et corrompue avec des dictateurs partout en Afrique, y compris au Togo où ce réfugié avait fui en premier. Vous êtes tellement fidèle à votre « rechtsstaat » que vous concluez des accords avec ces dictateurs que vous payez et qui, à leur tour, emploient des milices pour brutaliser et mutiler des hommes, des femmes et des enfants cherchant refuge contre la situation dangereuse que vous facilitez en raison de vos intérêts économiques. Si vous définissez ces camps comme un endroit hospitalier, alors nous vous invitons avec plaisir à vérifier dans l'un de ces camps et en profiter (oui, il y a encore assez d'espace pour vous et votre famille). Si vous êtes trop lâche pour prendre cette offre, nous vous demandons en termes très clairs de reprendre ce que vous définissez comme votre hospitalité et de vous casser avec!!!
L'allégation d'agression, d'attaque et de violence de la part de la police, tellement et largement aussi relatée dans les médias, n'est que pour l'instant qu'une fausse affirmation dans la rédaction car il n'y a aucune preuve à l'appui. Alors que la police a réussi à faire diffuser de fausses informations que la presse a vite publier disant que les réfugiés auraient soi-disant blessé des dizaines de policiers - officiellement la police pouvait seulement confirmer qu'un seul officier aurait été légèrement blessé (voir Taz, 3.5.18 "Que c'est-il passé à Ellwangen? « www.taz.de/!5500584/).). Pire encore, c'est l'allégation d'armes que les réfugiés avaient soi-disant, qui s'est avérée être fausse. Incapable de prouver que les réfugiés étaient violents comme il est prétendu, la police a décidé de redéfinir et d'assimiler la violence à la coercition. Peut-être faut-il rappeler à la police ce qu'est la violence: la violence, c'est quand on enchaîne Oury Jalloh au matelas d'un poste de police de Dessau et qu'on le brûle vif. La violence est lorsque vous avez de force, dans un poste de police à Brême, pompé Laye Condé avec des émétiques, jusqu'à le tuer tout comme Achidi John à Hambourg. La violence, c'est quand vous avez abattu Dominique Kumadio près de son appartement à Dortmund, tout comme vous avez tué Christie Schwundeck au Job Centre de Francfort, et Mariamme Sarr à Ascherffenburg. La violence, c'est quand les policiers ont violé des femmes (qui devaient être expulsées) dans un poste de police à Brême et l'ont filmé. Pigé? La liste continue!!!
À notre avis, deux choses méritent particulièrement d'être mentionnées ici. Premièrement, il est important de les mettre en perspective et de comprendre qu'il s'agit d'un effort soigneusement planifié et coordonné par les autorités pour briser la résistance des réfugiés à la déportation. De plus, il s'agit de fournir une couverture politique, une légitimation et une justification de violence et de brutalité injustifiées que la police est le plus susceptible d'exercer lors de futures tentatives d'expulsion. Ils ont beaucoup admis cela en public et leur action de jeudi le confirme. Mais il reste à voir si le public se lèvera en faveur de la décence humaine et le respect des vestiges des droits des réfugiés dans ce pays ou ils se soumettront à la manipulation et se laisseront escroquer par ces sinistres machinations. Pour tous ceux qui ont été investis de quelque manière que ce soit dans l'accueil si répandu de bienvenue des réfugiés qui maintenant s'évanouit, il est temps de se débarrasser de cette frivolité, de devenir franc et de montrer de la solidarité avec ces réfugiés qui se retrouvent diabolisés.
Deuxièmement, il n'y a rien de criminel d'avoir le désir de mener une vie sûre et sécurisée, indépendamment de la façon dont l'Allemagne et les autres peuvent la voir aujourd'hui. Des millions de personnes ont émigré d'Allemagne et d'Europe pour trouver une vie meilleure et sécurisée dans d'autres pays et d'autres continents et ce n'est donc pas une nouveauté. Les réfugiés sont dans ce pays exactement pour cette raison et "Nous sommes ici parce que vous détruisez nos pays" !!! Donc, toute tentative de nous refuser les possibilités de réaliser ceci est sûr de rencontrer une résistance. C'est pourquoi la résistance aux réfugiés est garantie en Allemagne, quelles que soient les politiques et stratégies des autorités allemandes / européennes ou le nombre de policiers femmes ou hommes et leurs véhicules. C'est dans cet esprit de résistance que nous SALUONS l'action courageuse des réfugiés à Ellwangen.
Long Live the Resistance!!! Longue Vie à la Résistance !!!
Refugee CivilnDisobedience (German)
Ziviler Ungehorsam in EllwangenFür die Freiheit, gegen Abschiebung
http://taz.de/!5503329/
The VOICE Refugee Forum
English:
A Very Big SALUTE to the Refugee Resistance in Ellwangen - The VOICE Refugee Forum http://thevoiceforum.org/node/4511
German:
SALUT dem Flüchtlingswiderstand in Ellwangen - The VOICE Refugee Forum http://thevoiceforum.org/node/4512