You are here
Gute Neuigkeiten: Magsud A. gegen die deutsche Abschiebemaschinerie - 2:0 für Magsud!
Fri, 06/01/2018 - 16:10 -

voice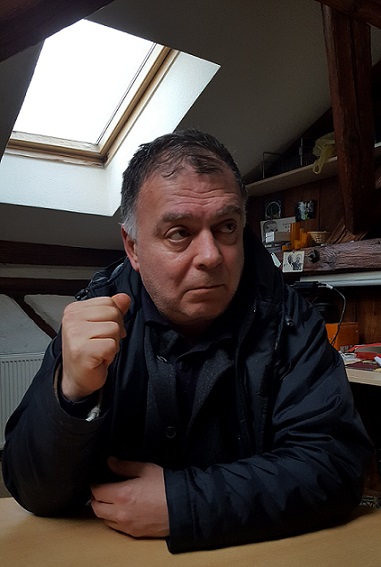 Gute Neuigkeiten: Magsud A. gegen die deutsche Abschiebemaschinerie - 2:0 für Magsud!
Bringt die deutsche Abschiebemaschinerie und die Verfolgung von Flüchtlingen durch den autoritären Staat zum Erliegen!
Lest unten über die dubiose Verfolgung von Flüchtlingen in Apolda und den jüngsten Kampf von Dr. Magsud Aghayev gegen die Ausländerbehörde Apolda und das Bundesamt Nürnberg
English version of the article: Good news: Magsud A. versus the German Deportation Machinery 2:0 for Magsud Victory http://thevoiceforum.org/node/4536
Dr. Magsud Aghayev und sein Sohn Rafael bekamen nach drei (Magsud), bzw. neun (Rafael) Jahren ohne dauerhaften Aufenthaltstitel von der Ausländerbehörde in Apolda ihre Aufenthaltserlaubnis zurück!!! Das ist wirklich eine großartige Nachricht, denn ihre der Verfolgung und Einschüchterung durch den Staat trotzende Entschlossenheit ist einmal mehr ein Beweis dafür, dass wir Widerstand leisten und sogar gegen das Monster gewinnen können!
Vater und Sohn kamen beide 2005 in Deutschland an. Rafael, der Sohn, ist Vater eines achtjährigen Jungen, der mit seiner deutschen Mutter in Apolda lebt. Dr. Magsud war mit seinem Sohn nach Apolda umverteilt worden, nachdem er mit anderen Flüchtlingen zusammen 2008 den Kampf für die Schließung des schändlichen Isolationslagers in Katzhütte angeführt hatte. Der Kampf von Dr. Magsud für die Rechte von Flüchtlingen endete aber weder mit der Schließung des berüchtigten Lagers Katzhütte noch in Apolda. So bekundete Dr. Magsud oft: "Wir werden bis zum Ende kämpfen!"
Dr. Magsud war 2010 durch das Verwaltungsgericht Meiningen das Bleiberecht in Deutschland gewährt worden – ohne weitere Abschiebeandrohungen. 2012 wurde dann seine dauerhafte Aufenthaltserlaubnis zurückgehalten und ohne Begründung durch ein einfaches weißes DIN-A4 Papier ersetzt, das alle zwei bis drei Monate erneuert werden musste. Die ganze Zeit über wurde Magsud eingeschüchtert und kriminalisiert, verfolgt und mit Gerichtsprozessen und durch den Abschiebe-Deal zwischen Bundesamt und Ausländerbehörde bedroht. Das Ziel dieses Deals war es, das positive Gerichtsurteil neu zu überprüfen und die Aufhebung seiner durch das Gericht zugesprochenen Aufenthaltserlaubnis zu ermöglichen.
In seinem Kampf war Magsud mit vielen unangenehmen und seltsamen Situationen konfrontiert.
Als Ergebnis dieser Tricksereien machten sich Magsud und Miloud von The VOICE Refugee Forum im Februar auf zum Bundesamt Hermsdorf in Thüringen, wo man ihnen sagte, dass das BAMF Nürnberg für Magsuds Fall zuständig sei. Also versuchte Magsud erfolglos, Nürnberg zu kontaktieren. Er organisierte eine Delegation, die am 2.3.2018 die Beamten des BAMF in Nürnberg treffen wollte. Weil alle Versuche, sie vorher telefonisch zu erreichen, gescheitert waren, geschah dies ohne vorherige Ankündigung.
Unsere Delegierten aus Thüringen informierten die Beamten des Bundesamtes Nürnberg, dass wir eine Antwort benötigten und dass der Besuch dort nicht das Ende des Protests sein würde. Die Beamten des Bundesamts Nürnberg versprachen dann, dass sie sich mit der Sache befassen würden, aber dass der zuständige Beamte eigentlich in Hermsdorf sei. Dennoch weigerten sie sich, auf unsere Anfrage den Namen des zuständigen Beamten herauszugeben. Sie sagten, die Beamten seien geheim. In einem sogenannten Rechtsstaat wird der Name eines öffentlichen Beamten plötzlich zum Geheimnis. Bravo!!! Wunder sagt man, hören niemals auf!!!
Kein direkt in seinen Fall involvierter Beamter des Bundesamtes war namentlich bekannt und es gab kein offizielles Schreiben oder irgendeine andere Korrespondenz. Es ist wichtig zu wissen, dass das Recht auf Asyl von politischem und öffentlichem Interesse und von Interesse für die Flüchtlingscommunity ist. Diesbezüglich darf es kein Geheimnis geben.
Kurz nachdem Magsud am 2. März 2018 die Delegation von Flüchtlingen und Aktivist*innen zum BAMF in Nürnberg angeführt hatte, informierte die Ausländerbehörde Rafael und Magsud Mitte März über ihren Erfolg im Kampf gegen die Ausländerbehörde und das BAMF. Sie sollten ihre Aufenthaltserlaubnis mit einer Gültigkeit von vier Jahren zurückerhalten. Wir hatten daran nie gezweifelt!
Die faszinierendste Lektion für uns alle war Magsuds Entschlossenheit, politisch zu kämpfen.
Er weigerte sich, paternalistischer Unterstützung zu beugen oder darum zu bitten, und statt dessen verließ er sich auf die erprobte Solidarität und das übergeordnete allgemeine Interesse, das im Herzen unseres Kampfes für Gerechtigkeit liegt. Er konnte es sich nicht leisten, der diskriminierenden Bürokratie zu unterliegen, die ihn einschüchterte, kriminalisierte und verfolgte - ohne jeden anderen Grund, als ihn zu bestrafen, seine Stimme zu unterdrücken und ihn wegen seines Kampfes für Gerechtigkeit zum Schweigen zu bringen. Er weigerte sich, für seinen politischen Protest einen Anwalt zu nehmen und seine unbeugsame Entschlossenheit, gepaart mit der eisernen Solidarität von anderen Flüchtlingen führten dazu, dass die Sache des BAMF und der Ausländerbehörde wie ein Kartenhaus oder ein schlechter Scherz, der sie ja auch war, in sich zusammenfiel.
Es ist offensichtlich, dass Dr. Magsud wegen seines politischen Aktivismus in der Flüchtlings/Migrant*innen-Community, bei The VOICE, in der Karawane und im Break-Deportation-Netzwerk in Thüringen verfolgt worden ist. Er hat kein Verbrechen begangen. Aktivismus ist kein Verbrechen und wir sind alle äußerst stolz auf ihn! Er ist ein würdiges Beispiel für junge und neue Flüchtlinge in Deutschland und die Botschaft ist klar: Wenn du nicht für dein Recht kämpfst, wird der sogenannte Rechtsstaat dir deine Rechte verweigern! Basta!!
Nach einem dreijährigen Kampf haben Magsud und sein Sohn Rafael nun ihre Aufenthaltserlaubnis zurückerhalten!
"Ich werde meinen Kampf zu Ende führen", sagt er und wir antworten: "Wir werden den ganzen Weg mit dir kämpfen!!"
Wir sind stolz auf jede*n Unterstützer*in, und so gratulieren wir auch vor allem den Flüchtlingsaktivist*innen aus dem Bamberger Flüchtlingslager, die sehr große Motivation zeigten bei der Unterstützung von Magsud während seines Delegationstreffens im BAMF Nürnberg am 2.3.2018.
Mehr Informationen über die Verfolgung und die Kriminalisierung von Magsud in Apolda werden von der Community übertragen werden!
Finden Sie Links zu Protestaktionen und Aktivitäten von Magsud Aghavev
http://thevoiceforum.org/search/node/magsud
http://thevoiceforum.org/search/node/maqsud
The VOICE Refugee Forum
http://thevoiceforum.org
Break Deportation Network
http://breakdeportation.blogsport.de/
Caravan Refugee/Migrants Network
http://thecaravan.org