You are here
Where do you hide when your house is burning? - The refugee Black Box and how to build your resistance.
Fri, 08/10/2018 - 19:35 -

Goettingen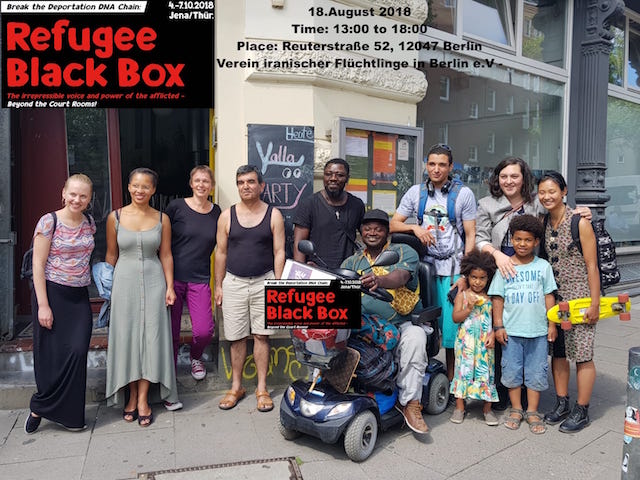 In preparation of the Black Box installation in Jena, beyond the courtrooms:
We are inviting you to join us in a workshop in Berlin.
Workshop: Refugee - Migrants conference workshop - Building the refugee Black Box installation.
Date: 18th August 2018
Time from 13:00 to 18:00 Berlin time
Place: Verein iranischer Flüchtlinge in Berlin e.V - Reuterstraße 52, 12047 Berlin
Deportation is the last ring of the Slavery and Colonial chain. We have fought it for more than 20 years but we can still do better.
Our fight for justice, freedom and liberation did not begin here and will not end here. Our Black Box does not only contain all information about our successful fights, it also contains information on strategies of future victories
The secret of our Refugee Black Box begins with the solidarity to empower our presence and organize our future and communities. It is a process, a school, the "Pot of life" against colonial injustice and stopping deportation is our main target. More can be added to make our differences with the common perspectives of the past to the future too!
We see the Refugee BLACK BOX as part of making visible what is not visible in public in Germany and Europe: dehumanization, racism, and the denial of the rights of Refugees in the asylum system and many more. The Refugee BLACK BOX is an act of self-empowerment. Everybody is invited to document – and write down, to speak out and film the daily experience with authorities and the society in being a refugee in Germany and Europe – We have to give testimony of what is not seen and not heard in Germany and Europe media.
It is information storage for our movement.
It is a documentation of the crimes done to people whether refugees or not, because of their skin colour, "race" (whatever that means), ethnicity, Passport, visa or religion. and a documentation of the struggles lead against those crimes. it is as well a try to go back to the roots of the movement also in a spiritual way to connect back to energies that have moved so many to act even those they were down and o the receiving end of very severe and well-oiled machinery of oppression.
"The Refugee Black Box " a concrete political solidarity weapon.
The Concept: http://thevoiceforum.org/node/4308/
Please help contribute also financially to make this a success. We do not write projects to get money to defend ourselves. Our resistance and auto-defense are our projects and we (including you) are all our donors.
http://thevoiceforum.org/node/4541
Organizer: The VOICE Berlin: 0170/8788124