You are here
Wo versteckst du dich, wenn dein Haus brennt? – The refugee Black Box und wie man seinen Widerstand aufbaut.
Tue, 08/14/2018 - 14:14 -

Goettingen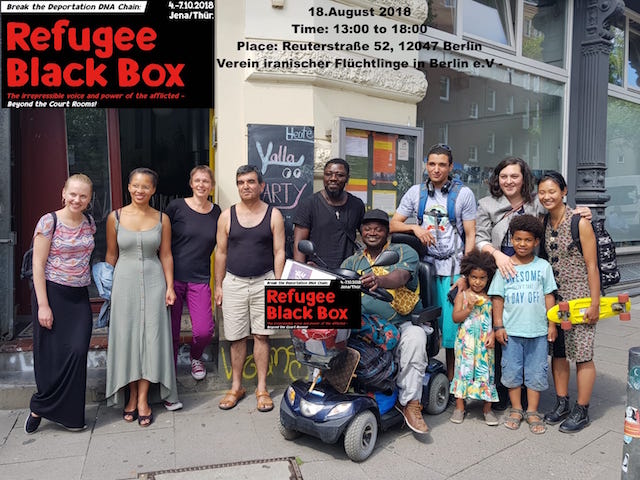 In Vorbereitung der Refugee Black-Box-Installation und Performance in Jena, jenseits des Gerichtssaals:
Wir laden Euch zu einem Workshop nach Berlin ein.
Werkstatt: Refugee - Migranten-Konferenz-Workshop - Bau der Flüchtlings-Black-Box-Installation.
Berlin: 18.08.2018
Zeit: 13:00 to 18:00 Uhr
Verein iranischer Flüchtlinge in Berlin e.V –
Reuterstraße 52, 12047 Berlin
Die Abschiebung ist der letzte Ring der Sklaverei- und Kolonialkette. Wir haben mehr als 20 Jahre lang gekämpft, aber wir können es immer noch besser machen.
Unser Kampf für Gerechtigkeit, Freiheit und Befreiung hat hier nicht begonnen und wird hier nicht enden. Unsere Black Box enthält nicht nur alle Informationen über unsere erfolgreichen Kämpfe, sondern auch Informationen über Strategien zukünftiger Siege.
Das Geheimnis unserer Refugee Black Box beginnt mit der Solidarität, um unsere Präsenz zu stärken und unsere Zukunft und Gemeinschaft zu organisieren. Es ist ein Prozess, eine Schule, der "Topf des Lebens" gegen koloniale Ungerechtigkeit und die Beendigung der Deportation ist unser Hauptziel. Mehr kann hinzugefügt werden, um unsere Unterschiede mit den gemeinsamen Perspektiven der Vergangenheit auch für die Zukunft zu machen!
Wir sehen die Refugee BLACK BOX als Teil der Sichtbarmachung dessen, was in Deutschland und Europa in der Öffentlichkeit nicht sichtbar ist: Entmenschlichung, Rassismus, Verweigerung der Rechte von Flüchtlingen im Asylsystem und vieles mehr. Die Refugee BLACK BOX ist ein Akt der Selbstbefähigung und Selbstbewusstseinsstärkung. Jeder ist eingeladen, die täglichen Erfahrungen mit den Behörden und der Gesellschaft als Flüchtling in Deutschland und Europa zu dokumentieren - und aufzuschreiben, zu sprechen und zu filmen - Wir müssen Zeugnis ablegen von dem, was in den deutschen und europäischen Medien nicht gesehen und nicht gehört wird.
Es ist ein Informationsspeicher für unsere Bewegung.
Es ist eine Dokumentation der Verbrechen an Menschen, ob Flüchtlinge oder nicht, wegen ihrer Hautfarbe, "Rasse" (was auch immer das bedeutet), Ethnizität, Pass, Visum oder Religion. und eine Dokumentation der Kämpfe führen gegen diese Verbrechen. Es ist auch ein Versuch, zurück zu den Wurzeln der Bewegung zu gehen, auch auf spirituelle Weise, um sich wieder mit den Energien zu verbinden, die damals so viele zum Handeln bewegt hat, selbst diejenigen, die von unten kommen und als Empfänger das Ende einer sehr schweren und gut geölten Unterdrückungsmaschinerie sind.
"The Refugee Black Box", eine konkrete Waffe der politischen Solidarität.
Das Konzept: http://thevoiceforum.org/node/4308/
Bitte tragt auch finanziell dazu bei, dass dies ein Erfolg wird. Wir machen schreiben keine Projekte, um Geld zu bekommen, um uns zu verteidigen. Unser Widerstand und unsere Selbstverteidigung sind unsere Projekte und wir (Ihr eingeschlossen) sind alle unsere Spender.
http://thevoiceforum.org/node/4541