You are here
Breakdeportation General Meeting
Thu, 11/15/2018 - 18:30 -

voice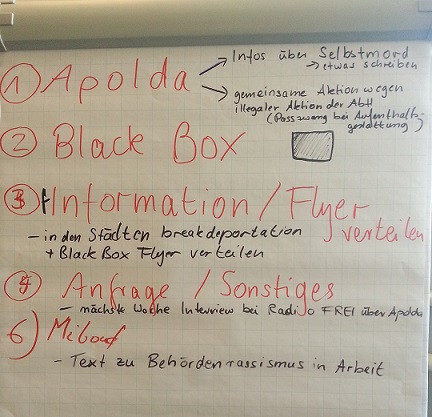 Next BreakDeportation General Meeting this sunday, 18.11.2018, in Jena
Diesen Sonntag, am 18 November, findet unser General Meeting in Jena statt! Kommt vorbei, diskutiert und organisiert mit – gemeinsam gegen Abschiebung und Isolation!
On Sunday we meet for the General Meeting in Jena. Join in, discuss and organize with us – togheter against Deportation and Isolation!
[ englisch / tigrinya / arabic – down ]
Zeit: 14-17 Uhr
Ort: Haus auf der Mauer, Johannesplatz 26, Jena
###
Stay Tuned:
African Community Party: "Refugee Black Box Solidarity"
Music is the force of mind
21.12.28 in Jena.
Music: Oury DJs Live Act - Youth Cover
Video Installation - "Every passenger can stop the deportation"
Solidarity with our brothers and sisters of the caravan migrants movement in Latin America fighting for freedom of movement and for settlement in the USA.
#refugeeblackbox #Organize!_rbb
###
Breakdeportation General Meeting
Dieses Treffen heißt jede und jeden Willkommen, der oder die bereits politisch aktiv ist oder es werden will. Wir diskutieren verschiedene politische Themen und planen gemeinsame Kampagnen und Aktionen. Wir wollen uns besser kennen lernen und vernetzen. Wir arbeiten zu manchen Themen in kleinen Gruppen und zu anderen in der Gesamtgruppe. Es gibt immer eine Kleingruppe für neue Menschen, damit es leichter fällt alles zu verstehen und mitzumachen. Wir bereiten einige Themen für die Treffen vor und wollen uns dann über mehrere Monate mit ihnen befassen. Aber es wird auch immer Zeit für spontane, neue Themen geben. Gemeinsam organisieren wir Kinderbetreuung für die Treffen.
GENERAL MEETING
This meeting welcomes everybody who is already involved in fighting political or for those who want to start fighting based on their own daily struggles. We discuss different political topics and plan campagnes or actions. We would like to get to know each other and stay in contact. We work in small groups or the whole group based on the topic that will be discussed. There is always a small group for new people so it is easier to join and understand. We prepare some topics and focus on them over several meetings but there will be also space for bringing in topics spontaneously. Together we organize child-care for the meetings.
General Meeting
این جلسه برای هر کسی که در حال مبارزه با سیاست و آنهایی که میخواهند به
تازگی مبارزه ی خود را شروع کنند، تشکیل میشود. ما درباره ی موضوعات سیاسی
مختلف بحث میکنیم و برنامه های کمپینی یا اقداماتی طرح میکنیم. ما دوست داریم
که یکدیگر را بشناسیم و در تماس باشیم. ما در گروه های کوچک یا کل گروه بر
اساس موضوع بحث میکنیم. برای افراد جدید همیشه یک گروه کوچک وجود دارد،
بنابراین پیوستن و درک آن آسانتر است. ما برخی از موضوعات را آماده میکنیم و
در جلسات متعددی تمرکز میکنیم، اما برای درج مطلب به صورت لحظه ای نیز فضا
خواهیم داشت. ما با هم برای مراقبت از کودکان در حسن جلسات نیز فکری خواهیم
کرد. زمان لازم برای کار بر روی موارد شخصی وجود ندارد مگر اینکه به یک موضوع
عمومی وابسته باشد، لطفا برای پرونده های شخصی تان به جلسات مبادکه بیایید.
General Meeting
እዚ ኣኼባ እዚ ነቶም ድሮ ኣብ ቃልሲ ዘለዉ ኮነ ነቶም ምስ እዋናዊ ብድሆታቶም ዝኸይድ ሓድሽ
ቃልሲ ክጅምሩ ዝደልዩ ክፉትዩ ።ዝተፈላለዩ ፖለቲካዊ ኣርእስትን መደባትን ወፍርን ትግባረን
ንዝቲ።ነንሓድሕድና ክንፋለጥን ቀጻሊ ርክብ ክህልወናን ድሌትና ዩ።ብመጣን እቲ መዛረቢ ኣርእስቲ
ብንኡስ ጉጅለታት ከምኡዉን ዓቢ ጉጅለ ክንዘራረብ ንኽእል ።ንሓደስቲ ኣባላት ብዝጥዕም ኩሉ ግዜ
ናእሽቱ ጉጅለታት ኣለዋ እቲ መስርሕ ምርድዳእ ንምቅላል።ኣርእስቲታት ብምድላው ግዜ ሂብና ኣብ
ቀጻሊ ርክባት ከምዝዝተየሎም ንገብር ሓደ ሓደ እዋን ሃንደበት ሓድሽ ኣርእስቲ ናይ ምልዓል ተኽእሎ
ኣሎ።ሓቢርና ነቲ ኣኼባ ዝኸዉን ብዛዕባ CHILD-CARE ንዉድብ።ኣብዉልቃዊ ጉዳይ ንምዝርራብ
ዝኸዉን ግዜ የብልናን ብፍሉይ ኣብ ህሉው ህዝባዊ ወፍሪ ዝተኻተቱ ተዘይኮይኖም ፡፡ናብቲ ኣኼባ ግን
ንዉልቃዊ ጉዳይኩም ምምጻእ ይከኣልዩ ።
http://breakdeportation.blogsport.de/2018/11/14/next-breakdeportation-ge...