You are here
Refugee Black Box Evaluation Meeting will be held in Jena from April 5 to 7 2019
Sun, 03/24/2019 - 15:09 -

voice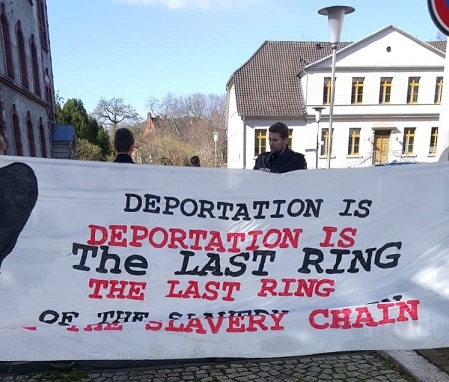 Refugee Black Box
Evaluation Meeting will be held in Jena from April 5th to 7th 2019
In October 2018 refugees gathered in Jena to unfold and manifest the idea of the Refugee Black Box (http://thevoiceforum.org/node/4603). Since then refugees could express themselves by the Refugee Black Boxes on many occasions and places during court hearings, in various lagers in Germany, on demonstrations and even in community spaces. Now, half a year later, we would like to meet again in Jena to evaluate how the ideas developed in October 2018 haven already been realized and how the ongoing activities can be connected to empower more refugees to express themselves through their own Refugee Black Boxes. Together we want to share the experiences and find out how the Refugee Black Boxes could facilitate by simple form of actions the activism of refugees in the context of intensified deportation and isolation terror.
Spread the call for the upcoming evaluation meeting and come to Jena to meet those who have already been active to learn from each other. We believe that everyone has manifold talents and a universe of practical experience. But neither our talents nor our experience count in a system of exclusion. We even are not able to share with each other our experiences because we are forced to live in lagers. Besides language and a colonial school separate us from each other. But for us the connection is important to overcome the boundaries, prisons and deportations that are made for us. Connection knowing each other and thereafter comes solidarity when we start to understand that our freedom is bound to each other. Solidarity is survival because the system will not protect but exploit us. Share the call with your fellow refugees and come to Jena to share your experiences. We say everyone needs her or his own blackbox to provide and share her or his knowledge with the community. Some of us even say, every refugee is black box.
Come to Jena to learn about the Refugee Blackbox, to support the ongoing activities of refugees in Thuringia and elsewhere, and to expand the network of the refugees.
Please do not hesitate to contact us if you need more information:
Refugee Black Box Evaluation Meeting will be held in Jena from April 5 to 7 2019
Contacts:
The VOICE Refugee Forum, Mbolo tel. 0170 8788124
Jena: The VOICE Refugee Forum, thevoiceforum@gmx.de , Osaren tel. 017624568988
Wuppertal: KARAWANE für die Rechte von Flüchtlingen und Migranten. wuppkarawane@yahoo.de, Araz 0178 853 0701
Highlights:
Jena refugee Black Box workshop Installation Slogans and Topics on weekend, 4./7.October 2018 below.
Protocol statement of the "Refugee Black Box" Activists in Jena thevoiceforum.org/node/4603
1. Alle Gegen Abschiebungen / all against deportation
2. abolish deportations
3. Stop the deportation of migrants
4. No deportation
5. Reclaim your (our) political autonomy
6. Stop deporation, kills, murder, suicide  deportation kills
7. Stop Exploitation
8. Solidarity, Leben
9. Deportation is criminal - Deportation is crime
10. Lager abschaffen!
11. Nein zum Rassismus
12. Freedom of movement is everybod's right
13. RIP Oury Jalloh
14. Fight-back whiteness supremecy
15. Unite against colonialists
16. Dignity First
17. Stop criminlization
18. Stop police brutality
19. We have no vote but a voice
20. Abolish colonial Residenzpflicht
21. Break isolation
22. Stop the terror and war
23. Unite against social exclusion
24. Break the silence
25. Stop the racist social laws
26. Frauen gemeinsam gegen koloniales Unrecht
27. Stop making refugees
28. We are here, because you destroyed our countries!
29. Integrity instead of Integration
30. Human right is no privilege / ist nicht verhandelbar
31. Stop the separation of our families
32. Abolish special laws for foreigners
Refugee Black Box Evaluation Meeting will be held in Jena from April 5 to 7 2019 | The VOICE Refugee Forum Germany – Flüchtlinge und Asyl in Deutschland
Break the Deportation DNA Chain: "Refugee Black Box – The…
RBB Community: Refugee Black Box Installation Fabrik Eisenberg 2019 (http://thevoiceforum.org/node/4613)
RefugeeBlackBox Installation Workshops Fabrik 5th-17th March 2019 in EisenbergRefugeeBlackBox Installation Workshops Fabrik 5th-17th March 2019 in Eisenberg (http://thevoiceforum.org/node/4614)
Refugee demands from Black Box installation Fabrik:
#RBB Video: Refugee Black Box Installation Fabrik Eisenberg 2019
https://vimeo.com/324827063
Info - Apolda:
The Refugee Black Box remembers the five dead refugees in Apolda in 2018
English: http://breakdeportation.blogsport.de