You are here
2018 gab es 5 Tote durch anhaltende rassistische Gewalt in Apolda
Sun, 03/24/2019 - 18:16 -

voice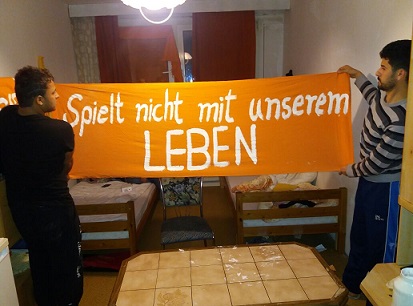 DOWLOAD: TEXT – Deutsch | Englisch | Arabisch | Farsi – Information
http://breakdeportation.blogsport.de/images/2018gabes5Totedurchanhaltend...
Du überlebst Krieg und das Sterben im Mittelmeer und findest in Apolda deinen Tot."
(Foto: Vorbereitung in den Lagern für die Demonstration am 2. Dezember 2017)
Eine junge eritreische Frau, Tsnaid T., wurde in den Selbstmord getrieben. Sie nahm ihr Baby Nahom mit in den Tot. Frau Tsnaid erlebte, wie viele andere im Lager Auf dem Angespanne3, anhaltende illegale Razzien und Abschiebungen, bei denen die thüringische Landespolizei in jedes Zimmer im Lager einbrach. Dies sowie die anschließende Isolierung von ihrer Community durch die Behörden des Landkreises, trieben sie in den Tot. Der irakische Kurde Faraidun Salam Aziz wurde von Securities illegal in ein Zimmer eines Lagers in der Lessingstraße eingesperrt obwohl er Panik in geschlossenen Räumen hatte. Kurze Zeit später stürzte er aus dem Fenster. Eine weitere Person trieben die Umstände in Apolda in den Selbstmord, einer anderen wurden lebensrettende Maßnahmen vorenthalten. Das sind nur die Toten eines Jahres, und nur die, von denen wir wissen.
ISOLATION: Das Sterben passiert hinter einer Mauer des Schweigens und der Isolation. Die Polizei ermittelt nicht. Zeugen werden bedroht und eingeschüchtert. Die Medien recherchieren nicht. Die Zivilgesellschaft schweigt. Und die verantwortlichen Politiker*innen in Apolda und Thüringen ignorieren das Ganze. Der vorherrschenden Politik der Abschreckung gegenüber Geflüchteten und Migrant*innen kommen solche Zustände sowieso gelegen.
Dezember 2017: Demonstration in Apolda Schon im Dezember 2017 hatte The Voice Refugee Forum auf einer Demonstration gemeinsam mit Geflüchteten vor Ort auf die rassistische Gewalt in den Lagern hingewiesen und ein sofortiges Ende der Übergriffe durch die Polizei, der Isolation und der Abschiebungen gefordert.
Anstatt dies zu beenden, wurde mit Repression gegen (Menschenrechts)Aktivisten von The Voice geantwortet. Dr. Magsud Aghayev bekam Hausverbot in einem Lager in Apolda, welches mit der Polizei durchgesetzt wurde. Weiterhin wurden Menschen, die an der Demonstration teilgenommen hatten, von den Behörden eingeschüchtert und mit Repression bedroht. Weiter wurden und werden immer noch Personen trotz laufender Asylverfahren illegal dazu gezwungen, einen Identitätsnachweis bei ihrer Botschaft zu beschaffen bei der Ausländerbehörde zu hinterlegen. Ansonsten wird ihnen ihr Recht auf die existenzsichernde Arbeit verweigert. Die rassistischen Strukturen in Apolda, bestehend aus Ausländerbehörde, Politik, Sozialamt, Lagerbetreibern, Securities und Polizei arbeiten Hand in Hand.
Anschließende politische Treffen in Apolda wurden durch die Polizei observiert, während gleichzeitig die Todesfälle von der zuständigen Kriminalpolizei in Jena nicht untersucht werden und die Angehörigen der Verstorbenen vergeblich auf Aufklärung warten.
Unter anderem verantwortliche Stellen:
Thüringer Ministerium für Migration, Justiz und Verbraucherschutz
Dieter Lauinger | BÜNDNIS 90/DIE GRÜNEN
Werner-Seelenbinder-Straße 5
99096 Erfurt
Telefon 0361 3795000
Tel: 0361 57 3511 000
Fax: 0361 57 35 888
poststelle@tmmjv.thueringen.de
Ausländeramt in Apolda
Landratsamt Weimarer Land Ausländeramt, Bahnhofstr. 28
99510 Apolda
Telefon 03644 540786
Kriminalpolizei Jena
Carl-Pulfrich-Straße 5a
07745 Jena
Telefon 03641 810
Landespolizeidirektion Thüringen
Andreasstraße 38
99084 Erfurt
Telefon 0361 6620
Hintergrund:
http://www.thevoiceforum.org/search/node/apolda
http://breakdeportation.blogsport.de/index.php?s=apolda
https://www.facebook.com/RefugeeBlackBox/
Presse zu 2017 Demonstration:
https://www.thueringer-allgemeine.de/web/zgt/leben/detail/-/specific/Dem...