You are here
Flüchtlingsprotest und Solidaritäts-Demonstration in Gotha zusammen mit The VOICE Refugee Forum
Fri, 08/02/2019 - 23:50 -

voice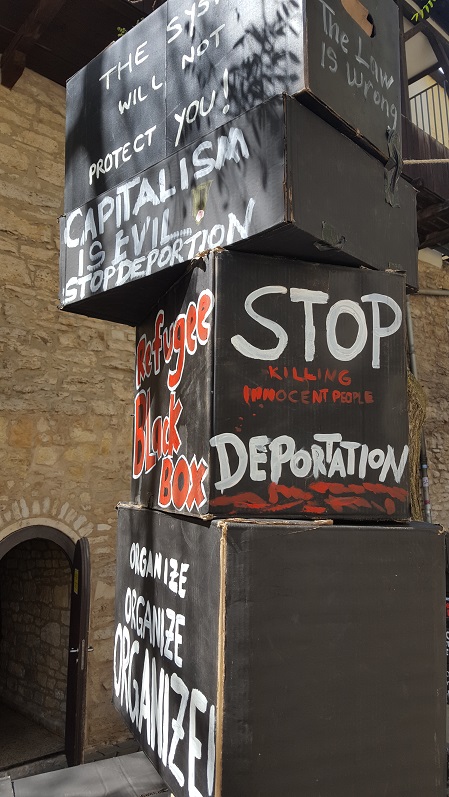 English: STOP THE DEPORTATION OF NIGERIANS - FOR FREEDOM OF MOVEMENT!!
http://thevoiceforum.org/node/4626
Flüchtlingsprotest und Solidaritäts-Demonstration in Gotha zusammen mit The VOICE Refugee Forum
Samstag, 10.08.2019 GOTHA BAHNHOF
10.00 Uhr | RBB Solidarity Installation
14.00 Uhr | Kundgebung
15.00 Uhr | DEMONSTRATION
Refugee Protest in Gotha: Refugee Black-Box-Installation "Paint it black!" vor der Demonstration am Samstag, dem 10. August 2019 | ab 10 Uhr.
RBB Performance Gyration | Musik- und Kulturprogramm bis zum Schluss.
STOPPT DEN ABSCHIEBETERROR
ISOLATION DURCHBRECHEN!!
STOPPT DIE ABSCHIEBUNGEN NACH NIGERIA -
FÜR BEWEGUNGSFREIHEIT !!
Wir Nigerianer*innen, Geflüchtete aus Gotha und Aktivist*innen von The VOICE Refugee Forum rufen euch zur Solidarität auf. Wir leben hier im Flüchtlingslager in Gotha und müssen erleben, wie unsere Brüder und Schwestern nachts aus ihren Betten gerissen und abgeschoben werden.
Die meisten von uns haben eine lange Reise hinter sich, um den Schrecken zu entkommen, die wir erlebt haben. Auf unserem Weg haben wir die Wüste und das Mittelmeer überlebt. Einige von uns überlebten auch die Straßen Italiens, wo wir nach einem kleinen Unterschlupf suchten, um uns und unsere Kinder vor Regen und den kalten Winden zu schützen. Jetzt schlafen wir nicht, weil die Polizei uns jede Nacht nach Nigeria oder in ein anderes Land deportieren könnte. Unser Leben ist geprägt von der permanenten Angst, die die Bundesregierung uns und unseren Kindern auferlegt.
Diese Angst hat seit dem letzten Jahr zugenommen. Wir haben gehört, dass die nigerianische und die deutsche Regierung über die Abschiebung von bis zu 30.000 nigerianischen Brüdern und Schwestern aus Deutschland sprechen. Sie verkaufen uns und setzen uns unter Druck, ohne zu fragen, wie und wo wir leben möchten. Sie ignorieren unseren Wunsch, ein Leben in Frieden, Sicherheit und Würde zu führen. Wir sind nicht hierher geflohen, um in einem Isolationslager in Thüringen zu leben. Wir wollen unsere Zukunft und die unserer Kinder selbst gestalten.
Wir können nicht akzeptieren, wie wir von einem in ein anderes Land geschoben werden und wie unser Leben stets aufs Neue in Gefahr gebracht wird. Wir können nicht akzeptieren, dass unsichere Länder und Gesellschaften als vermeintlich sicher beurteilt werden und Flüchtlinge dorthin zurückgeschickt werden, wie dies für Geflüchtete aus Afghanistan der Fall ist.
Wir rufen auf zu einer Parade und Demonstration mit Refugee Black Box Installation und Performance hier in Gotha. Mit unserer Anwesenheit zeigen wir, was die Bürokraten sowohl in der deutschen als auch in der nigerianischen Regierung tun: Sie zerstören unser Leben! Seit 2011 haben beide Regierungen ihre Zusammenarbeit verstärkt. Einer der Hauptbereiche ist die Migration. Einerseits werden die Menschen biometrisch mit von Deutschland bereitgestellten Technologien erfasst, andererseits werden nigerianische Geflüchtete aus Deutschland abgeschoben. Der Preis für jeden abgeschobenen Geflüchteten sind wirtschaftliche Verträge und Gelder, die einem korrupten Regime zugeführt werden. Wir fordern alle Geflüchteten dazu auf, sich zu solidarisieren und einen gemeinsamen Kampf gegen die unmenschlichen Angriffe auf uns aufzubauen. Die neuen Gesetze schränken das Minimum an Rechten, die wir hatten, weiter ein. Wir haben keine andere Möglichkeit, als für unsere Würde und die unserer Kinder einzutreten.
Wir bitten alle Geflüchteten, ihre eigenen Black Boxes und Installationen zu bauen, um die Netzwerke der der Solidarität in den Communitys sichtbar werden zu lassen. Lasst uns wissen, was ihr von den Abschiebungen haltet und von der euch aufgezwungenen Isolation.
Wir fordern alle progressiven Aktivist*innen, Sympathisant*innen, Freundinnen und Freunde, Flüchtlinge und Nichtflüchtlinge dazu auf, gemeinsam mit uns unsere Kampagne gegen die Abschiebungen von Nigerianern zu unterstützen und gegen Abschiebung und Isolation von Geflüchteten zu protestieren.
Bringt eure Refugee Black Box!
Sendet uns eure Solidaritätsbotschaften. Wenn ihr nicht kommen könnt, um mit uns gemeinsam eure eigene Black Box zu gestalten, könnt ihr ein Foto eurer Refugee Black Box an die Facebook-Seite der Refugee Black Box senden:
https://www.facebook.com/RefugeeBlackBox oder überprüfe deinen Messenger auf @RefugeeBlackBox
Wenn ihr uns unterstützen wollt, könnt ihr für unsere Brüder und Schwestern spenden, die aus Erfurt, Jena oder anderswo nach Gotha kommen möchten, sich das Ticket aber nicht leisten können. Spenden ab einem Euro oder mehr können auf das unten angegebene Konto von THE VOICE Refugee Forum überwiesen werden.
RBB Press: Refugee Black Box ist eine politische Agenda.
"Power to the people" im revolutionären Sinn ist nicht nur ein Slogan. Die Idee muss auf praktische Weise auf alle Menschen auf der Welt ausgedehnt werden. Langsam, aber kraftvoll und stark.
Solidarität ist nicht nur unsere Waffe, sondern Ausdruck unseres Widerstandes gegen Unterdrückung. Unsere Präsenz ist unser Widerstand und unser Widerstand ist unsere Solidarität.
Gemeinsam mit uns werden die Aktivist*innen der Refugee Black Box, die afrikanische Community der Guineer in Jena, die afghanische Flüchtlingsgemeinschaft sowie das MOVE in Erfurt und das Refugee Cafe in Göttingen demonstrieren.
Kontakt:
Gotha:
Vivian Chikodinaka: Tel. +4915216380860
Prince Cassidy Presido: +4915214159888
Jena: Das VOICE Refugee Forum +49 176-24568988, Oury Diallo: +49 151
54660418
Facebook: https://www.facebook.com/RefugeeBlackBox/
Spenden an:
Förderverein The VOICE e.V.
Sparkasse Göttingen
Kontonummer: 127829
BLZ: 260 500 01
IBAN: DE97 2605 0001 0000 1278 29
BIC: NOLADE21GOE
Wir sind für jede Spende dankbar (steuerlich absetzbar, Spendenquittung wenn
gewünscht)!