You are here
Programmvorschlag für die Vorbereitungsveranstaltungen

 - 25 Jahr "The VOICE" Refugee Forum Jubiläumsveranstaltung in Jena
Sun, 09/29/2019 - 12:34 -

voice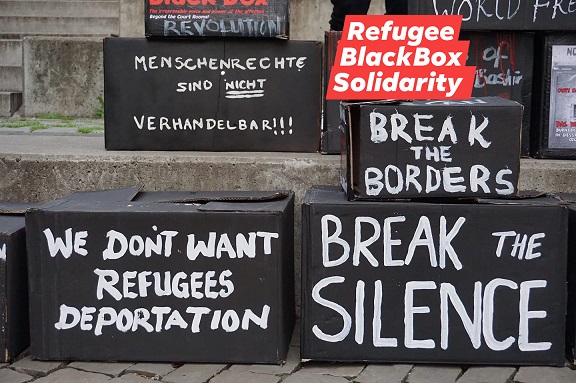 Programmvorschlag für die Vorbereitungsveranstaltungen


1994 – 2019 - 25 Jahr "The VOICE" Refugee Forum
Jubiläumsveranstaltung in Jena, 3. - 6. October 2019
RefugeeBlackBox Solidarity (Initiiert in 2017)
Es wird geben:
- Präsentationen und Rückblicke, Reflexionen und Zeugenberichte über die Geschichte der Flüchtlingskämpfe von The VOICE
- Autonomie und Dezentralisierung der RefugeeBlackBox-Installationen
- Diskussionen, Workshops, Filme, Installationen
- Austausch und Dokumentationen zur aktuellen Situation von Flüchtlingen
- Parade, Gyration-Performance mit Rap, Hip-Hop und einer RefugeeBlackBox-Installation
- Live-Musik und Party mit Marap (Hamburg) und Jamal Kamano aka. Konta (Berlin)
Die Kultur der Abschiebung brechen – Abschiebung ist das letzte Glied der Kette der Sklaverei
Donnerstag, 3. Oktober 2019


Ab 12.00h Ankunft
14.00h Einführung
anschließend: Treffen und Diskussionen Thüringer Flüchtlinge in Arbeitsgruppen mit Informationsaustausch über die Situation der Flüchtlinge und über die Gyration-Parade der RefugeeBlack Box "Ich habe meine Namen, meine Anwesenheit ist meine Würde"
18.00h Essen
19:00h Präsentationen, Rückblicke, Reflexionen über die Geschichte von The VOICE Refugee Forum und der Flüchtlingskämpfe
Sprecher: The VOICE Refugee Forum und die Karawane für die Rechte der Flüchtlige und Migrant*innen sowie andere Flüchtlingsaktist*innen und Gäste
Themen:
- Der Kampf gegen Abschiebug und Isolation
- Exilpolitischer Aktivismus
- Der Kampf gegen die Beschränkung der Bewegungsfreiheit und Abschiebegefängnisse
- Die Kampgen für Oury Jalloh und gegen Polizeibrutalität in Deutschland
- Community-Engagement: Die Autonomie der Selbstbestimmung
- Der Kampf gegen die Trennung von Familien
Filme über den Kampf von The VOICE Refugee Forum und der Karawane für die Rechte der Flüchtlinge und Migrant*innen
Freitag, 4.Oktober 2019


Ab 8.30h Frühstück
10:00: Plenum mit der Vorstellung der Ergebnisse der Arbeitsgruppen und Zeugnisse über das Engagement von The VOICE Refugee Forum in Thüringen
Austausch über und Dokumentation der gegenwärtigen Situation von Flüchtlingen in verschiedenen Gebieten und aus unterschiedlichen Herkunftsländern
Kampagnen gegen Abschiebung
Reflexionen über die allgemeine politische Situation
Informationen zu den neuen Gesetzen
13.00h Essen und Pause
14:30h Workshops in Arbeitsgruppen: Autonomie und Dezentralisierung
Die Autonomie der Selbstorganisation in bestimmten Gebieten
Die Autonomie der Flüchtlinge und Migrant*innen und dezentralisierte Streiks
Was wir in länger- und kurzfristigen RBB- Installationen machen
Welche Proteste sind gegen das Abschieberegime geplant: Thüringer Community-Empowerment in Gotha zur selbstorgansierten RefugeeBlackBox Community und RefugeeBlackBox-Installationen in Berlin wie die Proteste an der nigerianischen Botschaft und dem Gambischen Konsulat; Flüchtlingsproteste in weiteren Städten in Deutschland und zu weiteren Herkunftsländern
18.00 h Essen
19.00 Präsentation der Ergebnisse der Arbeitsgruppen
Danach: Filme, Unterhaltung, Musik
Samstag, 5.Oktober 2019


Ab 8.30h
Präsentation und Diskussionen in Gruppen
Das Potential des RefugeeBlackBox-Aktivismus, das sich in Netzwerken für soziopolitische Partizipation und politischer Dezentralisierung seit 2017 manifestiert:
- Ideen zur Dezentralisierung der RefugeeBlackBox – 25. The VOICE "Silber"-Jubiläum in anderen Städten
- Was wir wollen und was wir damit erreichen können
- Logistik und Finanzen für die Jubiläumsveranstaltungen in Jena und anderen Städten
- Vorbereitung der Kundgebung und der RBB-Installation
13.00h: Essen
14.00h: Präsentation der RBB-Installation, Reden, Musik und Gyration am Johannisplatz/Faulloch
16.00h: Parade mit Installation eines Flüchtlingsbootes vom Mittelmeer in der Jenaer Innenstadt
18.00h: Essen
19.00 Plenum mit Auswertung: Was haben wir erreicht? Was sind die nächsten Schritte? Nächste Ereignisse?
21.00 FreeStyle Hip Hop der "Gast-Aktivisten" Marap and Jamal
Sonntag, 6.Oktober 2019


Ab 8.30: Frühstück
10.00 – 12.00: Austausch über den weiteren Weg
Bitte informiert uns über eure Teilnahme, so dass wir Schlafplätze organisieren können.


Wir brauchen eure Unterstützung! Für den Erfolg unserer Feier und die Kontinuität unseres Kampfes!!!




Spenden an: Förderverein The VOICE e.V.;
IBAN: DE97 2605 0001 0000 1278 29, BIC: NOLADE21GOE, Code: 25.VOICE


Weitere Informationen: The VOICE Refugee Forum, Schillergässchen 5, 07745 Jena
Telefon und Whatsapp: 0176 24568988 | Email: thevoiceforum@gmx.de |Homepage: www.thevoiceforum.org| www.facebook.com/RefugeeBlackBox/