You are here
Geburtstagsgeschenke für The VOICE 25. – Ein Vierteljahrhundert seit dem Aufbrechen der Isolation
Sun, 10/27/2019 - 12:02 -

voice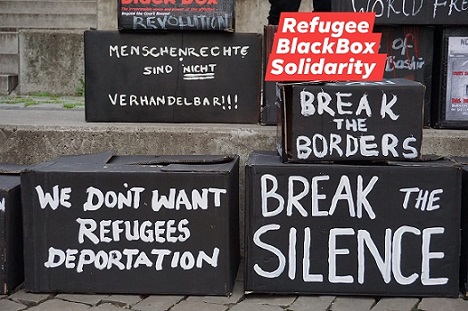 Geburtstagsgeschenke für The VOICE 25.
Leiste deinen Beitrag zur Feier von 25 Jahren The VOICE Refugee Forum
Du bist Teil dieser Geschichte – ein Vierteljahrhundert seit dem Aufbrechen der Isolation
25. Jubiläum von The VOICE Refugee Forum, 1994 bis 2019 von Mühlhausen nach Jena/Thüringen, Deutschland
Aufruf zur Teilnahme an der Vorbereitung und der Feier des 25. Geburtstages von The VOICE am 6. und 7. Dezember 2019 in Jena
Die Kultur der Abschiebung brechen – Abschiebung ist das letzte Glied in der Kette der Sklaverei | RefugeeBlackBox - Solidarity (initiiert 2017)
ENGLISH: http://thevoiceforum.org/node/4674
***
25. TheVOICE: Du bist Teil dieser Geschichte – ein Vierteljahrhundert seit dem Aufbrechen der Isolation
25.The VOICE Refugee Forum Jubiläum, 1994 – 2019
Gegründet in Mühlhausen und etabliert in Jena / Thüringen, Deutschland
Silberjubiläumsfeierlichkeiten am 6. und 7. Dezember 2019.
Am Samstag, dem 7.12.2019 wird eine RefugeeBlackBox-Parade in Jena gegen die Verbrechen der Abschiebungen stattfinden
Podiumsdiskussion: The VOICE und der Zusammenschluss von Flüchtlingen in Thüringen | RefugeeBlackBox-Installationen| Live-Konzerte
Nach einem Vierteljahrhundert ist The VOICE Refugee Forum noch immer an vorderster Front in Sachen Würde und Selbstbestimmung, im schweren Gepäck die Last eines Vierteljahrhunderts. Viele wurden von ihrer Reise erlöst, vielen ist es gelungen, ihren Platz zu finden. Eine schwere Last muss abgestellt werden, um sich selbst nicht zu verlieren als Quelle für die nächste RefugeeBlackBox.
Du bist Teil dieser Geschichte so wie du Teil der Zukunft bist. Vergiss dich selbst nicht und nicht denjenigen, der deine Unterstützung in seinem Kampf braucht.
Leiste einen Beitrag zum Jubiläum von The VOICE, wähle und sende ein Foto von The VOICE für eine öffentliche Ausstellung, trage bei zur RefugeeBlackBox. Aktivisten unter den Flüchtlingen und Asylsuchenden sind eingeladen und alle sind willkommen, ein paar Worte über ihre Erfahrungen und ihr Zeugnis in die Box zu legen.
Wir rufen alle progressiven Communitys, Aktivist*innen, Unterstützer*innen und Freund*innen auf beizutragen zu 1000 mal 25 Euro! Es sollte noch mehr als das werden, denn es sind mehr als 1000 Menschen in Deutschland, die The VOICE auf die eine oder andere Weise begegnet sind. Dein Geschenk ist nicht dazu da, die Vergangenheit zu feiern, sondern vielmehr dazu, Platz zu schaffen für die Zukunft um weiterzumachen!
Deine Spende dient nicht nur dem Transport von Flüchtlingen, sondern wir brauchen auch Generatoren, Zelte, Gasheizer für RBB Installationen, für die Paraden und Performances, auch ein Truck für unsere zukünftigen Installationen wird benötigt.
Wir haben alles, was nötig ist, um eine neue Weltordnung der Solidarität zu schaffen!
Jeder Flüchtling ist die Geschichte einer jeden RefugeeBlackBox–Installation. Es bedeutet eine bestimmte Kraft von Wissen und Weisheit, deinen Kampf zu finden, deine Präsenz zu stärken in Solidarität mit den Kämpfen und der Bewegung der Flüchtlinge.
Stoppt Abschiebungen! Verteidige die Solidarität der ReefugeeBlackBox, dein Schweigen tötet:
Jeder Stopp einer Abschiebung reißt die Maske herunter, die das menschliche Gesicht bedeckt!
Der Kampf gegen Abschiebung stand schon immer im Zentrum des politischen Aktivismus von The VOICE. Gegen Abschiebung zu kämpfen heißt gegen Nationalismus, weiße Vormachtstellung und kolonialistisches rassistisches Unrecht zu kämpfen!
The VOICE Refugee Forum ist eine wegbereitende selbstorganisierte Flüchtlingsgruppe in Deutschland.
Unterstützt uns, damit wir unsere Stärke die nächsten 25 Jahre aufrechterhalten können. Schließt euch uns an, 25 Jahre selbstorganisierten autonomen Flüchtlingskampf zu feiern.
Gebt 1000 X 25€ für den 25. Geburtstag von The VOICE Refugee Forum!
Alle Spenden, kleinere oder größere sind höchst wertgeschätzt!
Förderverein The VOICE e.V.
IBAN: DE97 2605 0001 0000 1278 29
BIC: NOLADE21GOE
Stichwort: 25yrs
Aufruf zur Teilnahme an der Vorbereitung und der Feier des 25. Geburtstages von The VOICE am 6. und 7. Dezember 2019 in Jena
Ankunft: Donnerstag, 5. Dezember 2019,
Beginn: Freitag, 6. Dezember, 10:00. 25 Städtische Einrichtungen
Präsentation der Versammlung der Flüchtlinge in Thüringen, des Graswurzelaktivismus und der Bewegung von The VOICE Refugee Forum "Die Revolution in uns" durch Freunde und Aktivist*innen des Netzwerks, mit leichtem Kulturprogramm
Samstag, 7. Dezember 2019
The VOICE – Flüchtlingsversammlung in Thüringen und die RefugeeBlackBox- Community aus 25 Flüchtlingslagern in den Städten und Ortschaften Thüringen, Konzerte von vier Gruppen und Live-DJs
Es wird eine kraftvolle Parade des RefugeeBlackBox-Aktivismus geben mit Installationen gegen die Verbrechen der Abschiebungen und gegen Europas kolonialistischen Rassismus
Im Vorfeld der Dezemberveranstaltungen laden wir euch ein zu den dezentralisierten Informationsveranstaltungen der RefugeeBlackBox-Community-Treffen am 26.10.2019 in Rudolstadt, am 8.11. 2019 in Jena, am 26.11.2019 in Walterhausen.
Refugee Assembly Thueringen: - "If Germany does not want us to come to Germany then they must say it clearly to the world!" http://thevoiceforum.org/node/4664
Refugee Assembly Brandenburg - Statement and Call of Refugee Selforganisation http://thevoiceforum.org/node/4676; Please contact us: https://www.facebook.com/RefugeeAssembly/
1st Call for a Coordinated Regional Refugee Community Assembly – The VOICE Refugee Forum Germany in 2014
https://thevoiceforum.org/node/3777
Seid so frei, leistet eine Spende und postet diese Ankündigung!
Thevoiceforum.org | https://www.facebook.com/RefugeeBlackBox/
Contacts: The VOICE Refugee Forum Germany.
Jena: Tel.: + 49 (0) 176 24568988 (Whatsapp), E- mail: thevoiceforum@gmx.de
Berlin: Handy :+49 (0)170/8788124 (Whatsapp), E- mail: the_voice_berlin@emdash.org