You are here
Refugee Demonstration against deportation in Saalfeld / Saale
Mon, 11/09/2020 - 23:52 -

voice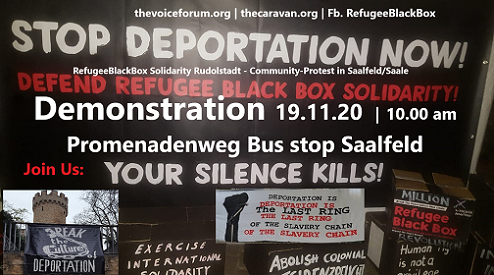 German: Fluechtlings-Demo in Saalfeld: Stop the deportations!
http://www.thevoiceforum.org/node/4734
Refugee Demonstration against deportation in Saalfeld
Stop the deportations! Fight Against Racism and Stop Discrimination!!
RefugeeBlackBox Solidarity Rudolstadt - Community Protest in Saalfeld/Saale City
Refugee Demonstration against deportation and for normal housing in Thueringen
On 19.11.2020, at 10.00 am. Meeting Place: Promenadenweg Bus Stop Saalfeld Saale
If you are interested to show your solidarity with us by participation and donation to support the RefugeeBlackBox Community in Rudolstadt please see our contact below and join us!
Full text: thevoiceforum.org
On the 25 of October 2020, we refugees in Rudolstadt gathered to discuss the increasingly difficult and critical situation of asylum seekers in the state of Thüringen. Among the topical issues were:
(1) Poor housing: In Rudolstadt the housing situation remains deplorable despite all entreaties to the authorities to improve the living condition of refugees in the City. For example, families of 4 live in single room. It is obvious that each member of such families is psychologically, adversely affected owing to the deprivation of privacy.
(2) In most other cities in the State, asylum seekers are usually given 6 months Visas on their Identity Cards (Ausweis) whereas in Rudolstadt asylum seekers only get 3 months. This is certainly creating a situation of perpetual suspense that cannot be good for the health of refugees living here.
(3) The issue of rejected asylum seekers. More often than not, the courts in Thüringen reject many asylum cases particularly from Nigeria, Afghanistan and Syria. For example, virtually every Nigerian asylum seeker in Rudolstadt has been rejected with flimsy reasons. Although the situation in Nigeria as evidenced by the on going nationwide protest that has garnered international support and further protest in other countries remain unsafe, the authorities here do not take these dire situations into consideration in judging the cases.
They refuse to acknowledge that Nigeria is a country where people in high positions act with impunity and basically unaccountable. That the police and other security forces are used to harass and persecute, detain and torture, maim and carry out extra-judicial executions, rape and brutalise innocent civilians and opposition members. The national and international outcry to "EndSARS" that is now an international protest against police brutality and military violence speaks to how common the wilful and deliberate violation of individual human rights are in Nigeria.
However, in the last three years, since we have been living in Rudolstadt, not a single asylum seeker from Nigeria has obtained recognition of his or her right to asylum before the court in Gera. Even when they are sick and cannot afford to live on their own in Nigeria; where there is no national health insurance, they still do not get any respite or protection. My case, James Imudia Ogbomo is a typical example of this flawed judicial system. Doctors have written several times to attest that I cannot travel home due to my sickness but the court in Gera still rejected my appeal, claiming my sickness is not a sufficient reason for me to stay here in Germany.
We, the refugees in Rudolstadt have decided to protest against the systematically orchestrated attacks on our basic rights by the authorities in Saalfeld/Rudolstadt, Thuringia and the Federal Office for Migration and Refugees (BAMF) and to work together to restore our dignity, which is threatened by poor housing conditions and the threat of deportations from Germany due to racial discrimination against refugees.
RefugeeBlackBox Solidarity in Rudolstadt!
We demand an unconditional right to freedom of movement and for all residence rights, the right to work and health care for all refugees without discrimination in Germany.
We hereby call for refugees in the state of Thüringen to join us as we carry out our protest against this injustice:
Demonstration:
Date: Thursday, 19th November 2020
Time: 10:00 am - Meeting Pace: Promenadenweg, Central Bus Station in Saalfeld Saale
This protest is
(1) against the deportation of refugees
(2) against racism in Thüringen
(3) against discrimination
(5) against poor housing
(6) against injustice from the Thüringen court and BAMF on rejecting asylum seekers even when reasons for protection are obvious.
The Black Box Refugees Solidarity - is a political initiative launched by The VOICE Refugee Forum within the Caravan Network for the Rights of Refugees and Migrants in Germany to inform and protect the interests of refugees. We strive to strengthen the refugees' self-confidence and raise their awareness of the chains of physical and psychological oppression in order to strengthen our self-organized struggles to overcome the oppression and injustice that refugees suffer.
Stop the deportations!
Please make your donation: Code "RefugeeProtest" The VOICE e.V.
Sparkasse Göttingen.
IBAN: DE97 2605 0001 0000 1278 29, BIC: NOLADE21GOE
For more information: If you are interested please contact me.
Kontaktiert mich bei Interesse an weiteren Informationen:
RefugeeBlackBox Solidarity in Rudolstadt: Ogbomo James Imudia, Tel +4915218152765
Emai: Marioairlord1@yahoo.com
Organization: THE VOICE REFUGEE FORUM | RefugeeBlackBox Jena - Germany.
Contact;
"Comrade Maruan" Umaru Dahiru: Tel. : +49 163 7778341
Coordination Office: Schillergässchen 5, 07745 Jena | Tel.: +49 176
24568988 | Email: thevoiceforum@gmx.de, 
http://thevoiceforum.org http://thecaravan.org | https://www.facebook.com/RefugeeBlackBox