You are here
Fluechtlings-Demo in Saalfeld: Stoppt die Abschiebungen! Bekämpft Rassismus und stoppt Diskriminierungen!
Tue, 11/10/2020 - 23:47 -

voice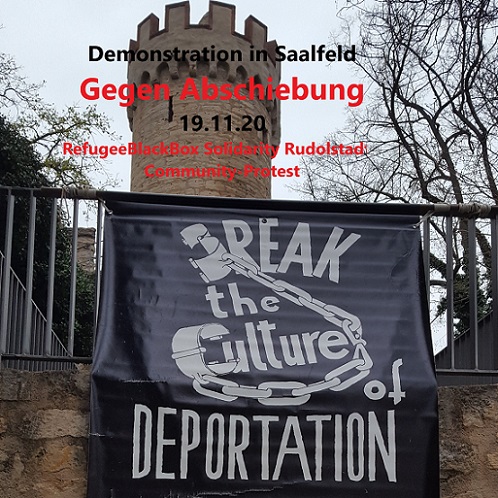 German text below:
Refugee Demonstration against deportation in Saalfeld
Stop the deportations! Fight Against Racism and Stop Discrimination!!
RefugeeBlackBox Solidarity Rudolstadt - Community Protest in Saalfeld/Saale City Refugee
Demonstration against deportation and for normal housing in Thueringen On 19.11.2020, at 10.00 am.
Meeting Place: Promenadenweg Bus
Stop Saalfeld Saale If you are interested in showyour solidarity with us by participation and donation to support the RefugeeBlackBox Community in Rudolstadt please see our contact below and join us!
Full text in English: http://thevoiceforum.org/node/4733 (Photo)
xxxxx
Solidarity Rudolstadt - Community-Protest in Saalfeld/Saale
Demonstration gegen Abschiebung und für normale Unterbringung in Thüringen!
Am 19.11.2020 um 10.00 Uhr, Treffpunkt: Promenadenweg, bushaltestelle in Saalfeld
Wenn ihr interessiert seid, zeigt eure Solidarität mit uns, indem ihr teilnehmt und spendet, um die RefugeeBlackBox Community in Rudolstadt zu unterstützen.
Bitte seht unten unseren Kontakt und schließt euch uns an!
Am 25. Oktober 2020 kamen Flüchtlinge in Rudolstadt zusammen, um die zunehmend schwierige und kritische Lage von Asylbewerbern in Thüringen zu diskutieren. Dabei wurden folgenden Themen besprochen:
(1) Mangelhafte Wohnbedingungen: In Rudolstadt ist die Wohnsituation nach wie vor beklagenswert trotz all der eindringlichen Bitten gegenüber den Behörden, die Lebensbedingungen der Flüchtlinge in der Stadt zu verbessern. So muss beispielsweise eine vierköpfige Familie in einem Zimmer leben. Es ist offensichtlich, dass jedes Familienmitglied angesichts der fehlenden Privatsphäre psychologisch negativ beeinträchtigt wird.
(2) In den meisten Städten wird Asylbewerbern im Ausweis jeweils ein Aufenthaltsstatus für die Dauer von sechs Monaten gewährt, während man in Rudolstadt nur drei Monate bekommt. Dies führt selbstverständlich zu einem anhaltenden Zustand der Ungewissheit, der für die seelische Gesundheit der hier lebenden Flüchtlinge nicht gut sein kann.
(3) Die Angelegenheiten der abgelehnten Asylbewerber. Öfter als dass das Gegenteil der Fall wäre, lehnen die Gerichte in Thüringen viele Fälle von Asylbewerbern ab, insbesondere derjenigen von Nigeria, Afghanistan und Syrien. Beispielsweise ist nahezu jeder nigerianische Asylbewerber aus fadenscheinigen Gründen abgelehnt worden. Obwohl die Situation in Nigeria nachweislich unsicher bleibt – wie die anhaltenden landesweiten Proteste, die internationale Unterstützung und weitere Proteste in anderen Ländern hervorgerufen haben, zeigen – berücksichtigen die Behörden hierzulande bei der Beurteilung der Fälle diese ernste Situation nicht.
Sie weigern sich anzuerkennen, dass Nigeria ein Land ist, wo Personen in hohen Positionen ohne zur Rechenschaft gezogen zu werden straflos agieren. Dass Polizei und andere Sicherheitskräfte daran gewöhnt sind, unschuldige Bürger zu drangsalieren und zu foltern, zu verletzen und außergerichtlich hinzurichten, zu vergewaltigen und ihnen Gewalt anzutun. Die nationale und internationale Aufschrei "EndSARS", der jetzt zu einem internationalem Protest gegen Polizeibrutalität und militärische Gewalt geworden ist, spricht aus, wie mutwillig und vorsätzlich die Menschenrechtsverletzungen in Nigeria sind.
Trotzdem hat in den letzten drei Jahren, seit wir in Rudolstadt leben, kein einzige/r Asylbewerberin aus Nigeria vor dem Gericht in Gera eine Anerkennung seines/ihres Rechtes auf Asyl erhalten. Sogar wenn es sich um kranke Personen handelt, die in Nigeria nicht selbstständig für sich sorgen könnten! Auch wenn es dort keine nationale Krankenversicherung gibt – trotzdem erhalten sie dennoch weder Ruhe noch Schutz. Mein eigener Fall, James Imudia Ogbomo (Appellbrief an das Verwaltungsgericht Gera (Deutschland) für James Imudia OGBOMO anlässlich der Verhandlung im Asylverfahren am 6.7.2020 - http://www.thevoiceforum.org/node/4728), steht als typisches Beispiel für dieses fehlerhafte Justizsystem. Diverse Male haben Ärzte ein Attest geschrieben, dass ich aufgrund meiner Krankheit nicht nach Hause reisen kann, doch das Gericht hat meine Klage zurückgewiesen mit der Behauptung, meine Krankheit sei kein ausreichender Grund für meinen Verbleib in Deutschland.
Wir, die Flüchtlinge in Rudolstadt haben beschlossen, gegen die systematisch orchestrierten Attacken gegen unsere Grundrechte durch die Behörden in Saalfeld/Rudolstadt, den Staat Thüringen und das Bundesamt für Migration und Flüchtlinge (BAMF) und zusammenzuarbeiten um unsere Würde wiederzuerlangen, die bedroht ist durch die miserablen Wohnbedingungen und durch die Bedrohung durch Abschiebung aus Deutschland aufgrund rassistischer Diskriminierung gegenüber Flüchtlingen.
RefugeeBlackBox Solidarity in Rudolstadt!
Wir verlangen ein bedingungsloses Recht auf Bewegungsfreiheit und Aufenthaltsrechte für alle, das Recht auf Arbeit und Gesundheitsversorgung für alle Flüchtlinge in Deutschland – ohne Diskriminierung.
Hiermit rufen wir alle Flüchtlinge und progressiven Menschen auf, sich uns anzuschließen, wenn wir unseren Protest gegen diese Ungerechtigkeit ausüben!
Demonstration:
Datum: Donnerstag, 19. November 2020
Zeit: 10:00 Uhr - Treffpunkt: Promenadenweg, Bushalte in Saalfeld / Saale
Bei diesem Protest geht es
(1) gegen die Abschiebung von Flüchtlingen
(2) gegen Rassismus in Thüringen
(3) gegen Diskriminierung
(4) gegen die schlechte Unterbringungssituation
(5) gegen die Ungerechtigkeit des Thüringer Gerichtes und des BAMFs im Hinblick auf die Ablehnung von Asylsuchenden selbst bei offensichtlichen Schutzgründe
Die Black Box Flüchtlingssolidaritäts-Bewegung ist eine politische Initiative, die von The VOICE Refugee Forum innerhalb des Netzwerks der Karawane für die Rechte der Flüchtlinge und Migrant*innen in Deutschland initiiert wurde, um über die Interessen der Flüchtlinge zu informieren und diese zu beschützen. Wir streben danach, das Selbstbewusstsein der Flüchtlinge zu festigen sowie das Bewusstsein für ihre physische und psychologische Unterdrückung zu schärfen und den selbstorganisierten Kampf für die Überwindung der erlittenen Unterdrückung und Ungerechtigkeit zu stärken.
Stoppt die Abschiebungen!
Bitte spendet an: Förderverein The VOICE e.V.
Sparkasse Göttingen
IBAN: DE97 2605 0001 0000 1278 29, BIC: NOLADE21GOE
Verwendungszweck: RefugeeProtest
Kontaktiert mich bei Interesse an weiteren Informationen:
RefugeeBlackBox Solidarity in Rudolstadt: Ogbomo James Imudia, Tel +4915218152765
Email: Marioairlord1@yahoo.com
Organisation:
THE VOICE REFUGEE FORUM JENA.
RefugeeBlackBox Jena - Germany.
Kontakt: "Comrade Maruan" Umaru Dahiru: Tel. : +49 163 7778341
Koordinationsbüro: Schillergässchen 5, 07745 Jena | Tel.: +49 176
24568988 | Email: thevoiceforum@gmx.de, http://thevoiceforum.org //
http://thecaravan.org | https://www.facebook.com/RefugeeBlackBox