You are here
Refugee Community in Zella-Mehlis demand for the right to live a free life in Germany
Sat, 03/19/2011 - 15:30 -

voice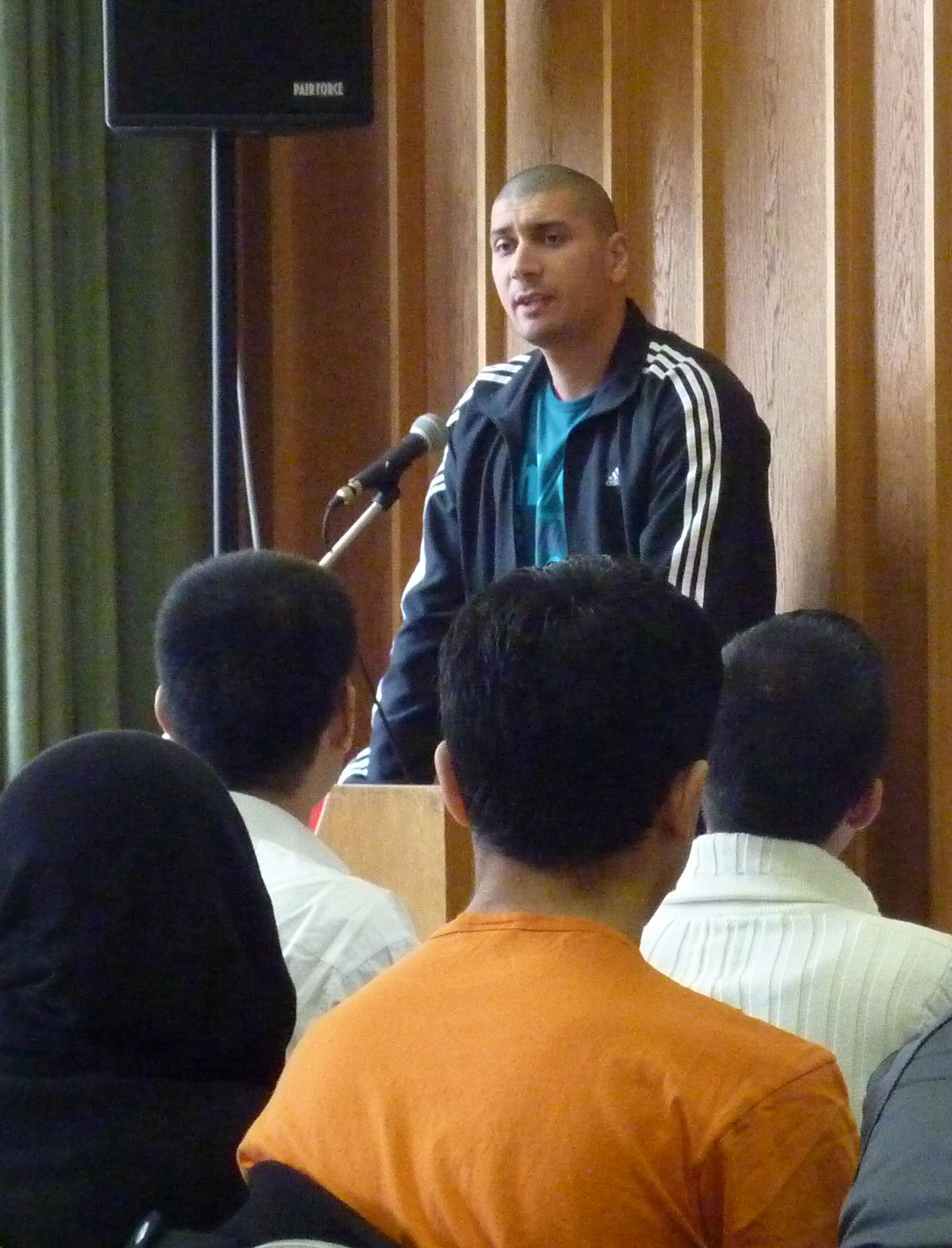 Photo: Miloud L Cherif at The Refugee Conference in Stuttgart 12.03.11
"Das Lager muss weg ! " - Lautstarke Demonstration von Flüchtlingen und UnterstützerInnen in Meiningen am 24.3.2011
We are calling for solidarity and support!
We want normal housing! Not in the refugee lager - camp
We are the asylum seekers living in Industrie.str 29, Zella Mehlis lager
- We want to tell the world that our situation got worse and worse day after day, especially in winter, when we suffer the most from the cold.
- We live in an old lager, with old doors, broken windows, mildew (schimmel) in the rooms, in shower rooms and toilets , corridors, schimmel is everywhere, a lot got sick, their health situation getting worse, a lot of families and Babies living in such terrible conditions.
- The warm water is not stable, and the heating is completely absent from a long years according to the people who lives here for a long time now , rooms are cold , and very cold when temperature gets under -10° c.
- We live in rooms with small ironic beds from the dark ages, we can't sleep even like human does. the bed's cloths is old, they keep washing it from few years and giving it back to us every Wednesday.
- We are around 170 residents in this lager, most of us don't get any money, no voucher for cloths, except voucher for food, which can't be used to buy anything else except food.
- We cannot get a permission to visit the doctor when we get sick, we get it when social worker wants to give.
- We are isolated from the world, with all what has the word 'Isolation' of means.
- We are punished just because we are asylum seekers here in Germany.
with that been said, we are the asylum seekers of zella mehlis demand:
1. This lager TO BE CLOSED, and to live in normal apartments, where we can have some of our dignity back.
2. We refused to be paid by voucher(gutschein), and to have more rights for cash money(taschen geld),and cloths.
3. We ask for to be given permission to visit the doctor right when we are sick, and we refuse to wait for the permission.
4. We ask the socialamt to give the 'green light' to the doctors and the dentists to have a better examination and treatment.
5. The right for freedom of movement.
6. stop terrorizing people by the deportation subject .and stop deportation.
7. we ask for a better psychological care
8. German authorities claiming, Germany a country of democracy.... .
I ask the authorities a favor ... please, from the problems listed above, prove to us that we are not 'second class people' !! (untermenschen) .
Looking for the answer, better for the authorities start to think how to execute our demands, and NOW!!!
Onbehalf of The VOICE Refugee Forum, Karawane for the rights of refugees and Migrants, Break Idolation Network and with Nation wide Campaign network for the Abolition of Discriminatory laws against the refugees we are joining together to demand:
ABOLISH the Lager System
ABOLISH the asylum-seeker benefits law (AsylbLG)!
ABOLISH compulsory residency!
ABOLISH any forms of institutional racism!
ABOLISH all kinds of racist special laws!
ABOLISH forced deportations!
Join with us to fight the right to live free in dnitywith all.
We want to break the isolation! close the refugee Lager-camp in Zella Mehlis!
*22. März: Aktionstag in Zella-Mehlis GU asylbewerber, Industriestr. 29,
*24. March: Demonstration in Meiningen at 14Uhr, Main Train Station
Miloud L Cherif
Refugee Comunityin Zella-Mehlis - The VOICE Refugee Forum
March, 19.03.2011
Thüringer Ausländerbeauftragte und The VOICE Jena- Radio Lotte interview zum Lüchtlingslager Zella-Mehlis http://thevoiceforum.org/node/2042
Mdr video report and interview with Miloud l. Cheif
http://www.youtube.com/watch?v=hgeOb21IOk8&feature=player_embedded
The VOICE Refugee Forum Jena
Adresse: Schillergässchen 5, 07745 Jena
Tel. Handy 0049(0) 17624568988,
Fax: 03641 / 42 02 70,
E-Mail: thevoiceforum@emdash.org,
Internet: http://www.thevoiceforum.org
Gegründet: 1994, Arbeitsweise: Kampagnen,Aktionen, Vernetzung.
Publikationen: E-Newsletter