You are here
Bericht zur Demo in Berlin für "Blind Banga" - gegen Polizeigewalt und staatlichen Rassismus
Tue, 04/24/2012 - 09:57 -

voice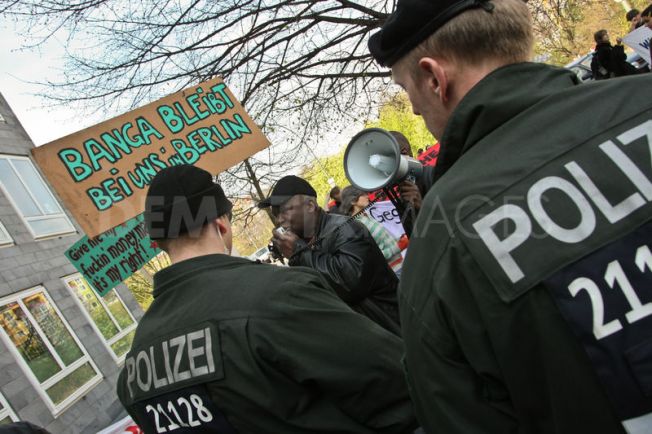 Riot police in front of a speaker of the demonstration.
Protest against state racism to Department of Immigration - Berlin
Demonstration from Berlin Social Court to the Department of Immigration against state racism and authority arbitrariness, because of 28-year old Banga, who gets no help by authorities and which is seen as a typical story of a refugee in Germany. Photo by Theo Schneider
Demo für "Blind Banga" - gegen Polizeigewalt und staatlichen Rassismus
Am Donnerstag, den 19.4.2012 versammelten sich ca. 40 Leute vor dem Sozialgericht Berlin und forderten, dass Banga endlich sein Recht bekommt.
Seit Oktober diesen Jahres streiten sich das Sozialamt Marzahn-Hellersdorf in Berlin und das Versorgungsamt Wartburgkreis in Thüringen, wer denn nun für die Asylbewerberleistungen von "Banga" - Bamkali Konateh - zuständig sei. Von einer gerichtlichen Entscheidung zur nächsten Instanz geht der nun seit 7 Monaten andauernde Papierkrieg vorallem auf die Kosten von Banga.
"Give me my fuckin' money man! It's my right!"
Der 28-jährige floh vor 11 Jahren mit gesunden Augen nach Deutschland. Durch Polizeigewalt – 4 Kripobeamte schlugen und traten ihn in Düsseldorf blutig und schossen ihm eine ganze Kartusche Pfeffergas ins linke Auge - verlor er 2004 erst das eine und aufgrund von Repression im Knast, Diabetes und verpfuschter ärztlicher Behandlung 2009 dann auch noch das andere Auge. Als blinder, zuckerkranker Mensch lebte er 2 Jahre lang in völliger Isolation und Dunkelheit in einem der abgefucktesten Flüchtlingslager in Gerstungen, Thüringen – bis The VOICE Refugee Forum auf ihn aufmerksam wurde und seine Geschichte in die Öffentlichkeit brachte. Nachdem er seinen Aufenthaltstitel erkämpfen konnte, wurde er von der Ausländerbehörde Wartburgkreis – ohne nähere Informationen oder irgendeine Form von Unterstützung – auf die Strasse gesetzt. Die medizinische Versorgung durch eine Sozialstation, die ihm sein dringend beötigtes Insulin spritzte und Augentropfen verabreichte wurde ebenso wie die Essensversorgung durch eine Cateringfirma zum 30.6.2011 aufgekündigt und er sollte das "Heim" verlassen. So kam er an diesem Freitag nach Berlin, wo sich schon eine Unterstüzungsgruppe für ihn gefunden hatte. Zunächst konnte er Leistungen beim Jobcenter beantragen, hatte eine Krankenversicherung und hatte eine weitere Operation an seinem erblindeten, jedoch nicht entfernten Auge und alles schien sich zum Guten für ihn zu entwickeln. Mitte September wurde von Herrn Müller von der Ausländerbehörde Wartburgkreis jedoch sein Aufenthaltstitel abgeändert und eine Wohnsitzauflage für Thüringen verfügt. Seitdem hat Banga nur noch eine Krankenversicherung, weil er sich Geld von Unterstützer_innen leihen konnte. Seine Miete und seinen Lebensunterhalt bekam er nach einer einstweiligen gerichtlichen Verfügung von Oktober bis Dezember vom Sozialamt Marzahn-Helldersdorf ausbezahlt, die jedoch beim Landessozialgericht Berlin erfolgreich Beschwerde einlegen konnten. Die nächste gerichtliche Entscheidung verpflichtete das Versorgungsamt Wartburgkreis, ihm seine Leistungen von Februar bis April zu gewähren. Diese waren jedoch erst nach einer angedrohten Zwangsvollstreckung bereit, ihm seine zustehenden Leistungen auszubezahlen und gingen ebenfalls vor dem Landessozialgericht Berlin in die Offensive. Der in Deutschland erblindete, diabeteskranke Banga wartet indessen immer noch auf eine bindende, endgültige Entscheidung vom Sozialgericht Berlin und hängt ab Mai wieder einmal in den Seilen – ohne Geld für sein Essen, seine Miete und seine Gesundheitsversorgung!
"Banga bleibt bei uns in Berlin!"
Danach zog die kleine, aber lautstarke Demo mit vielen Transparenten vom Sozialgericht zur Ausländerbehörde Berlin, wo gegen den institutionellen Rassismus der Behörden, gegen Abschiebeterror und für Bewegungsfreiheit demonstriert wurde – und klargestellt wurde, dass Banga in Berlin bleiben wird.
Denn nachdem Herr Müller von der Ausländerbehörde Wartburgkreis für Banga eine Wohnsitzauflage für Thüringen verfügte – obwohl nach seinen eigenen Verwaltungsvorschriften "eine Behinderung" - z.B. eine von deutschen Polizisten, Gefängnisärzten und Chefärzten verursachte nahezu vollständige Sehbehinderung - "einer bestimmten Beschränkung der Wohnsitznahme entgegenstehen (…) und bereits bei der Entscheidung über die Auflagenerteilung zu berücksichtigen" wären, verweigert die Ausländerbehörde Berlin die Zustimmung zur Streichung der Wohnsitzauflage – weil "Behinderung" nicht unter den Gründen, die für eine Streichung sprechen, aufgeführt wird. Die Entscheidung der Widerspruchsbehörde in Thüringen, die über die Rechtmäßigkeit der erteilten Wohnsitzauflage entscheiden muss, steht dabei immer noch aus.
Wir fordern, dass Banga endlich sein Recht bekommt, dass die Schikanierungen, ihm seine Leistungen vorenthalten zu wollen und ihn zurück nach Thüringen abschieben zu wollen, endlich aufhören und er hier in Berlin sein Leben gestalten kann, ohne ständig wieder nicht zu wissen, was morgen kommt.
We are here and we will fight! The freedom of movement is everybody's right!
Christian Ditsch/Fotoagentur version
http://www.version-foto.de/version-foto-cgi/topixx?op=thumbnails6&string...
photos of the demo on flickr:
http://www.flickr.com/x/t/0099009/photos/kietzmann/6948478862/
and on demotix:
http://www.demotix.com/news/1164464/protest-against-state-racism-departm...
Eine längere Version von Bangas Geschichte findet http://thevoiceforum.org/node/2501