You are here
UNTERSTÜTZUNG Unseren Protest: 9-11 Mai Aktionstage in Berlin gegen die Botschaftskollaboration bei Abschiebungen
Thu, 05/03/2012 - 23:12 -

voice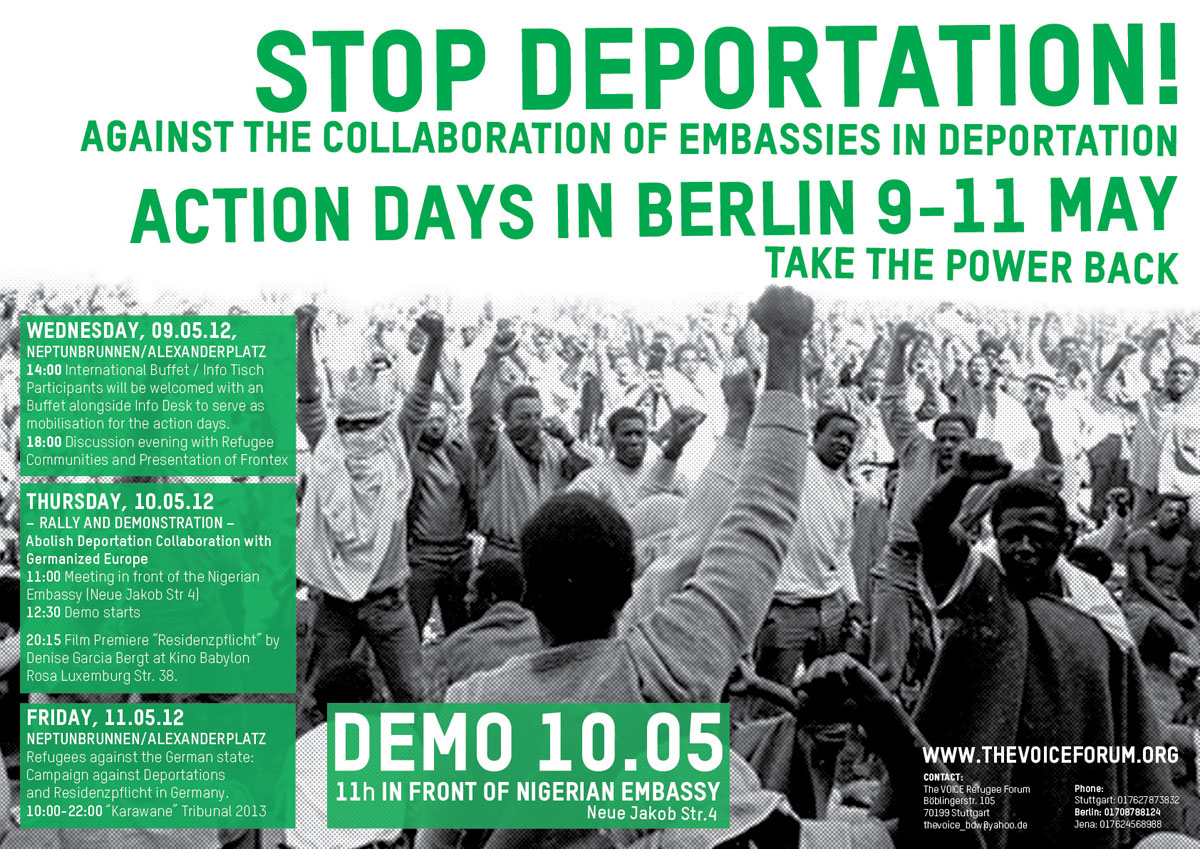 UNTERSTÜTZUNG Unseren Protest: 9-11 Mai Aktionstage in Berlin gegen die Botschaftskollaboration bei Abschiebungen
Protest und Aktionen gegen Botschaften aus verschiedenen Ländern und deren enge Zusammenarbeit mit deutschen Abschiebebehörden. Wir wollen ein Zeichen setzten gegen den deutsch-europäischen Krieg gegen Migration und seine repressiven Elemente.
Die Botschaften vieler Länder kollaborieren, um Menschen für die Abschiebung zu identifizieren. Korrupte Methoden, die nur den Zweck haben, Papiere bereitzustellen, um die Abschiebung von Migranten und Flüchtlingen überhaupt erst zu ermöglichen oder zu erleichtern.
Die nigerianische Botschaft als ein Beispiel unter vielen, reist monatlich von Bundesland zu Bundesland um in mobilen Botschaft Hearings, Abschiebe-Dokumente auszustellen.
The VOICE Refugee Forum organisiert mit der Unterstützung von der Karawane - Für die Rechte der Flüchtlinge und Migranten und verschiedensten migrantischen und antirassistischen Gruppen, Initiativen und Aktivisten drei Aktionstage in Berlin, um die Methoden und Praktiken dieser neo-kolonialen Elemente eines deutsch-europäischen Krieges gegen Migration bloßzustellen und anzugreifen.
Die Tage vom 9 - 11 Mai in Berlin sollen auch dafür genutzt werden, die Rolle von Frontext, "Europäische Agentur für die operative Zusammenarbeit an den Außengrenzen" zu skandalisieren. Deutschland ist nicht nur der Hauptsponsor von Frontex – es nimmt auch eine Vorreiterrolle ein, andere Länder in Abschiebeaktionen einzubeziehen und Kollaborationen zu erzwingen.
Beispielweise tritt Nigeria Im Januar 2012 mit Frontext in eine vertragliche Abhängigkeit um "Rückführungs Operationen" unter dem Deckmantel der gemeinsamen Zusammenarbeit, durchzuführen.
Die geplanten Aktionen werden sich auf Botschaften afrikanischer Länder konzentrieren mit Fokus auf die Botschaft von Nigeria - Guinea. Wir haben die aktive Teilnahme von vielen anderen Communities und Aktivisten, z.B. aus Kamerun, Algerien, Sudan, Syrien, Afghanistan, Pakistan, Aserbaidschan, Iran, Uganda, Kurdistan, Mali, Niger, Gambia, Äthopien, Kenia, Somalia, Sierra Leone, Republik Benin und Togo und natürlich allen anderen, die unsere Kampagne unterstützen wollen.
Es sind bereits zahlreiche Aktivitäten geplant, unter Vielem: Demonstrationen vor und gegenüber den Botschaften und des Auswärtigen Amts, Workshops, Konferenzen, Performances, Vorträge und Berichte von Flüchtlingen, Theater und Poetry und andere kreativen Aktionen.
Abschiebung ist eine Form der rassistischer Vernichtung und zeigt das wirkliche Gesicht der deutschen Praxis, in der Kontinuität andere Länder zu unterdrücken und sie als "rückständig" oder "unterentwickelt" zu kennzeichnen.
Wir sind hier, weil Ihr unsere Länder zerstört;
hier angekommen – als Opfer einer mehr als hundertjährigen Kontinuität von Ausbeutung und Sklaverei, sind wir konfrontiert mit Ausgrenzung und Isolation und werden weiter verfolgt durch staatliche Unterdrückung und institutionellen Rassismus.
Abschiebung ist ein Verbrechen gegen die Menschlichkeit
Kämpft mit uns gegen das koloniale Erbe der Unterdrückung
RADIO Interview with Mbolo Yufanyi, Rex Osa and Salomon Wantchoucou on Action days against Country Embassy deportation Collaboration in Berlin 9-11 May 2012.
Wir sind Flüchtling und werden Kämpfen für unsere Freiheit. Solidarität für alle...
http://soundcloud.com/rebootfm/2012-04-27-the-voices-mp3
Programm:
Mittwoch 09.05.12,
14:00 Internationales Buffet/Info Tisch
Willkommensbuffet für alle! Vernetzung und Mobilisationstreffen für die kommenden Aktionstage.
18:00 Diskussionsabend mit verschiedenen Flüchtling-Communities und einer Präsentation über Frontex.
Donnerstag 10.05.12
Demonstration – Weg mit der Abschiebungszusammenarbeit und deutscher Praktiken in Europa
Die Demo startet vor dem Gebäude der nigerianischen Botschaft (Neue Jakob Str 4)
11:00 Treffen vor der Botschaft
12:30 Demostart
20:15 Film Premiere "Residenzpflicht" von Denise Garcia Bergt im Kino Babylon, Rosa Luxemburg Str. 38.
Freitag 11.05.12: 10:00 -22:00 Uhr
Flüchtlinge gegen den deutschen Staat: Kampagne gegen Abschiebung und Residenzpflicht in Deutschland.
"Karawane" Tribunal 2013
Contact:
The VOICE Refugee Forum,
Boeblingerstr 105, 70199 Stuttgart. www.thevoiceforum.org
Email: thevoice_bdw@yahoo.de
Tel.: Stuttgart: 017627873832
Berlin: 01708788124
Jena: 017624568988
For Donation: deportationstop Name: Fördervereine The Voice e.V
Bank: Sparkasse Göttingen
Bankleitzahl: 26050001
Account Nr: 127829