You are here
Film "Residenzpflicht": in Weimar am 22.5. - in Bielefeld am 29.05 - in Berlin am 06.06 (mit Mbolo Yufanyi im Migrationsrat)
Thu, 05/17/2012 - 14:39 -

voice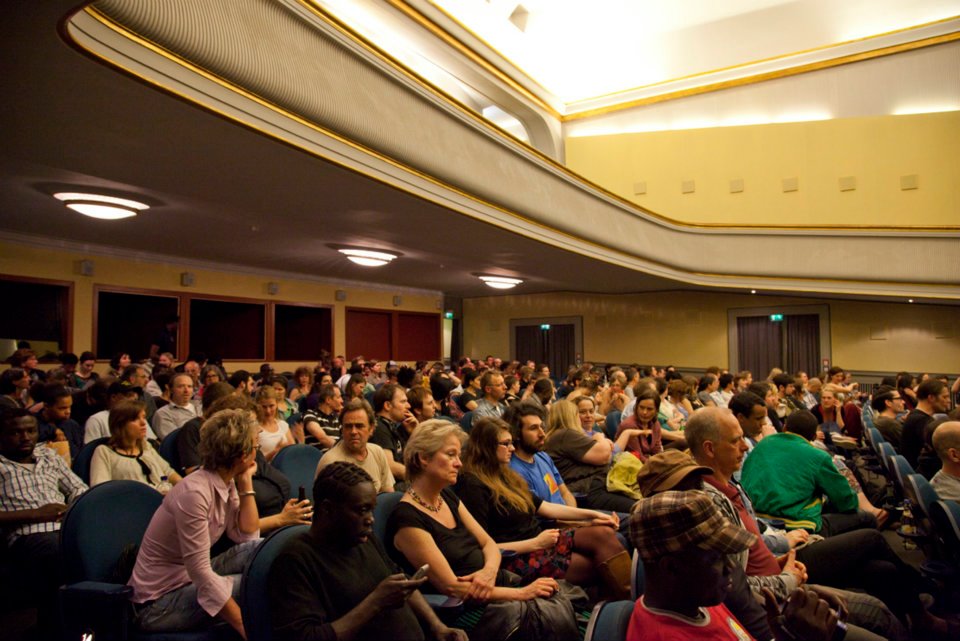 Residenzpflicht Film Premiere 10.5.2012 in Kino Babylon Mitte in Berlin
http://residenzpflichtdoc.com -
Klick on picture for more Photos: https://www.facebook.com/photo.php?fbid=10150772850252624&set=a.10150772...
Für das Recht auf Bewegungsfreiheit ins Gefängnis?
residenzpflicht-apartheid.de
http://residenzpflicht-apartheid.de/
Weimar:
Ein herzliches Hallo,
ein neuer Monat - neues Glück für euch die von mir initiierte Reihe am 22.Mai 10.00 oder 20.00 Uhr zu besuchen bzw. auch die Einladung weiter zu leiten. Dieses Mal haben wir einen Film zum Thema Asyl/Flüchtlinge gefunden, der das mir so besonders wichtige Thema von vielen Seiten aussagekräftig beleuchtet. Außerdem kommt Denise, die Regisseurin aus Berlin und auch einige der Bewohnenden aus dem Asylbewerberheim Weimars werden dabei sein. Ihr seid sehr herzlich ins Kino mon ami Weimar eingeladen! Viele Grüße Marie Eberhardt
Zeitalter Mensch
RESIDENZPFLICHT
Warum und wozu dürfen Menschen nicht gehen, wohin sie wollen? Nicht leben, wo sie möchten? Wie werden Asylsuchende untergebracht? Wie verläuft eine Abschiebung? Der Dokumentarfilm porträtiert das Leben und den Widerstand von Flüchtlingen in Deutschland und lässt dabei Anwälte, Flüchtlingsorganisationen und vor allem aktive Asylsuchende Repressionen, Alltagsrassismus und menschenverachtenden Zustände schildern. Dabei wird auch die Zeit der Kolonialisierung betrachtet:
der Vorreiter der Residenzpflicht. Ein vielseitiger Film, der vor allem die Isolation der Asylsuchenden durchbrechen möchte. Im Anschluss an den Film findet eine Podiumsdiskussion mit Bewohnern des Weimarer Asylbewerberheims und der Regisseurin statt.
D 2012, 71 min, OmU, empfohlen ab 15 J.
R: Denise Garcia Bergt
**
Bielefeld:
am 29.05 Bielefeld mit der produzentin Denise Garcia Bergt
19 Uhr in der Buerger_innenwache am Siegfriedplatz
***
Berlin:
Der Migrationsrat Berlin-Brandenburg zeigt den Film "Residenzpflicht" von Denise Garcia Bergt.
Im Anschluß wird es die Möglichkeit eines Gesprächs mit der Regisseurin und den Protagonisten des Films geben.
Datum: 06. Juni
Uhrzeit: 19:30
Ort: "Der Familiengarten", Oranienstr. 34 (Eingang über den Hinterhof)
Eintritt: 3-5 Euro
Im Herbst letzten Jahres hat die brasilianische Journalistin, Regisseurin und Filmemacherin Denise Garcia Bergt in enger Kooperation mit The Voice (Refugee) Forum, Refugees Emanzipation und Der Karawane für die Rechte der Migrant_innen und Flüchtlinge den Dokumentarfilm "Residenzpflicht" gedreht. Anhand verschiedener Interviews, u.a. mit Aktivist_innen im Bereich der Migrant_innen- und Flüchtlingesrechte, wird in der 70-Minütigen Dokumentation die Residenzpflicht, eine der restriktivsten Gesetzgebungen der deutschen Flüchtlings- und Asylpoltitik thematisiert und kritisiert.
Seit mindestens zehn Jahren kämpfen Flüchtlings- und Migrant_innenselbstorganisationen gegen die Residenzpflicht und fordern deren Abschaffung. Sie protestieren gegen das aufgezwungene Leben in Isolation, und fordern ihr Menschenrecht auf Bewegungsfreiheit ein. Der Film ist äußerst gut recherchiert und informativ. Ohne in die Falle einer bevormundenden (Re)präsentation to treten, schafft es Denise Garcia Bergt mit diesem Film dem Publikum einen Einblick in die rassistische und menschenverachtende Asylpolitik der Bundesrepublik zu geben.
Thematisiert werden u.a. der Einfluss der Agentur Frontex und ihren ausgeklügelten Kontrollapparat an den Außengrenzen Europas, die deutsche Sortierung und Verteilung von Flüchtlingen in Asylbewerberunterkünften, das koloniale Erbe und der in Deutschland herrschende Alltagsrassismus.
Produzentin, Regisseurin, Schnitt: Denise Garcia Bergt
Kamera, Schnitt: Cassiano Griesang
Musik: Isabel Janke
Produktion: Sonia Ivanova
Weitere Informationen unter: www.residenzpflichtdoc.com
Einladung (deutsch) als pdf
Invitation "Residenzpflicht" English pdf
http://mrbb.de/index.php?option=com_content&view=article&id=199:der-migr...
Archives: The VOICE - Refugee struggles against "Residenzpflicht" restriction of movement and civil disobedience against it >> http://thevoiceforum.org/node/2545
Filmpremiere: Dokumentation des Kampfes gegen Residenzpflicht
www.proasyl.de/de/news/detail/news/filmpremiere_dokumentation_des_kampfe...