You are here
UGANDAN REFUGEE ACTION CONVENTION 2012 IN AUGSBURG
Thu, 05/31/2012 - 17:02 -

voice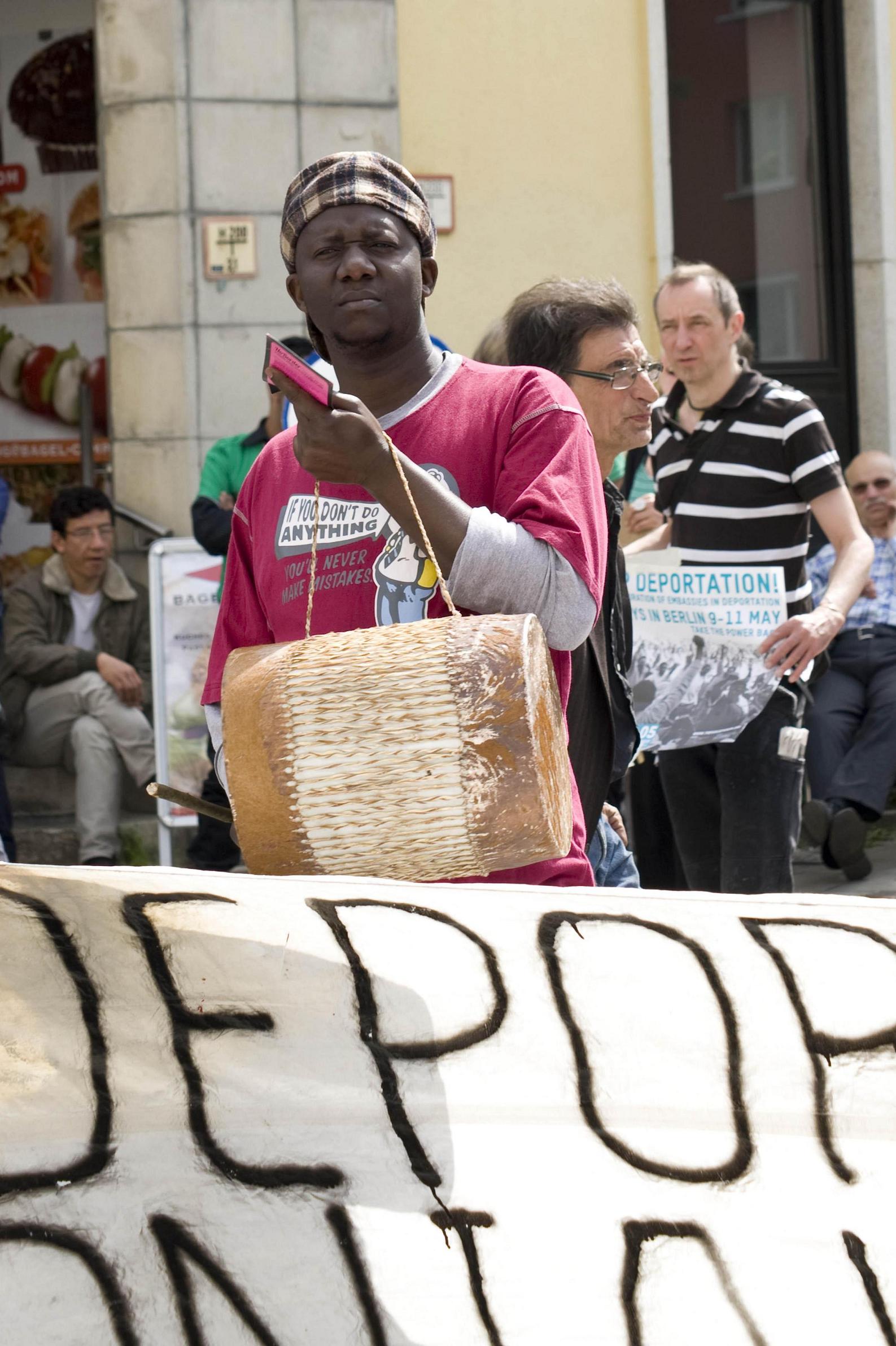 Moses Okile Ebokorait from Augsburg, the Coordinator of the Uganda Refugee Convention 2012 - Drums against Embassy Deportation Collaboration during the action days in Berlin Photo by Adrienne Gerhäuser
INVITATION & PROGRAM: THE UGANDA ACTION CONVENTION 2012: http://thevoiceforum.org/node/2577
UGANDAN REFUGEE ACTION CONVENTION 2012 IN AUGSBURG
AGENDA: "THE PLIGHT OF REFUGEES IN BAVARIA and the need FOR EXCHANGE, SOLIDARITY AND EMPOWERMENT"
Organised by UGANDA ASYLUM SEEKERS FORUM, BAYERN, in cooperation with THE VOICE REFUGEE FORUM, THE UGANDA-GERMANY COMMUNITY ASSOCIATION e.V and REFUGEE COMMUNITIES IN BAVARIA
DATE: Saturday 23.6.2012
Venue: Neruda Café am Augsburger Hofgarten in Alte Gasse Straße 7, Augsburg
Time: 2pm
CONFERENCE OVERVIEW
With the ever increasing number of Ugandan refugees and many others from different parts of the world seeking Asylum in Germany and in Europe as a whole, it has become of paramount importance that the organizers of this convention highlight the plight of refugees in Bavaria.
The Bavarian Government alongside the Federal Office responsible for Refugees and Government of The Federal Republic of Germany needs to be reminded that the increased numbers of refugees from Africa and Asia in Germany have profoundly genuine reasons which include persecution, wars and dictatorship back in their home countries.
This convention seeks to forge a way forward to foster solidarity within the exiled communities - now treated as sub-humans, Hijacked and denied the right to stay in Germany and persecuted with deportation and racial Police Brutality.
There is therefore the need to bring refugee communities together in a common sense of restorating hope, sharing knowledge and unity and supporting each other to empower refugee communities in their demand for justice, equal treatment and protection of their basic human rights.
It is urgently necessary to analyse the need for a pragmatic approach to the German asylum Process based on the fact that Refugees remain the most vulnerable section of the population.
There is also the need call for an end to the selective approach of the Federal Office responsible for refugees in their dealing with refugees especially from countries like Uganda, Nigeria, Senegal, Syria, Palestine, Yemen etc to mention but a few.
Asylum seekers are not granted the right to stay within the stipulated frame of the Law. While many asylum seekers are abandoned to spend many years in Lager without decisions, some are rejected on very flimsy reasons and others remain faced with deportation threats.
This convention further seeks to empower the refugees with the knowledge that, "it is necessary to take responsibility" as a community and highlight the problems we are faced with in our respective countries. Our stand to say "Enough is enough to dictatorships" in Africa and Asia is a way of bringing to light what is happening back home.
Morealso, this convention would seek to denounce Germany's racist laws on Asylum in General because Refugees continue to face such terrible laws like "Rezidenzplicht" and the "Asylwerbeleistungsgesetz" alongside political, economic,social and racial discrimination in their different isolated communities which requires a collective act of resitance.
Based on the aforementioned, this convention would not only express Refugees discontent about Germany's repressive system, but also demand an urgent action in the procession of their asylum applications.
Refugees are calling for the Global Right to Stay and denounce every form of deportation with a further approach to to formulate strategies that would see an end to dictatorship in our respective homelands.
The refugee communities of asylum seekers should never be laid back. Unity in confrontation of a common cause as the slogan goes that, "United We Stand, Divided We Fall" Is the way to go.
The Uganda Asylum Seekers Forum, Bayern- Deutschland
CONTACT PERSON: Moses Okile Ebokorait
TEL: 017636880806 EMAIL: ebosterix@hotmail.de
Please donate to the Success of the Uganda Refugee Convention 2012 in Augsburg
Account / Konto: code "Uganda Refugee"
Förderverein The VOICE e.V.
Kontonummer 127829
BLZ: 260 500 01
BAN: DE97 2605 0001 0000 1278 29,
BIC: NOLADE21GOE