You are here
The International Migrants' Alliance-Europe section (IMA Europe section) STATEMENT ON BREAK ISOLATION IN GERMANY
Thu, 08/23/2012 - 13:45 -

voice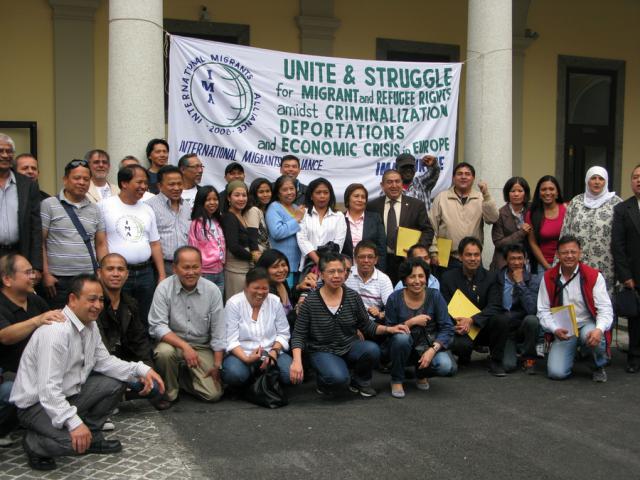 Break the isolation of refugees and migrants
The International Migrants' Alliance-Europe section (IMA Europe section) manifests its strong unity with the organizers and participants to the "Break-Isolation Refuge camp" and to the militant rally during its opening day on August 23, 2012 infront of the Erfurt main train station in Germany.
All freedom-loving citizens, refugees and non-refugees, documented and non-documented, migrant or immigrant, and the working people in Europe and elsewhere should support the cause of the Break-Isolation action because it stands for the fundamental principles of human rights. The struggle to fight for any abuse or exploitation of refugee and migrants rights, to resist deportations, to assert the right to freedom of movement, to call for a stop to the obnoxious expressions of racism, and to fight against the barbaric criminalization of migrants and refugees, are just, righteous and for the cause of the universal right of the people to resist unjust situations and systems.
We join the Break-Isolation movement and its supporters and advocates in calling on the German state to stop racist police actions against refugees, and to repeal its laws that violate the freedom of its citizens, residents and refugees to move freely. We believe that the law, for instance, to restrict the movement of refugees and asylum seekers, is a carry-over from Germany's fascist past, and should not have been allowed to be practiced again.
We believe, too, that refugees in Germany and in Europe in general, are borne out of the wars, poverty, displacement and economic crisis brought upon the poor and oppressed peoples in this planet by the Western military-industrial complex that thrive on profit, exploitation and oppression of people and resources. These are the same elite few, the 1%, that dictate on and control the lives of the 99% in what is called western democracy.
In conclusion, we echo the firm calls of the Break-Isolation camp:
Break Isolation!
Freedom of Movement for everybody!
Resist the deportations! Repeal the EU Return Directive!
Fight Racism - Stop the Police Racist Control!
Stop the criminalization of migrants and refugees and the undocumented!
Long live international solidarity!
International Migrants' Alliance-Europe section (IMA Europe)
Postbus 15687, 1001 ND Amster