You are here
DEMONSTRATION vor dem Landgericht in Magdeburg Für OURY JALLOH
Sat, 11/10/2012 - 00:42 -

voice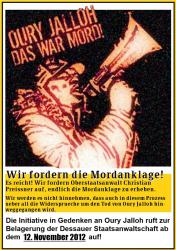 DEMONSTRATION vor dem Landgericht in Magdeburg
Dienstag 13. November 2012
Prozesstermin 9:30 Uhr – Saal A23
Seit Januar 2011 werden die Todesumstände von Oury Jalloh vor dem Magdeburger Landgericht im Revisionsverfahren erneut verhandelt. Doch die ständigen Prozessbeobachter_innen der "Initiative in Gedenken an Oury Jalloh e.V." sehen, wie sich im Gerichtssaal Staat, Justiz und Polizeibeamt_innen gegenseitig Deckung geben.
Die Kammer des Magdeburger Landgerichtes will den "Prozess" im Todesfall Oury Jalloh erneut beenden, ohne dass die Todesumstände überhaupt Thema der gerichtlichen Ermittlungen gewesen wären. Am Dienstag den 13.11.2012 soll es die letzte Möglichkeit geben Beweisanträge zu stellen – zuletzt wurden jedoch alle abgelehnt!
Angesichts dieser unverändert anhaltenden Vertuschungsmentalität von Polizei, Staatsanwaltschaft und den Gerichten Sachsen-Anhalts fordern wir:
- die Änderung der Anklage auf Beihilfe zur Körperverletzung und Mord seitens aller diensthabender Polizeibeamten vom 07.01.2005
- die Durchführung des Verfahrens unter Beiordnung internationaler unabhängiger Prozessbeobachter
- die Anerkennung aller Beweisanträge, die geeignet sind die bestehenden Auffälligkeiten und "Ungereimtheiten" im Todesfall Oury Jalloh zu erhellen um die tatsächlichen Todesumstände zu ermitteln
- die Schaffung einer unabhängigen Kommission zur Untersuchung der Ursachen für den Tod Oury Jallohs, für seine Haft und für die Kettung seines Körpers am Tag des 7. Januar 2005 wie auch das Gerichtsverfahren unabhängig untersucht
- die Untersuchung von Menschenrechtsverletzungen gegen MigrantInnen in Deutschland, die bereits zu vielen Todesfällen geführt haben, sowie die sich daran anschließende rassistische Kollaboration innerhalb der Exekutive, der Legislative und der Judikative in der Bundesrepublik Deutschland
The VOICE Refugee Forum
Kontakt/Info:
The VOICE Refugee Forum Jena | +49 (0) 176 99621504 | thevoiceforum@gmx.de |
http://thevoiceforum.org | Schillergäßchen 5 | 07745 Jena
____________________________________________________________________________________________________________________-
08.11.2012 / Inland / Seite 5
Ermittelt wird nicht
Sachsen-Anhalts Justiz will Jalloh-Prozeß trotz neuer Indizien rasch zu Ende bringen
Von Susan Bonath
Es ist ein unbewiesenes Konstrukt: Oury Jalloh soll sich am 7. Januar 2005 im Dessauer Polizeirevier, gefesselt an eine Matratze, selbst angezündet haben. Mit einem Feuerzeug, das er trotz Leibesvisitation in die Zelle geschmuggelt haben soll. Das nicht im Brandschutt gefunden wurde, sondern erst später bei den Asservaten auftauchte. Und das keine Spuren vom Brandort aufweist. Doch das Magdeburger Landgericht geht weiter unbeirrt von Suizid aus. Und ließ am gestrigen Mittwoch durchblicken, daß es ein baldiges Ende des bisher 22 Monate dauernden Prozesses anstrebt. Auch die Staatsanwaltschaft ermittelt nicht darüber hinaus. Für die Initiative »In Gedenken an Oury Jalloh« ist das »unfaßbar«. Sie wirft den Staatsanwälten vor, Indizien nicht zu verfolgen und verlangt Ermittlungen wegen Mordverdachts. Ab kommenden Montag plant sie deshalb eine einwöchige »Belagerung« der Dessauer Behörde.
Für die Aktivisten war es ein Durchbruch, als das Gericht im Frühsommer auf Antrag der Nebenklage die Überreste des Feuerzeugs – erstmals – auf DNA-Spuren und eingeschmolzene Textilfasern untersuchen ließ. Ein Experte für forensische Biologie schloß aus, daß die DNA von Oury Jalloh stammt. Und die Sachverständige Jana Schmechtig stellte klar, daß die Fasern weder mit der Kleidung des Opfers noch mit dem Stoff der Matratze übereinstimmten. »Das deutet darauf hin – und nach meiner Überzeugung ist das so –, daß das Feuerzeug nicht in der Zelle lag«, sagte Nebenklageanwältin Gabriele Heinecke am Mittwoch zu jW. »Die Frage ist: Woher kommen die Textilreste dann?« Ganz konkret sei das laut Gutachterin Schmechtig zwar nicht zu bestimmen, weil die gefundenen Fasern weit verbreitet seien. Zumindest aber könne man die Ursprungsmaterialien deutlich eingrenzen. Heinecke: »Mich interessiert vor allem, ob sie von Polizeikleidung stammen könnten.«
Das Gericht jedoch lehnte weitere Untersuchungen ab. Statt dessen macht es immer wieder deutlich, daß es in diesem Verfahren ausschließlich darum geht, ob der angeklagte Polizeibeamte Andreas Schubert Jalloh hätte retten können. Auf Anordnung des Gerichts geht der Brandsachverständige Henry Portz weiter von Selbstanzündung aus, obwohl auch seine Tests immer neue Widersprüche zu bisherigen Erkenntnissen aufwarfen. Gestern etwa blieb etwa unklar, wie es zu der von einem Zeugen beschriebenen blauen Flamme kam. Portz' Wissen nach sei dies nur mit Brandbeschleuniger, etwa Reinigungsalkohol, möglich. Heinecke erinnerte zudem daran, daß bei früheren Untersuchungen alkoholische Verbrennungsrückstände analysiert wurden. Außerdem habe die Leiche starke Verbrennungen aufgewiesen, die nicht zum Zustand des Feuerzeugs und auch nicht zum nachgestellten Brandverlauf paßten. Heinecke beantragte, dies von Portz untersuchen zu lassen.
Gericht und Staatsanwaltschaft stimmten dem jedoch nicht zu. Auch mit Auskünften hält sich die Anklagebehörde zurück. Behördensprecher Christian Preissner hatte in den vergangenen Wochen gegenüber jW mehrfach klargestellt, daß er sich überhaupt nicht äußern werde. Erst auf Nachfrage im sachsen-anhaltischen Innen- und Justizministerium räumte Dessaus leitender Oberstaatsanwalt Folker Bittmann am Dienstag ein: »Es gibt kein weiteres Ermittlungsverfahren.« Man prüfe nur, »ob zusätzliche Untersuchungen am Feuerzeug noch etwas bringen«. Bittmann: »Wenn die Fasern nicht zur Zelle passen, heißt das nicht, daß ein Dritter beteiligt war. Sie können auch von der Produktion oder von irgendwoher stammen.«
Die Initiative möchte verhindern, daß der Revisionsprozeß ohne Klärung der wahren Todesursache – eine der Vorgaben des Bundesgerichtshofes – zu Ende geht. Proteste in Dessau will das Ordnungsamt jedoch massiv einschränken, wie es dem Anmelder am Dienstag per E-Mail mitteilte (liegt jW vor). Demnach werde es Kundgebungen nur vom 12. bis 16. sowie am 19. November von 7 bis 17 Uhr erlauben. Weiter heißt es: »Wir haben vor, Zelte, Generator und Gaskocher nicht zu genehmigen, da diese logistische Funktionen erfüllen und der Bequemlichkeit der Teilnehmer, nicht aber dem Zweck der Versammlung dienen.« Grund sei der Aufruf zur »Belagerung«. Das sei »eine Sonderform des Angriffs mit dem Ziel der Einnahme des belagerten Ortes oder des Zwingens zur Aufgabe mit allen verfügbaren Mitteln«, so das Amt. Der Anmelder nennt das einen »martialischen Sprachgebrauch, der nicht unserer Intention entspricht«.
Ab 12.11.2012: Belagerung der Dessauer Staatsanwaltschaft - OURY JALLOH
http://initiativeouryjalloh.files.wordpress.com/2012/11/aufruf-dessau-st...
Pressekonferenz auf dem Protestcamp: Rex Osa und andere Flüchtlinge bezeichneten die deutsche Polizei mehrfach als «rassistisch»
http://thevoiceforum.org/node/2907