You are here
On November 29th, let's go protest in Bitterfeld! Refugee Protest Camp Berlin/Oranienplatz [Eng/deut]
Tue, 11/27/2012 - 21:24 -

voice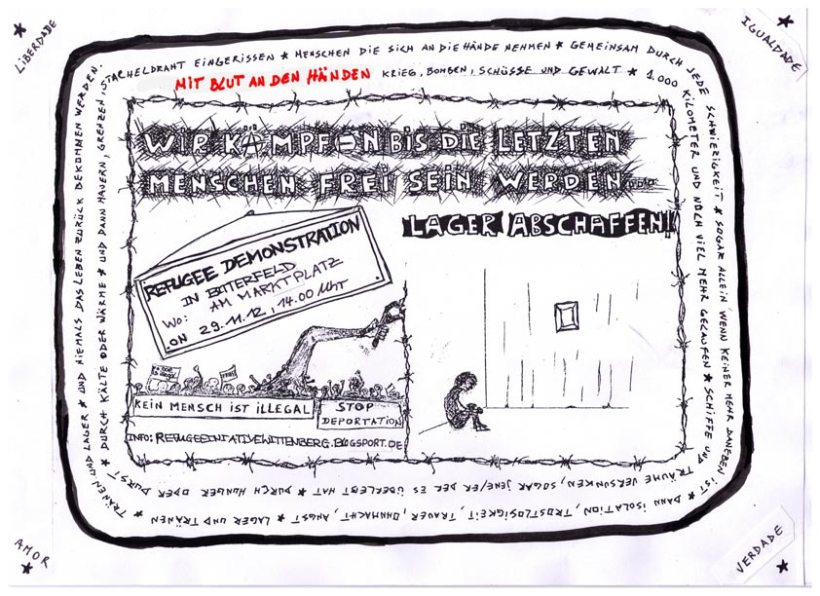 Free bus transfer from the Refugee Protest Camp at Berlin/Oranienplatz
There will be a refugee rally and demonstration on November 29th, organized by the self-organized Wittenberg Refugee Initiative, by TheVOICE Refugee Forum and by Karawane For the Rights of Refugees and Migrants. Together with refugees from the camps in Friederdorf and Marke, they will protest against intolerable living conditions of refugees in Sachsen-Anhalt, against isolation, threats and bullying by authorities.
Let's show our solidarity, let's go to Bitterfeld! Thanks to some-last-minute funding, there will be a free bus transfer from the Berlin Refugee Protest Camp at Oranienplatz. Ticket reservations can be made.
Please make a quick decision, and try to tell us by Tuesday whether you and/or some friends will join – so we can organize sufficient busses. Contact: 015787210777
The busses will start at Oranienplatz at 10am. The demonstration will beginn at 2pm at the market square in Bitterfeld.
German call: http://asylstrikeberlin.wordpress.com/2012/11/22/kundgebung-und-demonstr...
...
Am 29. November auf nach Bitterfeld!
Busanreise (kostenlos!) vom Refugee Protest Camp in Berlin/Oranienplatz
Die von Flüchtlingen organisierte Flüchtlingsinitiative Wittenberg, TheVOICE Refuge Forum und die Karawane für die Rechte von Flüchtlingen rufen auf zu einer Kundgebung und Demonstration am 29. November in Bitterfeld. Zusammen mit Menschen aus den Flüchtlingslagern Friederdorf und Marke demonstrieren sie gegen die unerträglichen Lebensbedingungen von Flüchtlingen in Sachsen-Anahlt, gegen Isolation, Drohungen und Schikane durch die Behörden.
Zeigen wir unsere Solidarität, let's go to Bitterfeld! Dank einer
kurzfristigen Finanzierung fahren kostenlos Busse vom Refugee Protest Camp am Oranienplatz. Tickets können reserviert werden. Bitte entscheidet euch schnell und sagt uns möglichst noch am Dienstag bescheid ob ihr und vielleicht eure Freunde mitfahren werden. Nur so können wir ausreichend Busplätze organisieren. Kontakttelefon:
015787210777
Abfahrt ist am 29.11. um 10 Uhr am Oranienplatz. Die Demonstration beginnt um 14 Uhr am Marktplatz Bitterfeld.
Aufruf: http://asylstrikeberlin.wordpress.com/2012/11/22/kundgebung-und-demonstr...
--
*Contact :*
*Karawane für die Rechte der Flüchtlinge und Migrantinnen Wittenberg, Sachsen Anhalt*
*Flüchtlingsinitiative Wittenberg, Sachsen Anhalt*
*The Voice Refugee Forum Wittenberg, Sachsen Anhalt
Tel: +4917699321843
e-mail: fluchtmohlau@googlemail.com,
fluchtlingsinitiativewittenberg@yahoo.com
http:refugeeinitiativewittenberg.blogspot.com, www.thecaravan.org,
www.thevoiceforum.org
Bankverbindung: Förderverein Karawane e.V.
Kontonummer: 4030780800
Bankleitzahl: 43060967
GLS Gemeinschaftsbank eG Stichwort: *flüchtwittenberg*
Support the struggle!