You are here
Stuttgart - open nationwide CARAVAN Meeting
Sun, 02/17/2013 - 23:54 -

voice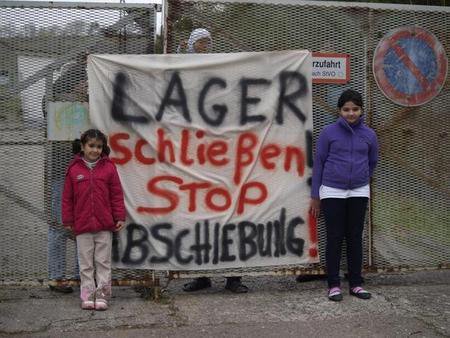 Saturday, February 23, 2013 to Sunday, February 24, 2013
Please find below the Agenda for the open meeting of the CARAVAN for the Rights of Refugees and Migrants on February 23 and 24, 2013 in Stuttgart.
Detailed content of the Agenda will be available soon.
Intending participants or groups should endeavour to inform us early enough to help the organising Team.
For Information, write an email to us rexy4273@hotmail.com or call the telephone number 017627873832.
The Voice Refugee Forum
Boblingerstr.105, 70199 Stuttgart
Tel.: 017627873832 - Email: thevoice_bdw@yahoo.de
www.thevoiceforum.org
Open nationwide meeting of the refugee struggle plattform
CARAVAN for the Rights of Refugees and Migrants
Saturday, February 23, 2013 to Sunday, February 24, 2013
Venue: EKM Verein, Nordbahnhofstr. 61, Stuttgart
How to get there?
Take the metro U15 to Mittnachtstraße.
The following link on google maps shows you the location:
http://goo.gl/maps/iOi1w
Agenda
Saturday, February 23, 2013
12:00
Welcoming & Introduction
Info and Reports from Regions/Lager.
14:00
Presentation of the Caravan / Critical Position
What is Solidarity to the Caravan?
16:00
Parallel workshops
Sunday, February 24, 2013
10:00 to 13:00
International Refugee Tribunal against FRG - United against Colonial Injustice
Input and contribution to the tribunal
Mobilisation for the Trbunal
On the way to the tribunal "Break Isolation Conference and Solidarity Act!"
More info on the tribunal:
http://www.refugeetribunal.org or http://thecaravan.org/tribunal
14:30
Solidarity Visit to the Refugee Lager in Freudenstadt
+++++
Mit der Bitte um Weiterleitung an interessierte!
Liebe Aktiven,
liebe Initiativen!
Am Anfang Aprill 2013 wollen wir mit Flüchtlinge organisation The VOICE Refugee(Karawane) unter dem Motto "Break Isolation" in Göttingen, Berlin ,Bremen, Wuppertal und Hamburg gegen rassistische Politik ein aktionskampagne auf die Beine stellen.
Dazu brauchen wir eure kreativer Ideen und Solidarität.besonders an dem aktionstag in göttingen.
Wir würden uns freuen und sehr begrüßen, wenn Ihr zahlreich zum gemeinsamen Vorbereitungstreffen kommt!
Am Mittwoch 20 Februar 2013 um 20 Uhr findet antirassistische Vernetzungsplenum (AVP) im Ak Asyl statt. Wir nemhen das Treffen zum Anlass um miteinander darüber zu planen. Beim Treffen sind Aktivisten aus Karawane und the voice Anwesend.
Beste grüße
Ak Asyl Goettingen
End