You are here
Roma Community in Solidarität mit der "Break Isolation" Bewegung! In 13 Bundestaaten und Weltweit
Tue, 03/05/2013 - 15:14 -

voice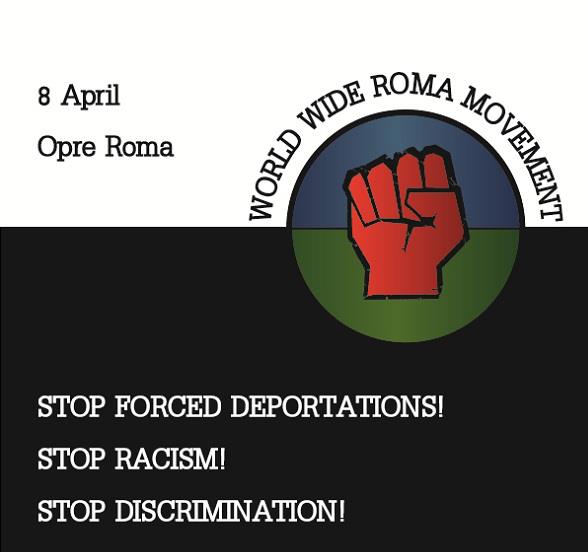 Thousands of balloons will fly
8. April 2013 for World Wide Roma Movement
Black Out Europe - Roma refugees in the 21st century
http://thevoiceforum.org/node/3093
Gegen die Ausgrenzung und Isolation von Flüchtlingen in Lagern - Solidarität mit der "Break Isolation" Bewegung! http://thevoiceforum.org/node/3087
Viele Städte haben bundesweit bereits zugesagt sich an den Aktionen zum 8. April zu beteiligen und rote, grüne und blaue Luftballons steigen zu lassen:
* Berlin * Göttingen * Köln * Hannover * Essen/Mühlheim * Magdeburg * Erfurt * Bremen * Wiesbaden * Hamburg * Freiburg * Münster * und Kassel *
sind schon dabei.
Aber auch weltweit ist die Resonanz überwältigend! In zahlreichen Städten werden Events zum 8. April veranstaltet und in vielen von ihnen werden ebenfalls Ballons in den Himmel steigen:
Tirana/Albania * Buenos Aires/Argentina* Perth/Australia* Vienna/Austria * Belarus* Saint Niklas&Brussels/Belgium * Sarajevo/Bosnia* Rio de Janeiro/Brazil * Sofia/Bulgaria * Toronto/Canada * Chile * Bogota/Colombia * Zagreb/Croatia * Cyprus * Prague/Czech Republic * Denmark * Ecuador * London/England * Estonia * Helsinki/Finland * Paris&Cagliari(Sardinia)/France * Georgia * Greece *Budapest/Hungary * Chandigarh/India * Iran * Dublin/Ireland * Genoa&Lombardy&Marche&Campania/Italy * Jerusalem/Israel * Jordan
* Gnjilane&Haxi Zylfi Megija&Prizren&Pristina&Mitrovica/Kosovo * Latvia * Luxembourg * Skopje&Kumanovo/Macedonia * Mexico * Moldova* Podgorica/Montenegro * Netherlands * New Zealand * Norway * Bialystock/Poland* Portugal * Sibiu&Cluj(Rata Pata)&Bucarest/Romania * Ekaterinberg/Russia * Glasgow/Scotland * Belgrade&Beocin/Serbia * Bratislava/Slovakia* Ljubljana/Slovenia * South Africa * Barcelona&Valencia/Spain * Sweden * Bern/Switzerland * Istanbul&Edirne/Turkey * Odessa/Ukraine * New York&Houston&San Francisco/USA *
Meldet euch bei uns, wenn ihr euch mit den Aktivist_innen in eurer Stadt vernetzen wollt oder wenn es bei euch noch keine Aktion gibt und ihr selbst eine organisieren wollt! Setzt ein Zeichen für die Rechte von Roma!
Gegen Ausgrenzung, Abschiebungen, Diskriminierung und Zwangsräumungen!
Wenn ihr dabei seid, vergesst nicht Videos und Fotos zu machen und uns diese zu schicken!
Unsere Freund_innen aus Großbritannien bitten uns Banner mit dem Slogan "Save Dale Farm" zu zeigen und sie in ihren Kämpfen zu unterstützen. Dale Farm wurde im Oktober 2011 von der Polizei gewaltsam geräumt:
"Dale Farm is the largest Roma and Traveller owned-community in Britain. We have been fighting for 12 years to prevent the destruction of the estate by ethnic-cleansing. On 19 October 2011, the defensive barricades were stormed by riot police firing Taser guns. Several people were hurt and 40 arrested. But while 50 properties were destroyed most people just moved caravans onto the private road and remain there today. Now we are forming co-operatives with the aim of re-building Dale Farm and our fight continues in the law courts and through protest action. We know there have been many "Dale Farms" all around Europe and we want to join up with you and protest together on Roma Nation Day 8 April against anti-Roma racism, violent eviction and brutal deportations. Please carry a banner for "Dale Farm"." (mehr dazu: romanationday.org/en/)
Break Isolation Strike - Refugees Liberation Bus Tour
Close down the Refugee lagers and the Deportation Prisons
The Tour is planned through Lagers and Deportation Prisons in Baden-Württemberg and Schwaben Bayern from 26th of April in Karlsruhe
Break Isolation Conference and Solidarity Act 2013
*April 2013 in 7 Regionen Deutschlands – Göttingen 08-09.04., Essen - NRW 09.04., Berlin and Prenzlau 08-13.04., Frankfurt 10-11.04. (Kundgebung im Containerlager Oberursel 11.04.), Hamburg 13.04., Trier 20.40 Jena / Thueringen , 22-26.04.
Und vergesst nicht unsere Hinweise zur Durchführung der Luftballonaktion!
http://www.alle-bleiben.info/termine/unterstuetzer/ballonaktion-tipps.pdf
motivation video https://vimeo.com/60460838
-------------------------------------------------------------
europeanromamovement.org/
-------------------------------------------------------------
alle bleiben!
Roma Center Göttingen e.V.
-----------------------------------------------------------------------------------------------------
Roma Center Göttingen e.V.
Postfach 30 05
37020 Göttingen
-----------------------------------------------------------------------------------------------------
www.roma-center.de
mail@roma-center.de
-----------------------------------------------------------------------------------------------------
+49(0)152/05 919 700
-----------------------------------------------------------------------------------------------------
www.alle-bleiben.info
admin@alle-bleiben.info
-----------------------------------------------------------------------------------------------------
Zuwendungen können auf das folgende Konto überwiesen werden:
Roma Center
Sparkasse Göttingen
K-Nr. 170 399
BLZ 260 500 01