You are here
AUFRUF FÜR JENA: Alle Bleiben - Thousands of balloons - for World Wide Roma Movement
Fri, 04/05/2013 - 19:20 -

voice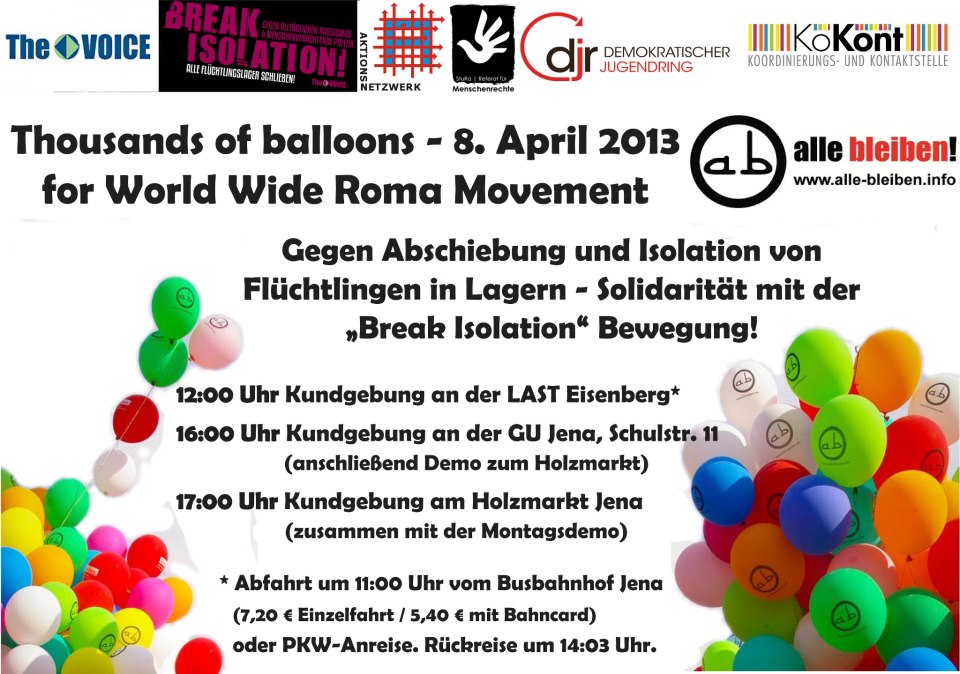 In Solidarität mit der "Break Isolation" Bewegung!
AUFRUF FÜR JENA
Am 8. April wird weltweit der Internationale Tag der Roma gefeiert. 1971, vor 42 Jahren, fand an diesem Tag der erste Welt-Roma-Kongress in London statt, bei dem sich Roma-Vertreter_innen aus 25 Ländern trafen.
Von diesem Tag an wurde begonnen, diskriminierende Fremdbezeichnungen mit der Selbstbezeichnung "Roma" (Mensch) zu ersetzen. Auch heute gibt es noch viel zu tun! Immer noch grassieren rassistische Vorurteile gegen Roma in allen Ländern Europas. In Deutschland werden lebende Roma oft wie Rechtlose behandelt. Besonders getroffen sind Roma, die nach der Bombardierung Ex-Jugoslawiens durch die NATO 1999 nach Deutschland flüchteten. Jahrelang wurden sie nur geduldet, unterlagen der Residenzpflicht und durften nicht arbeiten. Ihnen und ihren hier aufgewachsenen Kindern droht nach dem Rücknahmeabkommen zwischen Deutschland und Kosovo die Abschiebung in ein Land, in dem sie massiv diskriminiert werden und in dem ihre grundlegendsten Menschenrechte gefährdet sind. Am 31. März endete der Wintererlass und viele Familien werden erneut akut von Abschiebung bedroht!
UNTER DEM MOTTO: ALLE BLEIBEN! rufen in ganz Deutschland Organisationen auf, die das Blei¬berecht für Roma in Deutschland fordern und bundesweit zusammenarbeiten. Als AKT DER SOLIDARITÄT und um auf das Anliegen aufmerksam zu machen, werden Aktivist_innen in 20 Städten Deutschlands und in vielen Ländern weltweit !!am 8. April!! Luftballons in den Farben der Roma-Fahne in den Himmel steigen lassen. In vielen Regionen der Welt werden Menschen so ein Zeichen gegen Ausgrenzung, Diskriminierung und für die Rechte und Selbstermächtigung von Roma setzen.
--------------------------------------------------------------------------------
Thousands of balloons - for World Wide Roma Movement ....SO AUCH IN JENA UND EISENBERG
I -->Aktion in Eisenberg: 12:00-14:00 an der Landesaufnahmestelle, Jenaer Straße 49; Kundgebung und Luftballonaktion
II-->Aktionen in Jena: 16:00 Gemeinschaftsunterkunft Schulstraße 11, Kundgebung und anschließende Demonstration zum Holzmarkt --> 17:00 Holzmarkt: Kundgebung gemeinsam mit der Montagsdemo und Luftballonaktion und Unterschriftensammlung .
.
Eine gemeinsame Aktion von: The VoiceRefugeeForum / Break Isolation /Menschenrechtsreferat des StuRa Jena / KoKont Jena/ DJR / Aktionsnetzwerk Jena
.
Wir fordern, dass sich Öffentlichkeit und Politik gegen die Ausgrenzung von Roma einsetzen und ihre Verantwortung für die jahrelange Isolation und Marginalisierung geduldeter Flüchtlinge übernehmen: Wir fordern ein bedingungsloses Bleiberecht sowie
Break Isolation Conference and Solidarity Act 2013
*April 2013 in 7 Regionen Deutschlands – Göttingen 08-09.04., Essen - NRW 09.04., Berlin and Prenzlau 08-13.04., Frankfurt 10-11.04. (Kundgebung im Containerlager Oberursel 11.04.), Hamburg 13.04., Trier 20.40 Jena / Thueringen , 22-26.04.
Break Isolation Strike - Refugees Liberation Bus Tour
Close down the Refugee lagers and the Deportation Prisons
The Tour is planned through Lagers and Deportation Prisons in Baden-Württemberg and Schwaben Bayern from 26th of April in Karlsruhe
We are at a crucial turning point to make refugee isolation lager HISTORY in Germany http://thevoiceforum.org/node/3103
BREAK ISOLATION Conference & Solidarity Act 2013
http://breakisolation.blogsport.de/2013/04/04/break-isolation-conference...