You are here
The VOICE Jena: Polizei kriminalisiert Treffen in Thüringer Flüchtlingsheimen und belagert das Grünowski
Fri, 04/26/2013 - 18:58 -

voice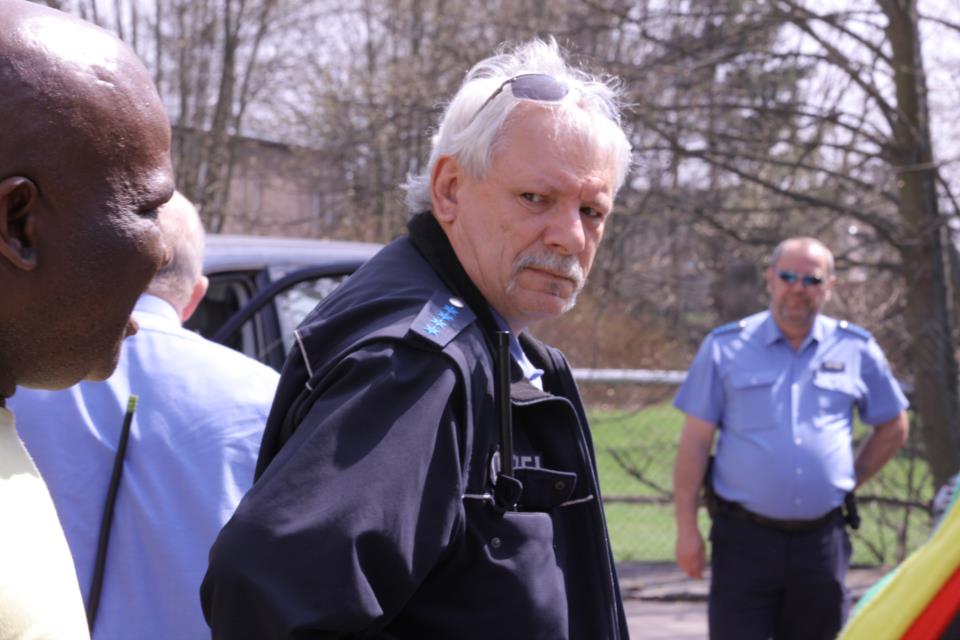 Photo: Crosspoint
Break Isolation Action in Thüringen
cross point
Break Isolation News by Thomas Ndindah und Clemens Wigger
The VOICE Jena: Polizei kriminalisiert Treffen in Thüringer Flüchtlingsheimen und belagert das Grünowski
Gleich drei Mal rückte die Thüringer Polizei am heutigen Mittwoch aus, um gegen Aktivisten des Thüringer Flüchtlingsnetzwerks The VOICE Refugee Forum vorzugehen. Diese besuchten im Rahmen der Aktionstage "Break Isolation Solidarity Act" die Lager in Walterhausen und Gerstungen, um sich mit den dort gezwungenermaßen lebenden Geflüchteten auszutauschen und das Netzwerk der politischen Selbstorganisation zu stärken. Besonders im Fokus stand dabei die Solidarisierung mit den akut von Abschiebung bedrohten Roma aus Südosteuropa (denen geregelte Asylverfahren systematisch verweigert werden) sowie den ebenfalls zunehmend von Abschiebung bedrohten Menschen aus Afghanistan. Vor dem Hintergrund des Teilabzuges der internationalen Interventionsarmeen aus Afghanistan wird das dortige multinationale Kriegsgeschehen zu einem innerafghanischen Konflikt verniedlicht und sogenannte "sichere" Gebiete (wie z.B. die Hauptstadt Kabul) erfunden, um so vorwiegend alleinstehende junge Männer mit Abschiebeandrohungen terrorisieren zu können.
Der Solidaritätsbesuch in Waltershausen wurde den Flüchtlingsaktivisten vom Hausmeister im Blaumann (der sich selbst als "Heimleiter" darstellte!) "verboten" und ein Haus- und Landfriedensbruch konstruiert. Begründet wurde das Verbot mit dem Umstand, dass der Betreiber des Lagers ein privates Unternehmen sei, welches bestimmen dürfe, welcher Besuch erlaubt sei und welcher nicht. Die Foto- und Videodokumentation des Besuches sei unzulässig belehrte der Hausmeister und wurde gegen unseren Kameramann übergriffig. Der explizite Hinweis auf den öffentlichen Auftrag der Unterbringung der betroffenen und keineswegs "privat angeeigneten" Menschen konnte die aggressive Wachhundmentalität nicht erreichen. Die "alarmierte" Polizei erschien mit 5 Fahrzeugen und entsprechend reichlich Beamten. Während sich zwei ältere Beamte sogleich in repressiver Manier Geltung verschaffen wollten und sich den vom Hausmeister konstruierten "Straftatvorwurf" völlig kritiklos zu eigen machten, hielt sich die Mehrheit der anderen anwesenden Polizeibeamten eher angemessen zurück und beobachteten die ansonsten so gar nicht gewaltbezogene Situation. Da sich der eine ältere Beamte vor Befolgung seiner Anfrage auf Vorzeigen der Ausweisdokumente selbst nicht als berechtigter ausweisen wollte, unterblieb hieraufhin die eingeforderte Mitarbeit.
Beim zweiten Stopp in Gerstungen erschienen nach Beschwerde des Hausverwalters wegen "Unterlassung" einer Anmeldung des Solidaritätsbesuches und erneut wegen angeblicher Unzulässigkeit von dokumentierenden Aufnahmen ebenfalls die Polizei – hier jedoch nur zwei Beamt_innen in einem kleinen Fahrzeug. Die Darlegung der unterschiedlichen Standpunkte und Bewertungen erfolgte hier jedoch in einer angemessenen und vorerst nicht repressiven Weise. Dennoch wurden die Aktivisten auch hier aufgefordert, ihre Gespräche mit den dort lebenden Flüchtlingen einzustellen und das Gelände zu verlassen. "Sehr bezeichnend, dass auf unser Vorhaben, die Isolation zu durchbrechen, mit Hausverboten und Anzeigen reagiert wird", kommentierte Hassan Siami von The VOICE und Mitarbeiter einer psychosozialen Betreuungsstelle für traumatisierte Asylsuchende das Geschehen.
Dieses Vorgehen ist dabei nicht neu für die Aktivisten.
So wurden in Gerstungen bereits 2010 Hausverbote gegen "Mitglieder der Karawane und The VOICE" erlassen, nachdem die dortigen Lebensverhältnisse öffentlich kritisiert worden waren. Im Kontext dieser gewollten Isolation lässt sich auch der Tod von Michael Kelly in Gerstungen einordnen, der am 20.9.2011 tot in seinem Zimmer im Heim gefunden wurde. Er war bereits Tage vorher unbemerkt infolge einer schweren Erkrankung verstorben.
Das Landratsamt Wartburkreis verweigerte damals den anderen Heimbewohnern gegenüber jegliche Erklärung und wies die Presse an, von Besuchen abzusehen (TA 15.10.2011).
Auf dem Rückweg von Gerstungen nach Jena wurde eines der Fahrzeuge der Aktivisten zunächst von 2, später nur noch von einem Polizeifahrzeug durch Verfolgung beobachtet. Im Stadtgebiet von Jena kurz nach der Autobahnabfahrt stand dann allerdings schon die Bereitschaftspolizei zum gezielten Abfangen der Kriminalisierten bereit. Über die Idenditätsklärung durch die Ausweisdokumente hinaus forderten die Beamten die Anfertigung sogenannter "Beweisporträts", welche nach längerer Diskussion und unter vehementer Androhung von Gewalt seitens der Polizeibeamten erzwungen wurden. Auf der Suche nach dem zweiten Fahrzeug drangen weitere Bereitschaftsbeamte ohne Anfrage in das Jenaer Büro von The VOICE ein. Auf der Suche nach Verdächtigen forderten sie einen dort anwesenden Aktivisten auf, seinen Ausweis zu zeigen. Dieser verweigerte die Maßnahme und verwies die Beamten mit Hilfe hinzugekommener Personen wieder des Raumes. Mit herbeigerufener Verstärkung warteten die Uniformierten dann im Schillergäßchen auf die zurückkehrende Gruppe. Bei deren Eintreffen begannen die Beamten, von mehreren Aktivisten die Ausweisdokumente zu fordern, da der Vorwurf eines Hausfriedensbruchs in Waltershausen bestehe und Verdächtige ermittelt werden müssten. Als sich daraus eine längere Diskussion über die politische Dimension dieser willkürlichen Vorhaltungen entwickelte, baten die Beamten darum, dies abseits der bestehenden Öffentlichkeit des Biergartens machen zu können, was ihnen allerdings verweigert wurde. Nach rund 30 Minuten standen bereits vier Mannschaftsfahrzeuge der Bereitschaftspolizei vor dem Grünowski und die Beamten durchkämmten wiederholt das Café und den Garten. Weil verschiedene Personen sich weigerten, für den Besuch bei Freunden im Waltershausener Heim kriminalisiert zu werden, mussten sich die Beamten nach über einer Stunde mit den Daten eines Aktivisten auf den Heimweg machen.
Osaren Igbinoba, der The VOICE Mitte der 1990er in Mühlhausen mitgründete und seitdem mit Flüchtlingen gegen Isolation und rassistische Ausgrenzung kämpft, sieht sich nun zum wiederholten Mal mit einer Anzeige konfrontiert. Erst vor einem Jahr war ein Verfahren am Landgericht Suhl gegen ihn eingestellt worden, nachdem die Sozialarbeiterin des mittlerweile geschlossenen Heims in Zella-Mehlis ihn der Körperverletzung bezichtigt hatte, welche jedoch durch die Aussagen des Sicherheitsdienstes vor Gericht nicht bestätigt werden konnte. Die eigene Videodokumentation des damaligen Besuches konnte schließlich den tatsächlichen Ablauf der Geschehnisse aufzeigen und die Haltlosigkeit des hinterhältigen Vorwurfes belegen.
Den Polizisten entgegnete er: "Das Höchste, was ihr machen könnt, ist mich ins Gefängnis stecken. Aber sogar von da aus werden wir solange kämpfen, bis alle Türen offen stehen!"
The VOICE Refugee Forum Jena, 24.4.2013
On the Move! "Break Isolation Strike"
Refugee Demonstration and liberation Bus Tour 2013