You are here
Polizei schikaniert die Refugees Liberation Bus Tour: Offene Protestnote an die Landesregierung von Bayern
Wed, 05/22/2013 - 12:07 -

voice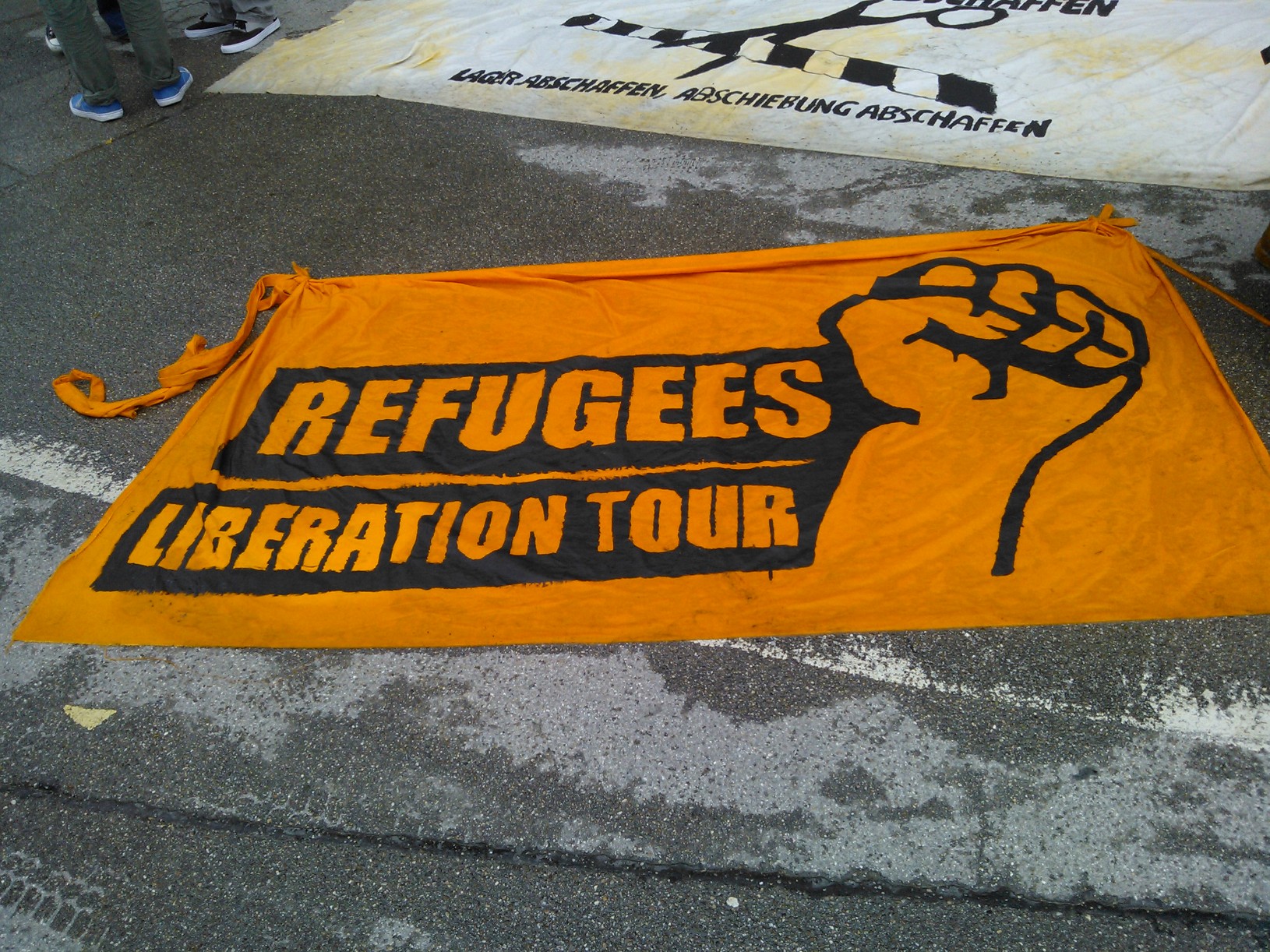 Wo bleibt die angekündigte Humanität der bayerischen Flüchtlingspolitik?
Wo bleibt der angekündigte offene Umgang und die Bürgerbeteiligung auch mit den Geflüchteten?
Wo bleibt der Kontakt und die Diskussion mit den Betroffenen selbst?
Seit dem 25. April ist die Refugees Liberation Bus Tour in Süddeutschland unterwegs. Hintergrund der Liberation Bus Tour ist die alltägliche Ausgrenzung und der Rassismus gegen geflüchtete und migrierte Personen.
Bewusst steuert die Liberation Tour die Zentren der Ausgrenzung – die Sammelunterkünfte - in Baden-Württemberg und Bayern an, in denen hunderte Menschen, oft jahrelang unter diskriminierenden Bedingungen leben müssen.
Menschen werden gezwungen in den Sammellagern in prekären Lebensverhältnissen zu überleben, die Armut ist staatlich verordnet.
Neben der Pflicht in einer Sammelunterkunft zu wohnen, werden nach dem Flüchtlingsaufnahmegesetz jedem Bewohner 4,5 qm "Wohnfläche" zugestanden.
Besuche werden nach der Wohnheimverordnung reglementiert. bernachtungen von Personen die auf Besuch sind, sind verboten. Die Geflüchteten unterliegen im ersten Jahr einem Arbeitsverbot. Danach haben sie erschwerten Zugang zum Arbeitsmarkt. Finden sie dennoch Arbeit müssen sie für die 4,5 qm, je nach Höhe des Lohnes für die Unterbringung bezahlen.
Beträge bis zu 200 Euro sind bekannt. Leben 4 Personen in einem 18 qm Zimmer zahlen sie 800 Euro. Damit sind die Geflüchteten die einzige Gruppe die für ausgegrenzte Verhältnisse noch bezahlen muss. Millionen von Euro flossen so wieder an den Staat zurück. Hausmeister leben ihre Distanzlosigkeit und ihre persönliche Macht aus. Sammellager sind Orte der Kontrolle und Überwachung, sie stigmatisieren die Insassen und sind Ghettos in denen staatlicherseits die Rechtlosigkeit organisiert wird.
Sie sind Orte des Stillstandes, in denen Menschen leben müssen, da sie nicht Teil der bundesdeutschen Gesellschaft sein dürfen.
Sammellager nehmen dem Einzelnen die Würde durch die behördliche Fremdbestimmung. Dieses beeinflusst auch den täglichen Lebensablauf. Sammellager nehmen den Menschen ihre Subjektivität und brechen ihre politische Identität. Die Meinungen der Geflüchteten zählen nicht.
Sammellager sind Orte des institutionellen Rassismus in denen Menschen unter staatlicher Aufsicht und Wissen krank gemacht werden. Es sind Orte der Perspektivlosigkeit. Es sind Orte in denen Kinderleben zerstört werden.
Sammellager und die gesamte Palette von Sondergesetzen gegen migrierte und geflüchtete Personen sind antidemokratisch und haben mit dem Verständnis von kulturellen, sozialen und politischen Rechten für alle gleich, nichts im Sinn.
Seit nun die Refugees Liberation Bus Tour in Baden-Württemberg unterwegs ist und den Kontakt zu den Bewohner_innen der Sammellager sucht, bekommen die Aktivist_innen die Macht der Exekutive zu spüren.
Die Polizei, in wessen Auftrag sie auch immer handelt, ist allgegenwärtig.
Von Telefonanrufen, über Rangeleien mit der Polizei vor einer Sammelunterkunft (Mannheim) bis hin zu kurzzeitigen Festnahmen von Aktivist_innen (Offenburg) und Verfolgung der Polizei über längere Strecken (Kennzeichen S-KJ 9138 Zivilauto) Richtung Stuttgart, wird die Liberation Tour von den Hütern des institutionellen Rassismus attackiert.
Auf dem Weg von Lindau nach Scheidegg, am 21.02.2013, wurde die Bustour nach dem verlassen der örtlichen Sammelunterkunft mit einem Polizeiaufgebot von vier Polizeiwagen und zwei Polizeibussen (Kennzeichen A 3330) durch die Innenstadt verfolgt. Während des Besuches der Sammelunterkunft hatten diese etwa eine Stunde an der Straßenkreuzung gewartet, um die Verfolgung direkt aufnehmen zu können.
Aber erst nachdem die Aktivist_innen die Stadt verlassen und sich auf den Weg Richtung Scheidegg gemacht hatten, um eine weitere Sammelunterkunft zu besuchen, wurde die Bus Tour außerhalb der Stadt auf der Landstraße angehalten. So waren die Bäume die einzigen Zeugen und es schien beabsichtigt, die Öffentlichkeit auszuschließen. Mit enormen Polizeiaufgebot wurden die Aktivisten_innen aufgefordert, ihre Ausweise und Aufenthaltspapiere zu zeigen. Es stand in keiner Relation, die zwei Aktivisten in derartiger polizeilicher Überzahl zu stoppen und dies mit einer alltäglichen Ausweiskontrolle zu rechtfertigen. Die beiden Aktivisten weigerten sich ihre Ausweise vorzuzeigen, zuerst sollte von diesen Polizisten erklärt werden, was der tatsächliche Hintergrund dieser Aktion war. Doch die Frage nach dem Warum wurde nicht beantwortet. Daher wurden die beiden Aktivisten zur Polizeiinspektion mitgenommen und dort circa zwei Stunden festgehalten.
Den beiden Aktivisten wurde gesagt, dass die diensthabenden Polizisten_innen von Kempten (Gebauer, PM'in und Wenninger, PM) und nicht von Lindau waren. Bereits vor dem Aufbruch der Bustour am Morgen,
wurde den Aktivisten_innen mitgeteilt, dass in Kempten ein großes Polizeiaufgebot auf sie wartete.
Sammellager sind politisch hoch brisante Einrichtungen, in denen täglich. Menschenrechte gebrochen werden. Eine politische Betätigung in den Lagern ist verboten. Dies allein widerspricht dem Grundverständnis der freien Meinungsäußerung, der freien politischen Betätigung, der Koalitions-, Organisations- und Versammlungsfreiheit. Gerade da wo ein Mangel an Rechten besteht, muss den Betroffenen die Mittel und Wege zugestanden werden um diese zu erkämpfen.
Offensichtlich hat man in Bayern Angst davor, dass sich die Geflüchteten gegen die Repression zur Wehr setzen, denen sie staatlicherseits ausgesetzt sind. Sie haben Angst davor, dass sich die Betroffenen selbst organisieren und ihre gerechten Forderungen stellen und dafür aktiv eintreten. Ein Geflüchteter sagte: "Wir fordern von euch nicht mehr, als die Rechte die ihr auch habt!"
Wir fordern von der Landesregierung Bayerns:
Freien Zugang für Selbstorganisationen der Vertretung der Rechte von Geflüchteten und Migranten zu allen Sammelunterkünften!
Keine Kriminalisierung unserer politisch gerechtfertigten Anliegen!
Keine Kriminalisierung von Personen der Refugees Liberation Bus Tour!
Abschaffung aller Sammellager und der Residenzpflicht!
Das Asylbewerberleistungsgesetz muss ersatzlos gestrichen werden!
Refugees Liberation Bus Tour
Break Isolation Strike in Refugee Lager – camps
New Videos and Reports on Refugee Libration Bus Tour - Break Isolation Strike in Refugee Lagers camps http://thevoiceforum.org/node/3185
The VOICE Refugee Forum
Böblingerstr. 105
70199 Stuttgart
Email: thevoice_bdw@yahoo.de
Tel: 017627873832
++++
The Refugee Liberation Bus Tour enters Bavaria today
Notwithstanding, Bayern being one of the German State that has experienced massive exposition of Refugees horrible situations, Bavaria still remains the state that takes the lead in the massive persecution of Refugees.
Open Statements from the responsible State Officials and politicians identifies Baveria as the most racist state in Germany.
Baveria has continuously refused to enforce the minimum respect for the rights of Refugees.
With Campaigns upon Campaigns, refugees strike from Noerdlingen to Coburg, Neuburg, Wieden, Wurzburg, Aub, Nurnberg, Munich, Augsburg and many more, the situation of refugees in Bavaria remains very horrible.
Information reaching us from reliable sources confirms planned Massive Police confrontation to our visitationto the refugees in Bayern.
We hereby call on Refugees and non-refugees activist to be at alert for any attempt of State repression be it from the police, State Officials and their folks who are against foreigners.
We send our signal once again and denounce any attempt to obstruct our weeks long peaceful Tour.
We demand our right to freedom of expression and interaction with other fellow Refugees.
Refugee Liberation Tour 21.05.2013
Break Isolation Strike!
Refugee liberation strike action in Heidenheim Baden Württemberg 29th April 2013: http://thevoiceforum.org/node/3176
The Refugee Liberation Bus Tour enters Bavaria today
http://thevoiceforum.org/node/3224
Demonstrations of Refugee Liberation and Tour in Hamburg, Augsburg, Stuttgart http://thevoiceforum.org/node/3222
Refugees in Nördlingen on protest demand solidarity with their stuggle
http://thevoiceforum.org/node/3214
New Videos and Reports on Refugee Libration Bus Tour - Break Isolation Strike in Refugee Lagers camps http://thevoiceforum.org/node/3185
Donation:
http://thevoiceforum.org/node/3022