You are here
Jena TV zum Streikaktion: Flüchtlinge protestierten in Eisenberg gegen die Lebensbedingungen im Heim
Tue, 07/30/2013 - 17:54 -

voice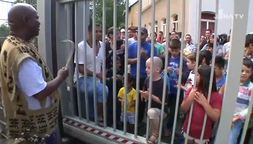 Artikel vom: 30.07.2013
Streikaktion: Flüchtlinge protestierten in Eisenberg gegen die Lebensbedingungen im Heim
Unter dem Motto "Wir sind Menschen - keine Tiere!" haben Flüchtlinge der Thüringer Landesaufnahmestelle in Eisenberg heute zum Streik aufgerufen. Damit wollten sie sich gegen die im Flüchtlingsheim ansässige Ausländerbehörde wehren und auf die in ihren Augen unerträglichen Lebensbedingungen aufmerksam machen.
Jena TV Report:
http://www.jenatv.de/soziales/Streikaktion:_Fluechtlinge_protestierten_i...
"Wir sind Menschen - keine Tiere!" PM_Proteste von Geflüchteten in Eisenberg am 30.07.
http://thevoiceforum.org/node/3296
''''
Pressemitteilung
Initiative Menschenrechte gegründet.
Eisenberger_Innen fordern Verbesserung der Lebensbedingungen für
Asylbewerber_Innen in der Landesaufnahmestelle Thüringen
Eisenberg, 30. Juli 2013 – Am 30. Juli 2013 hat sich in Eisenberg (Thüringen) eine Initiative gegründet, die die Verbesserung der Lebensbedingungen für in der Landesaufnahmestelle Thüringen lebenden Asylbewerber_Innen fordert.
"Wir sind schockiert über die Bedingungen, unter denen die Bewohner_Innen der Landesaufnahmestelle Thüringen in unserer Stadt leben. Wir setzen uns dafür ein, dass die zuständigen öffentlichen Stellen sobald wie möglich eine Verbesserung bewirken", sagt Stefanie Fitzner, Sprecherin der Initiative Menschenrechte. Die Initiative wird in der nächsten Zeit das Gespräch mit öffentlichen Stellen suchen.
Diesen Donnerstag, den 1. August, ist ab 19.00 Uhr ein Versammlung vor der Landesaufnahmestelle geplant.
Anlass der Gründung ist die Aktion "Wir sind Menschen – keine Tiere!" , die von den Bewohner_Innen der Landesaufnahmestelle Thüringen am selben Tag mit Unterstützung durch die
Romainitiative Thüringen durchgeführt wurde. Während der Veranstaltung hat ein Bewohner über die Lebensbedingungen in der Landesaufnahmestelle mit Pressevertreter_Innen gesprochen. "Die
medizinische Versorgung reicht nicht aus, ebenso wenig wie die Verpflegung.
Uns stehen regelmäßige Zahlungen zu, durch die wir das Fehlende besorgen können, aber die Gelder werden
erst zu einem viel späteren Zeitpunkt ausgezahlt. Frauen werden durch das Sicherheitspersonal belästigt. Wir können uns nicht beschweren, weil kein unabhängiger Ansprechpartner vor Ort ist".
Forderungen der Initiative Menschenrechte Die Initiative fordert folgende Punkte:
• Wiedereinsetzung einer Ansprechperson von einer unabhängigen Stelle
• medizinische Grundversorgung für die Bewohner_Innen
• fristgerechte Auszahlung der den Bewohner_Innen zustehenden Geldbeträge
• Überprüfung des Sicherheitspersonals
• ausreichende und gesunde Verpflegung für die Bewohner_Innen.
Weiterhin fordert die Initiative, dass für die Bewohner_Innen die Kontaktaufnahme mit Presse und Bürger_Innen keine Sanktionen zur Folge hat.
Hintergrund: Die Landesaufnahmestelle Thüringen und die Situation von Asylbewerber_Innen
Die Landesaufnahmestelle Thüringen ist die Erstaufnahmeeinrichtung für Asylbewerber_Innen,
Spätaussiedler_Innen und jüdische Emigrant_Innen in Eisenberg (Thüringen). Der Flüchtlingsrat Thüringen e.V. und The Voice setzen sich seit vielen Jahren für die Rechte von Asylbewerber_Innen ein und haben ähnliche Forderungen formuliert.
Pressekontakt:
Initiative Menschenrecht
Sprecherin: Stefanie Fitzner
Telefonnummer: 0176-93729559
Email-Adresse: Initiative-Menschenrechte@gmx.de
Weitere Informationen zum Thema:
The Voice Refugee Forum Thüringen, Pressemitteilung vom 29. Juli 2013
http://thevoiceforum.org/node/3296
Romaintiative Thüringen http://alle-bleiben.info
Flüchtlingsrat Thüringen e.V. http://www.fluechtlingsrat-thr.de/
+++
Zustände in der Landesaufnahmestelle für Flüchtlinge offenbar unerträglich
Erfurt/Eisenberg. Mit einem Streik wollen heute die derzeit in der Landesaufnahmestelle in Eisenberg lebenden Flüchtlinge gegen die Zustände im Lager protestieren. "Die Vorwürfe sind schwerwiegend", so die flüchtlingspolitische Sprecherin der Fraktion DIE LINKE im Thüringer Landtag, Sabine Berninger.
Neben der verspäteten Auszahlung des Taschengeldes – Anlass für den angekündigten Protest -, werden in der auf http://alle-bleiben.info/gefluchtete-streiken-in-eisenberg-gegen-immer-s... veröffentlichten Pressemitteilung das minderwertige Essen, die unzureichende medizinische als auch hygienische Versorgung, das Agieren der Ausländerbehörde und das schikanöse Verhalten ("sie betrinken sich und belästigen Frauen im Lager sexuell" !!) der Sicherheitskräfte beklagt.
Berninger selbst war in den vergangenen Jahren desöfteren vor Ort in Eisenberg, suchte das Gespräch mit Flüchtlingen, Flüchtlingsinitiativen als auch der Verwaltung des Lagers. "Aufgefallen ist, dass Kritik, beispielsweise an der medizinischen Versorgung oder der Kleiderausgabe und der Kinderbetreuung von den MitarbeiterInnen der Verwaltung stets zurückgewiesen wurde. Alles sei gut, wurde betont. Im Gegenteil, es wurde bei meinem letzten Besuch mit Unterstellungen reagiert, die Flüchtlinge würden etwa die ihnen ausgegebenen Kleidungsstücke mutwillig zerstören", so Frau Berninger weiter.
Nun scheine sich, möglicherweise aufgrund gestiegener Belegungszahlen und damit einer Überforderung der Kapazitäten des Lagers, die Situation noch verschärft zu haben. "Unmenschlichkeit ist hier Alltag", klagen die Betroffenen. Die LINKE Abgeordnete hat sich heute in einem Brief an den Thüringer Innenminister gewandt mit der Forderung, "die Vorwürfe rasch und gründlich zu prüfen und (schnell) für eine Verbesserung der Situation zu sorgen sowie bezüglich der strafrechtlich relevanten Beschuldigungen – vorgeworfene sexuelle Belästigung, Nötigung durch die Ausländerbehörde – auch strafrechtliche Ermittlungen einzuleiten". Sabine Berninger: "Ich glaube nicht, dass Menschen ohne Not mit derartigen Vorwürfen an die Öffentlichkeit gehen. Gerade nicht Menschen, die sich in einer solchen Ausnahmesituation befinden, wie die erst angekommenen Flüchtlinge", so die Landespolitikerin, die ab heute 10:30 Uhr
DIE LINKE-Landtagsfraktion Thüringen
http://www.jenapolis.de/2013/07/zustaende-in-der-landesaufnahmestelle-fu...