You are here
The Voices #15 Protest gegen die nigerianische Botschaft - Broadcast in English and Deutsch
Sat, 09/14/2013 - 15:08 -

voice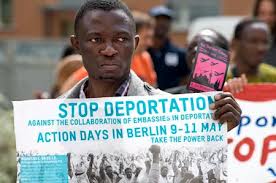 The Voices #15 Protest gegen die nigerianische Botschaft
NIGERIAN EMBASSY PROCESS IN BERLIN AND THE PROTEST AGAINST DEPORTATION
Berlin: Listen to Mbolo Yufanyi, Hatef Soltani and Thomas Ndindah Radio Broadcast of THE VOICE Refugee Forum on Reboot FM 88,4 in German and English.
The Voices #15 Protest gegen die nigerianische Botschaft:
https://soundcloud.com/rebootfm/2013-09-13-the-voices-mp3
http://reboot.fm/2013/09/13/the-voices-15/
Die Sendung ist den FlüchtlingsaktivistInnen die während den Politischen Protesten an der nigerianischen Botschaft am 15.Oktober 2012 verhaftet wurden und jetzt angeklagt sind gewidmet.
Am 15.Oktober 2012 war die nigerianische Botschaft in Berlin eine (auch medial überregionale) Bühne für FlüchtlingsaktivistInnen des Refugee-Protestmarsches von Würzburg nach Berlin, um die korrupte Kollaboration zwischen der deutschen und nigerianischen Regierung sowie ihre menschenverachtende Zusammenarbeit bei illegalenZwangsabschiebungen von Menschen in zutiefst kolonialer Verbrecherart zum wiederholten Male und nachdrücklich zu skandalisieren. Gegen diesen berechtigten politischen Protest gab und gibt es Versuche der umfänglichen Repression durch das deutsche Regime vermittels unmittelbarer und unverhältnismäßiger Polizeibrutalität (einschließlich zahlreicher Verhaftungen in und vor der nigerianischen Botschaft) sowie mit reihenweisen Strafandrohungen gegen die Verhafteten und weitere Protestbeteiligte in der offensichtlichen Intention, das politische Thema zu diskreditieren sowie die stattgehabten illegalen Übergriffe und Gewalttätigkeiten der deutschen Polizei zu vertuschen bzw. nachträglich zu legitimieren. Wir werden im Angesicht dieser kolonialen Ungerechtigkeit nicht schweigen und auch weiterhin klar und deutlich Stellung gegen diesen Ausverkauf deportierter Menschen nach Afrika beziehen, indem wir die bekannten Verantwortungslosigkeiten der beteiligten Regierungen nachvollziehbar benennen.
Wenn Sie/ ihr sich/euch als einen Teil dieses Kampfs fühlt(en) und solidarisch sind/seid, fühlt euch eingeladen und kommt am 18. September 2013 um 12:00 Uhr in den Sitzungssaal 768 und auch am 26. September um 12:30 Uhr in den Sitzungssaal 672 des Amtsgerichtes Tiergarten/Moabit in der Turmstraße 91 (10559 Berlin).
"Widerstand wird zur Pflicht, wenn legitime politische Proteste gegen die Kontinuität kolonialer Verbrechen vom deutschen Regime kriminalisiert werden!"
Mehr Info:
Einladung zum Pressegespräch und zur Prozessbegleitung am 18. 09. 2013 Berlin - Vereint gegen koloniales Unrecht
http://thevoiceforum.org/node/3330
Nigerian Embassy Process:
Invitation for press conference and attendance of legal trial on September 18th 2013 http://thecaravan.org/files/caravan/Invitation_press_conference_Septembe...
The Caravan-for the Rights of refugees and Migrants
The VOICE (Refugee) Forum Berlin
Handy:+49 (0)170/8788124
E- mail: the_voice_berlin@emdash.org
www.thevoiceforum.org
Bankverbindung: Kto.Nr.: 127 829,
BLZ: 260 500 01, Sparkasse Göttingen.