You are here
SOLIDARITY STATEMENT FOR THE REFUGEES in Schwabisch Gmünd by International Migrants Alliance -European Section
Sun, 04/13/2014 - 14:21 -

voice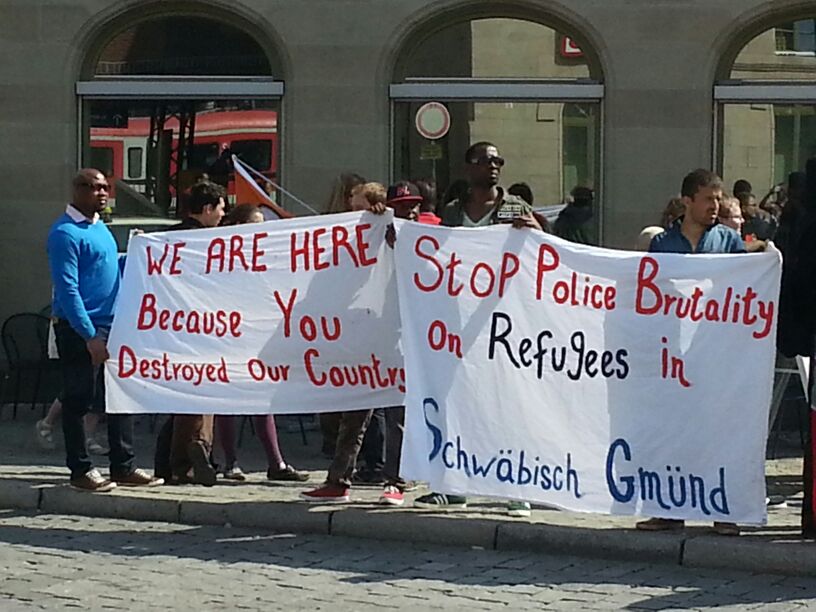 In solidarity with the Refugees protesting against a CCTV in a lager in Schwabisch Gmünd, the Ugnayan ng Manggagawang Migrante Tungo sa Pag-unlad (UMANGAT) of Rome, Italy, condemns in the strongest terms the police attacks against the manifesting refugees with dogs and pepper spray while demonstration was on the move to city center resulting to injuries by dogbites to two refugees.
The refugees are demanding for the removal of the surveillance camera in the lager at Schwäbisch Gmünd. Refugees placed a banner to cover the camera. It was removed by the Hausmeister on the order of the Administration. The banners were replace several times after each time it was has removed by the Hausmeister and the administration. The refugees intervened when they saw that the Hausmeister with the administration this afternoon were again removing the banner. At this point, the police intervened with brutal force releasing dogs against refugees injuring two refugees, Jilius from Cameroon and Farooq Khan from Afghanistan. They have been arrested without treating their wounds.
They also arrested two refugees naked who were inside the bathroom, with the Heimleiterin Frau Rettermier looking at the naked refugees.
The rest of the refugees spontaneously marched to the city center blocking the major ways until the emergency medical care came to take the one who was seriously injured by the police dogs.
We deem this excessive use of force as a violation of Human Rights against helpless refugees whose only crime is their assertion of their rights as refugees and that their privacy be respected, We hereby raise our voices in support for the protesting refugees in Schwabisch Gmünd.
END THE INHUMAN MANNER OF ATTACKS AGAINST THE REFUGEES !
RESPECT THE RIGHTS OF REFUGEES IN ALL EUROPE !
UMANGAT-MIGRANTE
Member, International Migrants Alliance -European Section
We stand in solidarity with the asylum seekers in Schwabisch Gmuend who sufferred from the hands of the police while standing up for their rights against repression. They protested the constant intrusion of a CCTV in the lager spying on their lives 24 hours a day, 7 days a week! Stop the violation of human rights of refugees! Stop police brutality!
Attached is a statement of solidarity from UMANGAT-MIGRANTE, a member organisation of the International Migrants Alliance -European section.
In solidarity,
Grace Punongbayan
IMA- Europe