You are here
750 X 20€ für den 20. Jahrestag von The VOICE Refugee Forum: Spendenaufruf für finanzielle Autonomie – keine Anträge
Sun, 08/24/2014 - 12:42 -

voice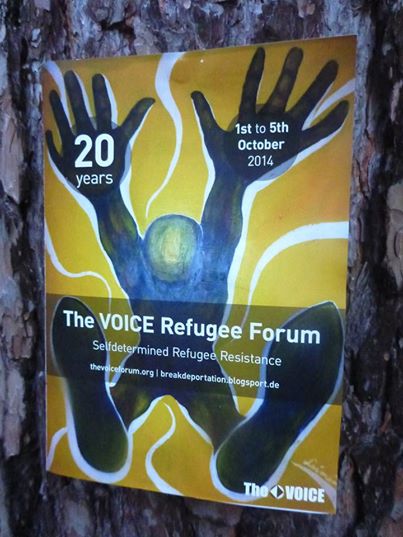 Spendenaufruf für finanzielle Autonomie – keine Anträgem aber ein Beitrag von allen, die Teil der Bewegung sind oder mit ihr sympathisieren
750 X 20 € für den 20. Jahrestag von The VOICE Refugee Forum
Mit Deiner solidarischen Spende beweist du die Kraft der Einheit in der Bewegung
"20 Jahre sind nicht genug!" – Vereint gegen Abschiebung und soziale Ausgrenzung
Förderverein The VOICE e.V.
Sparkasse Göttingen
Kontonummer: 127829
BLZ: 260 500 01
IBAN: DE97 2605 0001 0000 1278 29
BIC: NOLADE21GOE
Stichwort: 20yrs
Mit Deiner solidarischen Spende beweist du die Kraft der Einheit in der Bewegung
The VOICE Refugee Forum ruft auf: zur Konferenz und Feier von 20 Jahren Widerstand und Kampf gegen Deutschlands rassistische Gesetze, durch die die Verfolgung von Flüchtlingen legitimiert und gesellschaftlich normalisiert wird.
Abschiebung ist der Beweis der akzeptierten Existenz staatlichen Verbrechens. Abschiebung bestimmen wir als Hauptziel unseres Widerstandes.
Solidarität, Einheit und Gemeinschaft der Geflüchteten sind die zentralen Forderungen eines Teils der Veranstaltung.
Diese Schlüsselwörter sind das Ergebnis von 20 Jahren Aktivität gegen die Isolations- und Abschiebungspraxis, die zwei Hände der Vernichtungskultur.
Abschiebung ist die Fortsetzung des Sklaverei Geschäfts.
Finanzielle Unabhängigkeit von staatlicher Seite garantiert die Kontinuität einer selbstermächtigten Bewegung.
Ein vorgetäuschtes alternatives Spendenantragssystem ist keine Alternative als es mehr dazu beiträgt, unsere Selbstbestimmung zu untergraben. Es entwertet unsere Informationen, missachtet unsere menschliche Würde und zwingt uns einen Kontrollmechanismus auf, nur um uns beschäftigt zu halten, uns unsere Energie zu nehmen und unsere Zeit zu verschwenden. Wir ignorieren diesen gewohnten und formalen Weg, der der Forderung nach Unabhängigkeit widerspricht.
Wir kämpfen für unsere politische und finanzielle Autonomie und um unsere Forderungen für die nächste Generation zu entwickeln und zu stärken.
Es ist möglich, wenn alle dazu beitragen.
15 000 Euro sind ein vorsichtige Schätzung der Kosten für Vorbereitung, Mobilität und Durchführung der fünftägigen Veranstaltung.
Für eine geschätzte Zahl von 150 bis 170 TeilnehmerInnen würde diese Summe beinhalten:
 Fahrtkosten: ca. 5000 Euro
 Verpflegung: ca. 2500 Euro
 Druckkosten: ca. 1500 Euro
 Transportkosten für die Aktion innerhalb Thüringens: 1000 Euro
 Mobilisierung: ca. 2000 Euro
 Vorbereitungstreffen: 3000 Euro
Mit 750mal 20 Euro könneen wir diese Summe erreichen!
750mal 20 Euro für 20 Jahre The VOICE Refugee Forum gegen Abschiebung und soziale Isolierung und für Selbstermächtigung und aktiven Widerstand in Einheit und Solidarität.
Wir freuen uns über euren Beitrag zu diesen 750mal 20 Euro – doch wir freuen uns auch über jede andere, niedrigere und höhere Spende!
English:
With your solidarity donation you prove the power of unity in the movement.
"20 years are not enough" - Unite against Deportation and Social Exclusion!
Make a donation 750 X 20€ for 20 year anniversary of The VOICE Refugee Forum for financial autonomy – no applications