You are here
Cambodia Campaign Meeting with Kahn Chhun "We Need Freedom" in Erfurt
Tue, 01/09/2018 - 22:14 -

voice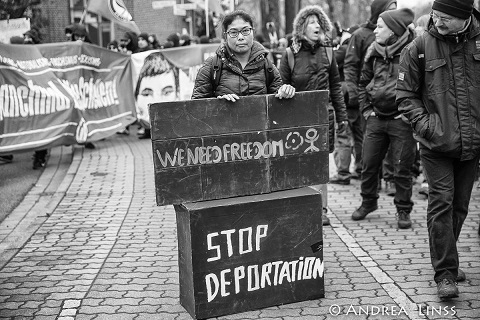 RefugeeBlackBox: Oury Jalloh das war Mord! Demo 2018
The Voice Refugee Forum – Cambodia Campaign
"We need freedom" with Kanha Chhun
11th January 2018, 20h - Retronom in Johannesstraße 17a, 99084 Erfurt
We would like to invite you to understand the situation in Cambodia better. The prime minister of today served as a commander during the regime of the Khmer Rouge. In this time about one quarter of the Cambodians was murdered, amongst them people of the family Chhun. Hun Sen went in exile and later invaded Cambodia together with the Vietnamese military. Although there was a peace treaty in 1991, the civil war continued. 32 years after, Hun Sen is still in power, political opponents are persecuted and oppressed, independent media are being censored or shut down. Several times Hun Sen threatened to fight all political opponents and declared that the peace treaty was dead.
Kanha Chhun, a mother of 2 children in Erfurt and member of The VOICE Refugee Forum will give an impression of the tragic history and the present situation of Cambodia. She will also report about her experiences in the land conflicts - the sister of the dictator Hun Sen has stolen land from her family. The protests against it lead to her political persecution and finally to the escape to Europe.
In our common discussion we want to reflect together how we can organize practical solidarity.
Online and press reports:
Campain with Kanha Chhun - "We Want Freedom" - After 32 years Hun Sen is still in power
http://thevoiceforum.org/node/4428
»Das Regime greift alle an, die sich wehren« ("The regime fights everybody who resists")
Interview with Kanha Chhun on the political situation in Cambodia and her own situation in Germany by Peter Nowak (Neues Deutschland) (German language) https://www.neues-deutschland.de/artikel/1074155.kambodscha-das-regime-g...
»Solidarität ist notwendig« ("Solidarity is necessary")
Small Talk with Kanha Chhun on the situation of the opposition in Cambodia in junge welt (in German language)
https://jungle.world/artikel/2017/51/solidaritaet-ist-notwendig
The VOICE Campaign on Cambodia
http://thevoiceforum.org/search/node/cambodia
Demonstration in Berlin on the current situation in Cambodia -
9th and 10th Deceber 2017| khmer + english http://thevoiceforum.org/node/4430
[ thevoiceforum.org | breakdeportation.blogsport.de ]
Cambodia Campaign Meeting with Kahn Chhun "We Need Freedom" in Erfurt
http://thevoiceforum.org/node/4454
Cambodia - We want freedom
The Voice Refugee Forum – Cambodia Campaign
"We need freedom" with Kanha Chhun
11th January 2018, 20h - Retronom in Johannesstraße 17a, 99084 Erfurt
+ + + + +
GERMAN Text:
Cambodia Now! "We wollen freiheit" mit Frau Kanha Chhun - Nach 32 Jahren ist Hun Sen immer noch an der Macht
The Voice Refugee Forum – Cambodian Campaign
"We need freedom" mit Kanha Chhun
11. Januar 2018, 20 Uhr | Retronom Erfurt
Wir möchten dich einladen die Situation in Kambodscha besser zu ver­stehen. Unter den Roten Khmer hat der heutige Premierminister Hun Sen als Kommandant gedient. In dieser Zeit wurden etwa 1/4 der KambodschanerInnen ermordet, dazu zählen auch Personen aus der Familie Chhun.
http://thevoiceforum.org/node/4428