You are here
Solidaritätsparade der Flüchtlinge im Vorfeld des 25. Geburtstages und Silberjubiläum von THE VOICE Refugee Forum mit einer "Mittelmeer Refugee Black Box Boot Installation"
Wed, 10/02/2019 - 00:17 -

voice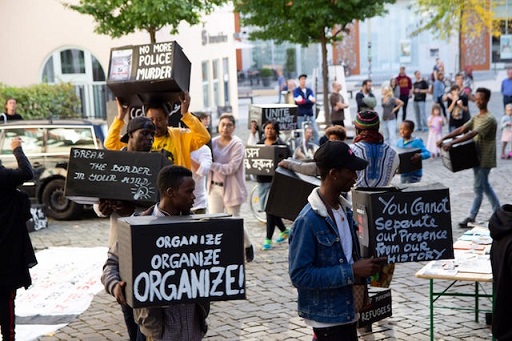 Solidaritätsparade der Flüchtlinge im Vorfeld des 25. Geburtstages und Silberjubiläum von THE VOICE Refugee Forum mit einer "Mittelmeer Refugee Black Box Boot Installation"
Samstag 5. Oktober 2019 ab 16:00Uhr
Start Faulloch - Haus Auf der Mauer, Johannisplatz 26, 07743 Jena
Wir laden alle ein sich unseren Kampf für die Freiheit und Gerechtigkeit für die Geflüchteten anzuschließen. Wir wollen unsere Solidarität der Abschiebementalität und –praxis entgegensetzen, denn Abschiebungen sind nicht nur das letzte Glied der Sklaverei sondern verletzen unsere Grundrechte als Menschen und bedrohen unsere Existenz.
Vereint treten wir auf nicht nur gegen Abschiebungen sondern auch gegen jedwede soziale Ausgrenzung. Unsere Solidarität und Zusammenschluss bringen wir mit der Refugee Black Box zum Ausdruck.
Willst du auch dich für Gerechtigkeit und Frieden einsetzen?
Mit jeder verhinderten Abschiebung tritt ein menschliches Gesicht und eine Existenz hervor und entfaltet sich.
Der Kampf gegen Abschiebung stand schon immer im Mittelpunkt des
politischen Engagements von The VOICE. Abschiebungen zu bekämpfen
bedeutet, sich gegen Nationalismus, weiße Vormachtstellung, koloniales
und rassistisches Unrecht zu kämpfen!
Die Refugee Black Box Solidaritätskampagne wurde in 2017 initiiert und führt unter anderem die zum 20. Geburtstag von THE VOICE eingeführte Arbeit unter dem Motto "Breaking the Culture of Deportation" weiter.
Die Parade wird begleitet von einer gemeinsamen Dreh- und "Gyration" Performance mit Rap und Hip-Hop und Refugee Black Box Installationen
- Live Musik und Party with Marap (Hamburg) und Jamal Kamano aka. Konta (Berlin)
Die Zusammenkünfte und Aktionen am ersten Oktoberwochenende dienen der Vorbereitung des Silberjubiläums von THE VOICE in Dezember. Verschiedene Treffen afrikanischer Gemeinschaften sind bis zu den im Dezember geplanten Feierlichkeiten anlässlich des 25. Geburtstags von THE VOICE Refugee Forum geplant.
25 Jahre The VOICE Refugee Forum - Refugee Solidarity Parade
1994 – 2019 - 25 Jahr "The VOICE" Refugee Forum
Jubiläumsveranstaltung in Jena, 3. - 6. October 2019
RefugeeBlackbox Solidarity:
The VOICE Refugee Forum feiert 25 Jahre selbstorganisierten, selbstbestimmten und unermüdlichen Flüchtlingsaktivismus in Deutschland. Unsere konsequente Botschaft von Gerechtigkeit, Bewegungsfreiheit, Solidarität und dem Kampf gegen die Kultur der Abschiebung in Deutschland hat viele andere Flüchtlingsgruppen in den letzten zwei Jahrzehnten inspiriert. Wir möchten die Kontinuität dieser Kämpfe gemeinsam feiern, um die Organisation der Communitys für die kommenden Jahre weiter zu inspirieren und zu stärken.
Unser Kampf für Freiheit und Gerechtigkeit für Flüchtlinge:
Ab 14:00 Uhr – Faulloch – Johannisplatz 26 – Jena
Installationen zu den Kampagnen RefugeeBlackBox – Solidarity (Initiated in 2017) - Breaking the Culture of Deportation
Ab 16:00 Uhr Start Faulloch: Parade durch die Innenstadt:
Solidaritätsparade für Geflüchtete durch die Innenstadt mit RefugeeBlackBox-Installation und einem Flüchtlingsboot vom Mittelmeer
Gyration-Performance mit Rap and Hip-hop, RefugeeBlackBox Installation
Anschließend: Live Musik und Party mit Marap (Hamburg) und Jamal Kamano aka. Konta
(Berlin)
Links:
- Programmvorschlag für die Vorbereitungsveranstaltungen

 - 25 Jahr "The VOICE" Refugee Forum Jubiläumsveranstaltung in Jena
http://thevoiceforum.org/node/4657
- Spende jetzt! 25 Jahre The VOICE Refugee Forum - Tausendmal 25 !!!!
http://thevoiceforum.org/node/4653
- Erste Einladung zum 25-jährigen Jubiläum des VOICE Refugee Forum
http://thevoiceforum.org/node/4649
_______________________________________________