You are here
Solidarische Grüsse von Motardstrasse 101, Ausreisezentrum in Berlin - mit den Flüchtingen im Hungerstreik in Würzburg
Sun, 06/24/2012 - 20:18 -

voice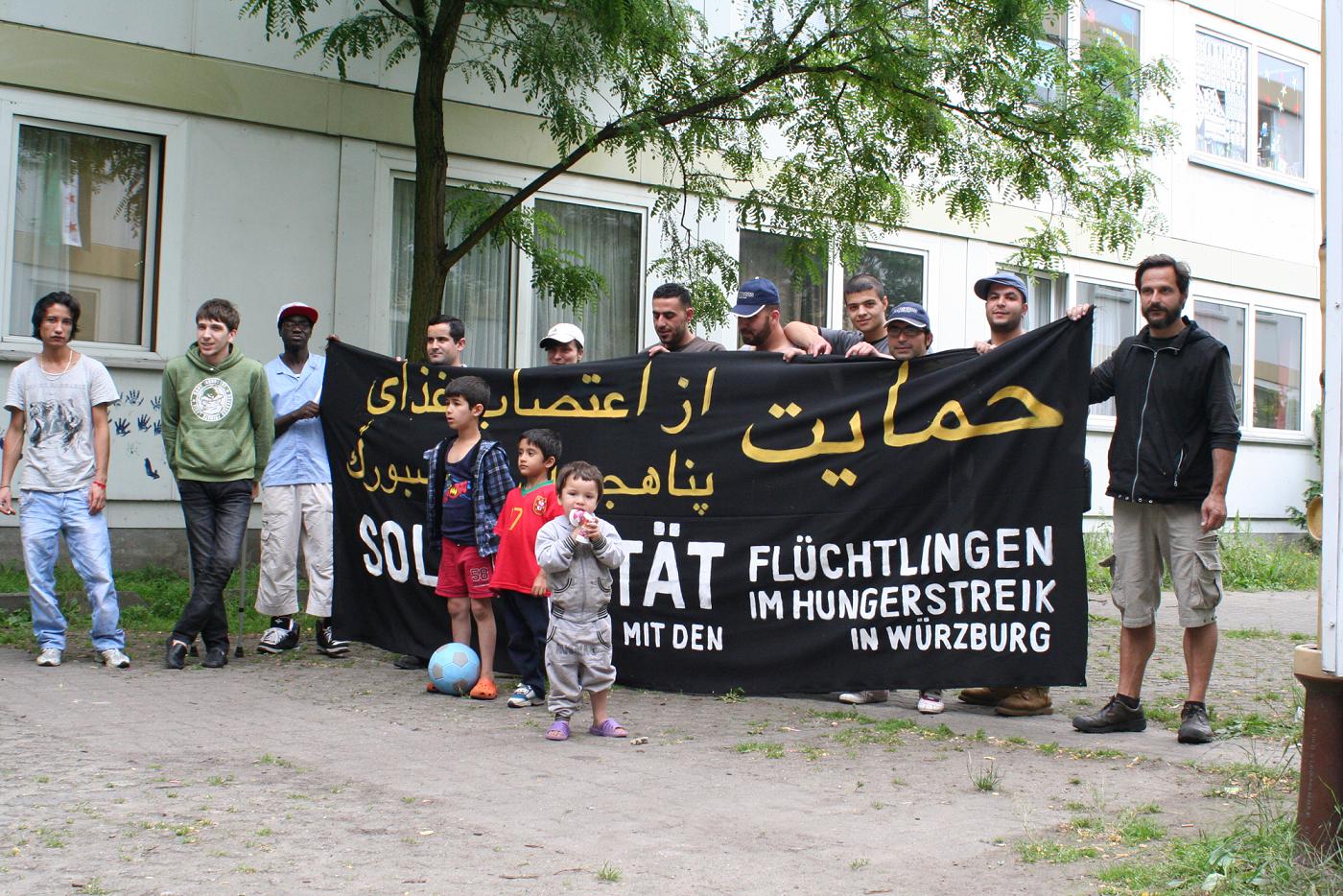 Verschärfung des Protestes - Solidarisiert und verbindet euch mit dem Kampf der Flüchtlinge in Würzburg
der Protest der iranischen Flüchtlinge in Würzburg verschärt sich (siehe 30. Pressemitteilung weiter unten). Die Flüchtlinge, die seit nun über drei Monate im Streik sind, haben dem Bundesamt für Migration und Flüchtlinge bis nächsten Mittwoch, bis zum 101. Tag des Protestes, eine Frist gesetzt. Erfolgt keine Reaktion, werden zwei der Flüchtlinge ab dem 27. Juni das Trinken von Wasser ebenfalls aussetzen. Sie sind durch den langen Protest und den strengen Auflagen der Stadt Würzburg bereits körperlich erschöpft..mehr . .
Solidarische Grüsse von Motardstrasse 101, Ausreisezentrum in Berlin - mit den Flüchtingen im Hungerstreik in Würzburg.
Berlin den 23. Juni 2012
Motardstrasse 101, Ausreisezentrum
Heute sind wir, eine Gruppe von Flüchtlinge und Aktivisten, im Motardstrasse
Ausreisezentrum in Berlin gekommen wo circa 300 Flüchtlinge wohnen in Erwartung zu anderen Flüchtlingslager geschickt oder abgeschoben zu werden.
Wir haben unser Transparent aufgehängt und als die Leute zu uns gekommen sind sie wurden über den Hungerstreik in Würzburg berichtet, danach haben wir über die Situation in Unterkunftlager Informationen und Kontakte ausgetauscht.
Die zahlreiche Kinder die dort wohnen, haben die Farbe genommen und überall gemalt. Das hat Stress mit den Sicherheitdienst Leuten provoziert, die haben uns mehrmals bedroht die Polizei anzurufen.
Wir rechnen damit, dass die Leute, die wir kontaktiert haben, zu unseren nächsten Treffen kommen.
Unsere nächste Infoveranstaltung wird am Dienstag 26.06 18 Uhr im Zeughofstrasse 12 Flüchtlingsheim in Berlin Kreuzberg stattfinden.
Solidarische Grüsse von Motardstrasse 101, Ausreisezentrum in Berlin
Today, a group of refugees and activists, we went to the Motardstrasse departure center in Berlin, where live about 300 refugees awaiting to be sent to other refugee lagers or to be deported.
We hung our banner and when the people came to us, we report them on the hunger strike in Würzburg. Then we exchanged contacts and informations about
the situation of housing in lagers. The numerous children who are there, took
the colours we brought and painted everywhere. That provoked some stress with the security, who threaten us repeatedly to call the police.
We count on that the people we contacted will come to our next meeting.
Next info event will take place on tuesday 26 at 6 pm at the Zeughofstrasse 12 refugee asylum in Berlin Kreuzberg.
Solidarity greetings
Motardstrasse 101, Ausreisezentrum in Berlin