You are here
Rassistische Kontrollen stoppen – Polizei kontrollieren. PM aus dem BREAK ISOLATION Flüchtlingscamp in Erfurt
Fri, 08/31/2012 - 15:35 -

voice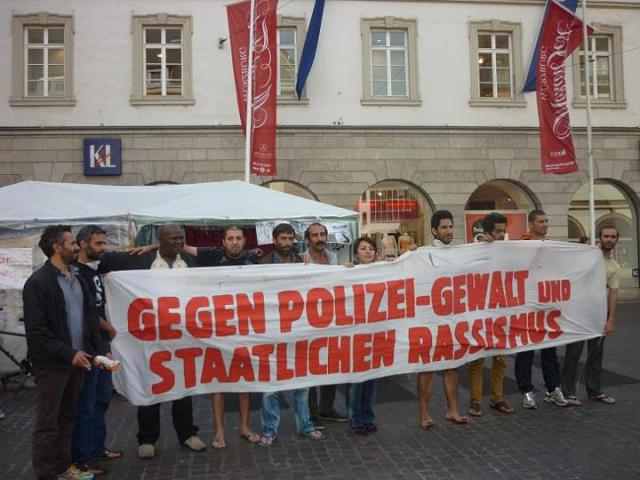 Karawane für die Rechte von Flüchtlingen und Migrant_innen
http://thevoiceforum.org/node/2702
Break Isolation Camp
Kontakt: refugeecamp2012@riseup.net,
Telefon: 0174 8474694
an die Presse, Polizei und die Öffentlichkeit
Erfurt, 31.08.2012
Rassistische Kontrollen stoppen – Polizei kontrollieren
Seit dem 23.09. 2012 findet das Break Isolation Refugee Sommer Camp in Erfurt statt. The VOICE Refugee Forum und das Netzwerk der KARAWANE haben zu dieser zehntägigen Zusammenkunft von Flüchtlingsgemeinschaften zum Erfahrungsaustausch und zur Verteidigung unserer naturgegebenen Rechte
eingeladen.
Zum Auftakt des selbstorganisierten Flüchtlingscamps haben wir mit einer Protestkundgebung ein scharfes Signal gegen die tagtäglich stattfindenden, rassistischen Polizeikontrollen vor dem Sitz der Bundespolizei am Erfurter Hauptbahnhof gesetzt und klar zum Ausdruck gebracht, dass wir diese Form der repressiven Einschüchterung und Kriminalisierung nicht tolerieren.
Flüchtlinge werden in Isolations-Lagern wie in Greiz oder Breitenworbis entmündigt, erniedrigt. Der erzwungene Daueraufenthalt in solchen Einrichtungen führt letztendlich zur psychischen und physischen Zerstörung der Betroffenen. Mit Auferlegung der Residenzpflicht als dem zentralen Apartheid-Gesetz für Asylsuchende in Deutschland, soll allein schon dem Versuch den unerträglich gemachten Bedingungen wenigstens zeitweilig zu entkommen ein strafrechtlicher Riegel vorgeschoben werden.
Bereits nach einem Vorbereitungstreffen zum Camp Wochen zuvor hatten Polizisten einen unserer Aktivisten kontrolliert und festgenommen. Die feste Solidarität und sofortiges Handeln (Aufbau eines Protestzelt vor der Wache der Bundespolizei zur Kontrolle der Kontrollorgane) führte zur Freilassung unseres Freundes am nächsten Morgen.
Die ersten Tage des aktuell stattfinden Break Isolation Camps verliefen zunächst ohne größere Störungen oder Provokationen durch staatliche Kontrollorgane – auch wenn der private Platz unserer Zusammenkunft "natürlich" mit Hubschraubern "aufgeklärt" und das Umfeld engmaschig polizeilich überwacht wurde. Rassistisch motivierte Kontrollversuche am Erfurter Hauptbahnhof konnten durch entschlossene Interventionen der Betroffenen in Einzelfällen unterbunden werden. Nach unseren Besuchen der Flüchtlinge im Isolationslager Breitenworbis, bei dem zunächst ein 20 Personen zählendes Dokumentationsteam erschreckende Informationen über die Unterbringungsbedingungen sowie das Verhalten der zuständigen Behörden und der Lagerleitung vor Ort sammelte und am nächsten Tag mit einer Solidarisierungsaktion den dort lebenden Flüchtlingen Unterstützung zur Veränderung ihrer menschenunwürdigen Lage zugesichert wurde, wurden am
Abend Aktivisten unseres Netzwerks kontrolliert und in einem Fall frei von jeder Rechtsgrundlage mit Gefängnis bedroht – die Polizeibeamten verwiesen zur Einschüchterung auf ihre persönliche Anwesenheit in den nächsten 3 Tagen und provozierten darüber hinaus sie den selbstorganisierten Sicherheitscheckpoint an der privaten Zufahrt zum Camp in selbstherrlicher und anmaßender Art und Weise. Das umsichtige Auftreten unserer Aktivisten ließen diese Drohversuche jedoch ins Leere laufen.
Wir sagen: GENUG IST GENUG !
Sollte es zu weiteren rassistischen Übergriffen durch staatliche Organe während des Camps kommen, werden wir entsprechend darauf reagieren. Wenn sie es darauf anlegen, die Durchführung unseres Sommer Camps zu behindern, die Teilnehmer unserer Aktion einschüchtern zu wollen und unsere Arbeit zur Verbesserung gesellschaftlicher Zustände zu torpedieren, werden wir diese Provokationen reagieren und unser Programm entsprechend ändern.
Jene, die sich hier im Namen staatlicher Kontrollfunktion gerne zivilisiert und demokratisch aufspielen, wenden reichlich viel Energie und Steuergelder auf, um Menschen mit einem freundlichen Lächeln im Gesicht
möglichst in den Staub zu treten. Es reicht. Unsere Vision von einer gerechten und freien Gesellschaft, unsere Solidarität und unsere Praxis ehrlicher, nicht-korumpierbarer Beziehungen wird die rassistische Fratze, die sich hinter dieser Maske verbirgt zum Vorschein bringen. Sie werden unseren solidarischen Widerstand gegen die hierzulande staatlich organisierte Ungleichbehandlung von Menschen nicht brechen können - wir werden mit geeigneten Aktionen Öffentlichkeit zu diesen Praktiken der Behinderung der politischen Meinungsbildung von Flüchtenden und Migranten herstellen und Kontrolle über diejenigen ausüben, die glauben uns widerstandslos kontrollieren zu können!
Es ist uns sehr wichtig unser selbstorganisiertes Bildungs- und Aktionsprogramm für eine fortschrittlichere gesellschaftliche Entwicklung ungestört bis zum Ende des Camps ausführen zu können. Wenn es jedoch notwendig werden sollte, werden wir unsere Zelte direkt am Ort der Kontrollen aufschlagen und dieses Programm dort fortsetzen. Letztendlich können sie nur selbst mit ihrer rassistischen Gesetzgebung und ihrem
widernatürlichen Kontrollzwang brechen.
"Unsere physische Präsenz ist der Garant unserer Würde", sagt Osaren Igbinoba von The VOICE Refugee Forum.
Break Isolation Movement - The VOICE Refugee Forum und Karawane für die
Rechte von Flüchtlingen und Migrant_innen
The VOICE Refugee Forum Jena
Schillergässchen 5, 07745 Jena
http://thevoiceforum.org
Denn im Recht Kein Mensch - Ein persönlicher Bericht vom BREAK ISOLATION
Refugee Camp 2012 >> http://thevoiceforum.org/node/2701
23.08. 2012,
Bewegungsfreiheit für alle!
Widersetzt euch den Abschiebungen
http://thevoiceforum.org/node/2692