You are here
Unser Jahreskalender 2013 "Unite against colonial injustice"
Mon, 12/31/2012 - 19:09 -

voice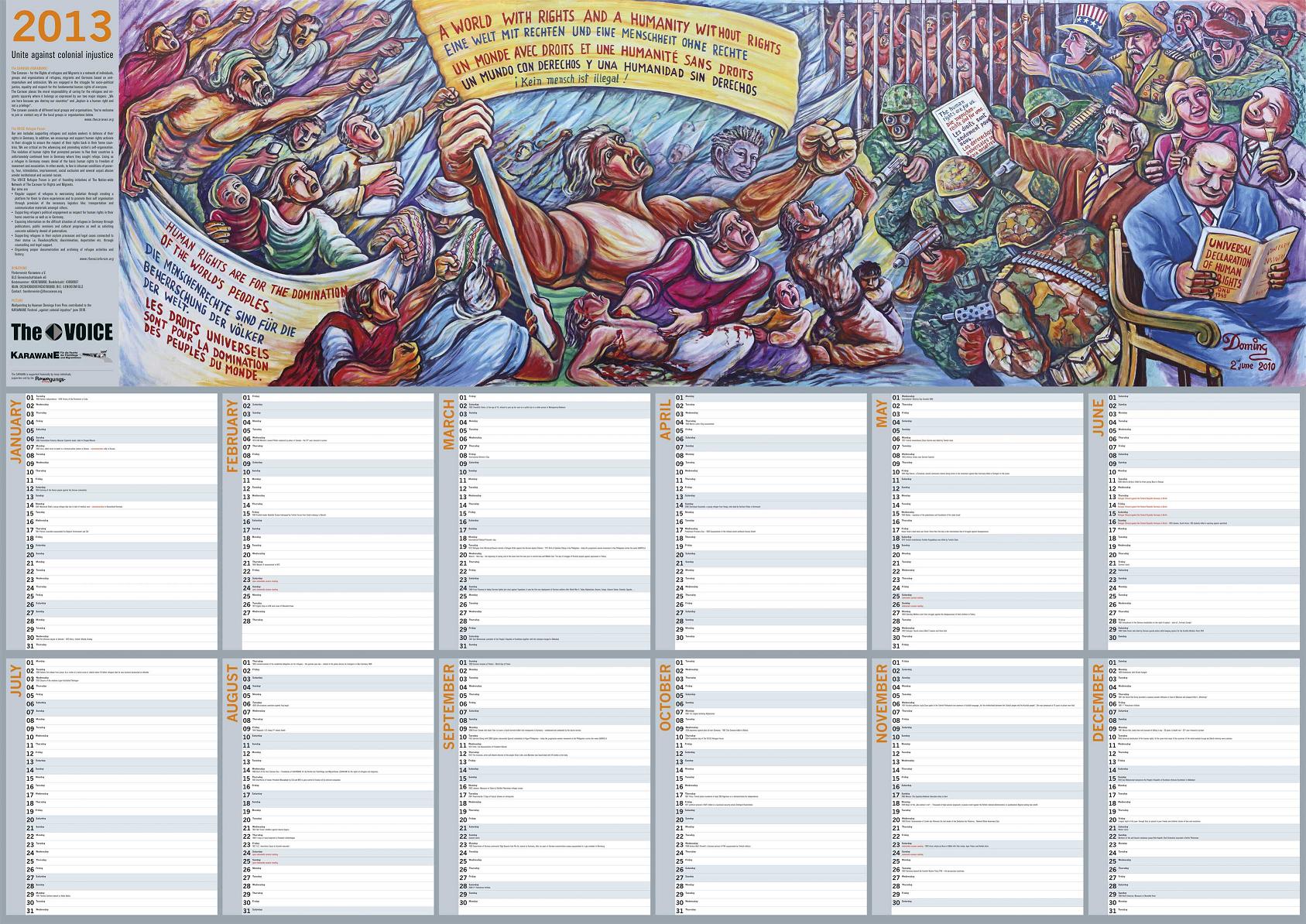 Unser Jahreskalender für 2013 "Unite against colonial injustice"
Der Wandkalender 2013 von "The VOICE Refugee Forum" und der "KARAWANE für die Rechte der Flüchtlinge und MigrantInnen" ist fertig. Darauf ist das Wandbild, welches der peruanische Maler, Huaman Domingo, für das Festival "Vereint gegen koloniales Unrecht, in Erinnerung an die Toten der Festung Europa" im Jahr 2010 angefertigt hat, abgebildet.
Ansonsten sind selbstverständlich alle 365 Tage des kommenden Jahres mit einem Mal zu Überblicken, inklusive einiger historischer internationalistischer Feier- , sowie Trauertage. Aber es bleibt viel Platz für eigene Vermerke. Der Plakatkalender ist farbig und hat das
Format A0. Ihr könnt den Kalender direkt über die lokalen KARAWANE Gruppen
beziehen oder online bestellen. Der Kalender kostet 2,- Euro. Das Porto kostet aufgrund des Formats (Rollenversand) 5 Euro extra. Es macht daher Sinn, Sammelbestellungen zu machen. Bestellung über den Förderverein und Überweisungen auf das Spendenkonto mit Stichwort "Kalender 2013":
Stärkt die Einheit der Flüchtlingskämpfe gegen koloniales Unrecht in Deutschland http://thecaravan.org/node/3368
Förderverein Karawane e.V.
Kontonummer: 40 30 780 800
GLS Gemeinschaftsbank eG
BLZ: 430 609 67
**
The VOICE Refugee Forum Germany - Flüchtlinge und Asyl in Deutschland
Make your Donation now!
- We wish you all the best of the coming years!
- Stay in solidarity action with the refugee communities
Das Jahr ist zu Ende gegangen; wir brauchen eure Unterstützung, um zu gewährleisten, dass wir die Ressourcen haben, mit unserer Arbeit im Jahr 2013 und darüber hinaus weiter voranzukommen. Eure Spenden haben unsere Arbeit bis jetzt ermöglicht.
Im Februar werden wir in einem Newsletter veröffentlichen, was wir bisher getan haben, um uns selbst und unsere Kämpfe zu organisieren, um Flüchtlingscommunitys in Thüringen und Deutschland ins Leben zu rufen und zu unterstützen.
Bleibt in Aktion in Solidarität mit den Flüchtlingscommunitys! Leistet euren Beitrag jetzt!
Die Arbeit des Flüchtlingsnetzwerks von The VOICE ist noch nach lange nicht beendet. Durch Spenden an The VOICE Refugee Forum helft ihr sicherzustellen, dass wir mit unseren Forderungen ununterbrochen weitermachen können und unsere Anstrengungen fortsetzen können, uns selbst zu schützen und zu verteidigen und im neuen Jahr auch weiter für Bürger- und Menschenrechte zu kämpfen .
Die Flüchtlingsstimmen der Solidarität und des Widerstands in Deutschland werden die Break Isolation Kampagne und die Plattform des internationalen Flüchtlingstribunals stärken.
Ausgehend von unserem regionalen Engagement stärken wir unser bundesweites Flüchtlingsnetzwerks mit Aktivisten, die politisch selbstorganisiert in den Flüchtlingscommunitys aktiv sind - zum Austausch von Informationen, damit das Reden der Communitys miteinander reibungslos funktioniert und um unsere gemeinsame Stimme zu Themen, die uns alle betreffen, zusammenzubringen. Freiwillige in den Communitys werden ausgehend von regionalen Ereignissen die Planungen für den Newsletter unseres Netzwerks übernehmen, darin werden Aktivitäten und Berichte über die Flüchtlingscommunitys veröffentlicht werden.
Wir werden das Medium der Plattform des Flüchtlingstribunals nutzen, um die Interessen der Minderheiten zu schützen, die aufgrund ihrer Herkunft und ihrer politischen Ausrichtung in diesem systematischen Chaos der Ungleichheit anders zu sein scheinen.
Wir bleiben in Aktion und Solidarität mit den Kämpfen der Flüchtlingscommunitys in den Lagern und wir bleiben im Austausch über die Kampagnenerfahrungen in den Lagern.
Wir wünschen euch alles Gute für die kommenden Jahre!
Ihr seid eingeladen, euch unserem Online-Mediennetzwerk und Online-Fotoaustausch anzuschließen:
Hier ist unsere Petition zur Besetzung der nigerianischen Botschaft in Berlin, die für eine internationale Kampagne in 2013 in Europa und Afrika präsentiert werden wird. Wir werden euch zu unablässiger Unterstützung aufrufen, solange es dauern wird, die Menschenrechtsverletzungen gegenüber Flüchtlingen in Europa zu beenden.
Die Petition zur Besetzung der nigerianischen Botschaft bezieht sich auf: Abschiebungen – Kollaboration – Botschaftsanhörungen – Flüchtlingsproteste – Frontex – Polizeibrutalität (Text in Englisch)
Unser Jahreskalender für 2013 "Unite against colonial injustice"
Photo: Calender - Karawane 2013
Mehr Informationen unter:
http://thevoiceforum.org/
http://breakisolation.blogsport.de/
http://thecaravan.org/
Leistet eure finanzielle Unterstützung!
Für Spende Konto:
Förderverein The VOICE e.V.
Sparkasse Goettingen
Kontonummer 127829
BLZ: 260 500 01
BAN: DE97 2605 0001 0000 1278 29,
BIC: NOLADE21GOE
The VOICE Refugee Forum Jena
Schillergässchen 5, 07745 Jena, D - Thueringen
Tel.: ++49 (0) 3641 - 9278815
Tel.: Mobil cell.: ++49 (0) 176 24 56 8988