You are here
Deportation kills - Demo gegen Abschiebeknäste in Büren - No Deportation Prison!
Wed, 10/02/2013 - 16:43 -

voice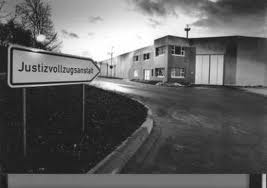 Deportation kills!
Wenige Monate nach den Pogromen von Rostock-Lichtenhagen und Hoyerswerda entschied der Bürener Stadtrat, dass die ehemalige NATO-Kaserne im Wald vor Büren zu einem Abschiebegefängnis ausgebaut wird. Die Stadt hätte sich auch für eine Erstaufnahmeeinrichtung entscheiden können, aber eingesperrte Menschen waren den Bürenern damals lieber als freie Asylbewerber*innen. Der Umbau dauerte nur wenige Monate, sodass bereits Anfang 1994, also vor rund 20 Jahren, die ersten Gefangenen in Büren eingesperrt wurden.
Nicht nur in Büren, in der ganzen BRD wurde das Abschieberegime zu dieser Zeit ausgebaut. Die Zahl der Abschiebegefangen stieg rasant an, ebenso wie die Zahl der Abschiebungen.
Seit einigen Jahren gehen die Zahlen wieder zurück, und Abschiebeknäste werden geschlossenen oder zurückgebaut. 2012 wurde der Frauenabschiebeknast in Neuss abgewickelt und die Frauen nach Büren verlegt. Die notwendige psychologische Hilfe, die viele von ihnen dringend benötigen, nachdem sie in ihren Herkunftsländern, auf der Flucht oder in der Illegalität Opfer sexualisierter und anderer Gewalt wurden, erhalten sie in keiner Weise. Ganz im Gegenteil: Deutsche Behörden und die Haft schreiben die Gewaltgeschichten fort. Auch in der Angst vor der Abschiebung in die unerträglichen Lebenssituationen, vor denen sie geflohen sind, werden die Menschen alleine gelassen.
Büren ist inzwischen der einzige Abschiebeknast in NRW, und mit 384 Haftplätzen der größte Deutschlands. Und während u.a. in Schleswig-Holstein und Rheinland-Pfalz laut über den Sinn von Abschiebehaft nachgedacht wird, machen die Ausländerbehörden hier regen Gebrauch davon. Kein anderes Bundesland nimmt so viele Menschen in Abschiebehaft wie NRW. In Büren sitzen so viele Gefangene wie in allen anderen Bundesländern zusammen.
Abschiebehaft, was bedeutet das?
Vom Gesetz her ist Abschiebehaft eigentlich nichts anderes als die Sicherstellung eines Verwaltungsaktes, nämlich der Abschiebung. Für die Betroffenen bedeutet dies aber, dass sie bis zu 18 Monate in Haft genommen werden, um ihre Abschiebung sicher zu stellen.
Immer wieder wird ihre Haft verlängert, da die Ausländerbehörde es doch nicht schafft, die Personen abzuschieben, da Papiere fehlen, oder gerade keine Flieger in die Zielländer gehen, weil der Flughafen zerbombt ist. Für die Gefangen bedeutet dies eine ständige Perspektivlosigkeit und Unsicherheit, da sie nie wissen was passiert. Sie könnten jeden Tag abgeschoben werden, oder ihre Haft wird um weitere 3 Monate verlängert. Die alltägliche Ungewissheit und das zermürbende Warten nehmen die meisten Betroffenen als stark belastend wahr. Nicht selten kommt es innerhalb der Haft zu (Re-)Traumatisierung.
Aus Furcht vor der bevorstehenden Abschiebung haben sich seit der faktischen Abschaffung des Asylrechts 1993 mehr als 60 Menschen in deutschen Abschiebeknästen das Leben genommen. Die herrschende Abschiebepolitik hat diese und viele weitere Tote zu verantworten.
Am 30. August 1999 verbrannte Rachid Sbaai in einer Arrestzelle des Bürener Knastes. Er war nach einem Foulspiel auf dem Sportplatz in die Isolationshaft verlegt worden. Die genauen Umstände seines Todes lassen sich nicht mehr klären, Tatsache ist jedoch, dass Rashid kurz vor seinem Tod einen Notruf abgesetzt hat. Die Notrufzentrale war jedoch nicht besetzt, so dass jede Hilfe zu spät kam.
Die BRD arbeitet derweil daran, die Verantwortung für ankommende Asylsuchende an andere EU-Staaten abzuwälzen. Die DUBLIN II-Vereinbarung schreibt vor dass Asylgesuche in dem EU-Land gestellt werden müssen, das zuerst betreten wird. Die meisten Flüchtlinge reisen über Griechenland und Italien ein, die dortigen Aufnahmekapazitäten sind jedoch begrenzt und der Umgang mit Asylsuchenden beschränkt sich oft darauf, diese zu inhaftieren und anschließend in die Obdachlosigkeit zu entlassen.
Gleichzeitig wird die Grenzsicherung immer umfassender, während legale Migration an hohe Anforderungen gebunden ist. Die europäische Grenzschutzagentur FRONTEX operiert mittlerweile im gesamten Mittelmeerraum und an den östlichen EU-Außengrenzen, um irreguläre Migration zu unterbinden. Mit militärischer Technologie werden Flüchtlinge aufgespürt, zur Umkehr gezwungen oder illegal zurückgeschoben. Je schärfer die Kontrollen werden, umso gefährlichere Routen müssen die Menschen nehmen. Das europäische Grenzregime produziert so Leichen, um den Wohlstand ihrer Bürger*innen zu schützen. Das Mittelmeer ist zum Massengrab geworden, und die Verantwortlichen sitzen in Berlin und Brüssel.
Rassismus tötet!
Abschiebeknäste sind Ausdruck einer rassistischen Politik gegenüber Geflüchteten und Migrant*innen. Sie selektieren ankommende Menschen nach Nützlichkeitskriterien und den Erfordernissen des Kapitals. Sie stellen außerdem sicher, dass Menschen die aus Angst und Not in die BRD geflohen sind, gegen ihren Willen in Elend, Folter und Tod abgeschoben werden.
Abschiebehaft gehört ersatzlos abgeschafft! Abschiebungen müssen verhindert werden und die Betroffen müssen ein bedingungsloses Bleiberecht bekommen!
Zu einer neuen Welle von selbstorganisierten Protesten ist es seit März 2012 gekommen, nach dem Selbstmord eines Iraners in einem Würzburger Lager. Mit mehreren Märschen quer durch Deutschland und Protestzeltlagern in den Innenstädten, mit Hungersteiks und einem öffentlichen Tribunal haben Geflüchtete seitdem gegen ihre Isolation in den Lagern, gegen die Residenzpflicht und für ein Bleiberecht protestiert. Viele dieser Aktionen dauern an, und die Verantwortlichen geraten zunehmend unter Druck. Auch verschiedene Protestaktionen gegen Abschiebungen gelangten in den letzten Wochen und Monaten in die Öffentlichkeit und zeigen erste Erfolge.
Wir werden uns nicht auf die Versprechungen von Politik und Verwaltung verlassen. So haben Grüne und SPD in NRW angekündigt die Haftbedingungen im Abschiebgefängnis Büren stark zu verbessern. Herausgekommen ist ein Koalitionsvertrag, der im Endeffekt besagt, dass man sich in Zukunft an geltende Gesetzte halten will.
Bleiberecht wird weiterhin von selbstorganierten Strukturen erkämpft werden müssen. Wir werden wiederkommen, bis auch der letzte Gefangene frei ist! Abschiebehaft abschaffen – Abschiebeknäste schließen!
Demonstrationsbündnis:
Anti-Knast Gruppe im Infoladen Anschlag, Bielefeld
Antirassismus-AG an der Uni Bielefeld
ausbrechen Paderborn
Infoladen Paderborn
move and resist Bielefeld
Rassismus tötet! Göttingen
Unterstützer*innen:
antrassistisches Aktionsplenum [arap] Göttingen
AK Asyl Göttingen
Grenzfrei Münster
Anarchosyndikalistische Jugend Göttingen
Hartmut Linne, Paderborn
Wer den Aufruf zur Demonstration als Einzelperson oder Gruppe/Initiative unterstützen möchte, schreibe bitte eine kurze Mail über das Kontaktformular:http://buerendemo.blogsport.de/aufruf/deportation-kills/
.....
Demonstration Against Deportation Prison in Büren
Deportation kills!
Only a few months after the racist progroms at Rostock-Lichtenhagen and Hoyerswerda, the town council of Büren decided to convert a former NATO-barracks, hidden in the woods nearby, into a deportation prison. The town could have opted for a "reception facility" instead, but – true to the hostile spirit asylum seekers met with- they preferred them in prison rather than freedom. Conversion works only lasted a few months, and the first prisoners were confined early in 1994, roughly 20 years ago. A procedure not limited to Büren: the deportation regime received a boost all over Germany at that time. Numbers of deportation prisons increased heavily, as did deportations themselves. Recently, however, these numbers declined again, and deportation prisons were closed or reconverted. Thus, the women's deportation prison at Neuss was closed down in 2012, its remaining inmates being moved to Büren. Having encountered sexualized or other violence either in their countries of origin or whilst fleeing and being illegalized, psychological aid is essential for many. However, none is provided. On the contrary: German institutions and the arrest continue the story of violence. The people are left with the fear of being deported back into the insufferable situation they tried to leave behind. By now, Büren is the only deportation prison left in North-Rhine Westphalia and the largest one in Germany, having a capacity of 384 places. And whilst Schleswig-Holstein and Rhineland-Palatinate, among others, are actually discussing whether imprisonment on pending deportation is feasible at all, the local authorities use it frequently. Consequently, no other federal state has so many people in prison for deportation as NRW. In fact, Büren has as many inmates as all other federal states together.
Deportation Imprisonment: What does it mean?
As far as the law is concerned, deportation imprisonment is nothing but a means to secure an administrative measure's implementation – the deportation.
For persons concerned, this means up to 18 months of imprisonment to guarantee their deportation. Again and again, their imprisonment will be extended, as the immigration authorities fail to obtain all necessary papers in time or no flights take place to the country of destination since airports are damaged by bombs. For the prisoners, this means continuous insecurity, since they never know with any certainty what may happen with them. Either, deportation could take place any day or imprisonment will extend three more months. This daily insecurity as well as the grueling wait puts many under extreme pressure. Consequently, it is common for prisoners to suffer from recurring traumatism. Out of fear from impending deportation, more than 60 people have committed suicide since the right of asylum was de-facto abolished in 1993. The current deportation policy has these and many other deaths to account for.
On August 30th, 1999, Rachid Sbaai burned to death in a cell of Büren deportation prison. He had been subjected to isolated confinement following a foul on the sports field. The exact circumstances of his death can no longer be determined. It is a fact, however, that Rachid sounded an emergency call before his death. However, the emergency call centre was not operating, so that help came too late.
Meanwhile, the German Republic is busy delegating responsibility for arriving asylum seekers to other states of the EU. The DUBLIN II-treaty demands applications for asylum to be made in the country of arrival. Most immigrants reach Germany via Greece or Italy, but local reception capacities are limited. As a result, treatment of asylum seekers in these countries is often limited to imprisonment, only to release them to homelessness later.
At the same time, border control gets more and more intensive, whilst legal migration is bound to high requirements. By now, the European border control agency, FRONTEX, is operating all over the Mediterranean and on the Eastern borders of the EU, to prevent any irregular migration. With military-grade technologies, refugees are detected, forced to turn back or deported straightaway illegally. The greater the stringency of this merciless machinery becomes, the more dangerous the routes which the people are forced to take. The European border regime thus produces dead bodies in order to secure their own citizen's wealth. The Mediterranean has become a watery mass grave, with the responsibility being in Berlin and Brussels.
Racism Kills!
Deportation prisons are expressions of a racist policy towards migrants, selecting migrants for 'utility' and the demands of capital. Besides, they guarantee that people who have fled to the EU out of fear and distress are deported against their will, to despondency, torture and death. Deportation imprisonment has to be abolished without replacement! Deportations must be prevented and those affected have to be guaranteed permits of residence without condition!
After an Iranian had committed suicide in a Würzburg asylum camp, a new wave of self-organized protests has erupted since March 2012. With multiple marches across Germany and protest camps in city centres, with hunger strikes and a public tribunal the refugees have protested against their isolation in camps, against forced-residency laws and for a permit to stay. Many of these actions carry on, increasing pressure on those who are responsible. Besides, various actions against deportations have achieved publicity in the past weeks and months, showing first signs of success.
We will not trust any promises of politicians and administration. Although both the Social Democrats and the Green Party have announced conditions at Büren to be improved greatly, the only result was a coalition agreement stipulating to abide by existing laws.
In effect, the right to stay still has to be fought for by self-organized movements. We will return, until the very last prisoner has been freed! Abolish Deportation! Close Deportation Prisons!
Democrew:
Anti-Knast Gruppe im Infoladen Anschlag, Bielefeld
Antirassismus-AG an der Uni Bielefeld
ausbrechen Paderborn
Infoladen Paderborn
move and resist Bielefeld
Rassismus tötet! Göttingen